"Constellations" Opens on Broadway
On January 13, 2015, Constellations Opened On Broadway To Great Reviews. The Two-Hander Stars Jake Gyllenhaal And Ruth Wilson By Playwright Nick Payne.
---
Jake Gyllenhaal Reunites With Playwright Nick Payne
On December 16, 2014, Constellations began previews at the Samuel J. Friedman Theatre, the Broadway venue for Manhattan Theatre Club. The play opened on January 13, 2015 to unanimously positive reviews.
The play is a two-hander starring Academy Award nominee Jake Gyllenhaal (Donnie Darko, Brokeback Mountatin) and Golden Globe winner Ruth Wilson (The Affair).
British Artists Of Great Acclaim
This production reunited Gyllenhaal with the playwright Nick Payne as well as the director Michael Longhurst, who all worked together on a Roundabout Theater Company Off-Broadway production of Payne's play If There Is I Haven't Found It Yet in 2012.
Both Payne and Longhurst are British theatre artists of great acclaim; Payne's accolades include raves for Wanderlust and the Evening Standard Best Play Award for Constellations, and Longhurst has received great acclaim for his direction of works including Bad Jews, The World of Extreme Happiness, and Stovepipe.
The Critics Agree: This Show Is Phenomenal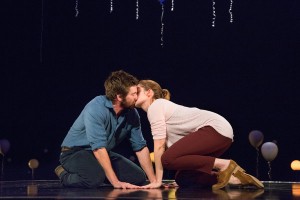 Ben Brantley in The New York Times called Constellations "gorgeous" and the "most sophisticated" date play ever to be seen on Broadway. He commended the play for making physics seem sexy, and congratulated the production on inflating to fit the scale of Broadway beautifully.
Adam Feldman in Time Out New York likewise loved the play, calling it "convincing," lauding Gyllenhaal and Wilson for being "multiversatile," and deeming Payne's play smart without being dry.
"Constellations" Praised Talented Cast And Team
Marilyn Stasio in Variety found the play "dreamy" and "graceful," comparing it to If/Then as another "Sliding Doors" style drama but deeming it much more successful at the approach. David Rooney in The Hollywood Reporter found the play "rich" and "emotionally direct," distinguishing him from other British playwrights and deeming him a level above.
In addition, Roberth Kahn from NBC New York praises the play as a solid entry into the canon of "multiverse" plays. Finally, Matt Windman from AM New York was more on the fence, but he entered the play skeptically unsure of why Gyllenhaal had such a thing for British playwright Nick Payne.
Will The Numbers Match The Buzz?
In the reported box office figures thus far, Constellations is off to a moderate start. Still, it should be noted that these weeks of figures do not yet take into account the effect of the post-opening reviews, as the last reported week ended on January 11, 2015, two days before Constellations' opening night.
In the week, the show brought in $336,203 over 7 performances, which represents 56.66% of the gross potential. In the week prior ending in January 4, 2015, the show brought in $478,445, representing 70.39% of the gross potential, which was the highest percentage yet.
American Audiences More Hesitant
It is to be expected that these unanimously positive reviews will have some impact, even if moderate, on ticketbuyers. It has been noted before that positive reviews British plays tend to have a greater impact than their American counterparts even when comparably reviewed, perhaps as theatregoers are awaiting the American press' response before deeming the ticket worth buying, or perhaps just because they hadn't even heard of the play before it hits the papers.