"Constellations" Concludes Its Run on Broadway
Constellations Played Its Final Performance At Broadway's Samuel J. Friedman Theatre On March 15, 2015. Mediocre Box Office But Excellent Reviews.
---
Last Performance For "Constellations" On March 15, 2015
On March 15, 2015, Constellations played its last performance at Broadway's Samuel J. Friedman Theatre. Produced by the Manhattan Theatre Club, Constellations began performances on December 16, 2014 and officially opened on January 13, 2015.
Upon closing, it had played 76 performances on top of 29 preview performances. The play starred Jake Gyllenhaal and Ruth Wilson, both making their Broadway debuts. Constellations is a new play by Nick Payne, a British writer whose last New York production, If There Is I Haven't Found It Yet, also starred Jake Gyllenhaal, but that time Off-Broadway in a Roundabout Theatre Company production.
Premiered In London In 2012
Constellations was directed by Michael Longhurst, who also directed the Roundabout play. This two-hander play premiered in London at the Royal Court Theatre in 2012, after which it transferred to the Duke of York's Theatre in the West End.
It earned strong reviews as well as the covetous honor of Best Play in the Evening Standard Theatre Awards, marking Nick Payne as the youngest writer whose play has ever received that honor. At one point, Payne disclosed that a film adaptation was in the works, but that plan has since been shelved according to a later interview.
Moderate Performance At The Box Office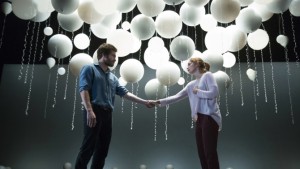 Over the course of its run, Constellations performed fairly well but not excellently at the box office. The highest weekly gross was earned in the closing week of performances, amounting to $704,605, which represents 85.83% of the gross potential.
That week, the average ticket price was $120.53, and the audience was at an average 99.9% capacity. Furthermore, in the final three weeks of performances (as well as one week in January), Constellations played nine performances, whereas it had played three weeks of only seven performances each in the first month of its run.
Not Bad For A Straight Play With No Brand Name Recognition
It is unclear whether this is due to scheduling conflicts, or designed so as to allow the performers to warm up to the heavy schedule. In any case, throughout the run, the weekly gross was more often around $500,000 per week, with the average paid ticket across the run being $98.87.
Furthermore, the percentage reached of gross potential each week averaged out to 67.87%. Therefore, the show could have certainly performed better at the box office, but this is also not bad for a straight play with a small cast and no brand name title recognition, although it may have been thought to fare better due to the starry cast.
Overall Extremely Positive Reviews
Despite the only moderate success at the box office, the theatre critics loved Constellations. Following its opening night on January 13, 2015, the rave reviews poured in. Ben Brantley of The New York Times found the play to be gorgeous and emotionally devastating, praising the excellent performances and writing.
Other critics were wowed by the production as well, including Time Out New York, Variety, the Hollywood Reporter, and NBC New York. Therefore, this goes to show that not all plays get the box office response that they deserve, but fortunately many people were able to catch this brilliant production in its New York rendition.