Complete Les Misérables Movie Soundtrack Released 3/19
After A Highlights CD Was Released In December, Les Misérables Finally Released Their Deluxe Edition CD Featuring Beloved Songs That Were Left Out
---
Deluxe CD Edition Of "Les Misérables" Will Be Released On March 19th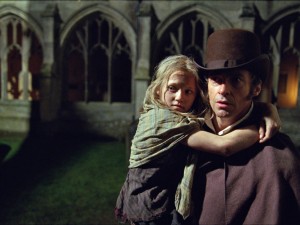 Most devoted musical theater fans don't like to settle for only half of a cast album -- and it's no different when it comes to movie musical soundtracks. The Oscar-nominated musical Les Misérables put out a highlights recording when it was released in theaters this past December, but that CD only included around half of the movie's songs.
Fortunately for fans, on March 19 a two-disc deluxe edition of the soundtrack featuring many more tracks will be released. The failure to produce a complete cast recording soundtrack earlier was mostly a result of a hurried post-production phase that only gave the movie's music and sound team time to mix and produce a limited number of tracks.
Featuring Songs Left Out Of The Highlights Album
This deluxe edition that is coming out will include many beloved songs from Les Misérables that were left out of the highlights album, including "Who Am I?" "Do You Hear the People Sing?" "Little Fall of Rain," and "Beggars at the Feast," along with numerous musical sequences such as "Fantine's Death".