"Come From Away" Rapidly Recoups Investment
Come From Away Has Recouped Its $12 Million Investment With Steady Weekly Grosses Of Over $1 Million, Overcoming Disadvantages In A Difficult Climate.
---
Sleeper Hit Musical Earned Back Capitalization In Eight Months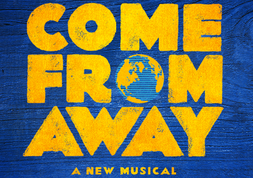 Come From Away began performances on February 18, 2017 at the Gerald Schoenfeld Theatre, ahead of an opening night on March 12, 2017. The musical did not immediately seem destined for financial success. Positioned as a feel-good musical in trying times, Come From Away did not offer any of the usual markers of probable success.
Not only does the show not feature any very well-known performers, but the ensemble piece does not even allow for one or two roles to be deemed lead parts with break-out stars. Rather, the dozen actors play multiple parts each, resulting in a 90 minute-long romp without any clear stars rising out over the rest.
Original Music Lacks Brand Recognition
This Canadian import was further disadvantaged by the fact that it was an original musical, meaning that there was no brand recognition on which to rely – such as a movie adaptation or a revival of a well-known musical from a previous generation. Nevertheless, the show gained traction in its early days, and grosses have remained healthy ever since.
As for Tony Award recognition, while the show did gain some buzz with its seven nominations, it only brought one home award: Best Direction of a Musical for Christopher Ashley. Still, it failed to win the award for Best Musical, which went to Dear Evan Hansen, and which is traditionally thought of as the best predictor of a post-awards box office boost. In this case, Come From Away appears to have risen above such parameters, earning back its $12 million in just eight months.
September 11th And A Visit From Justin Trudeau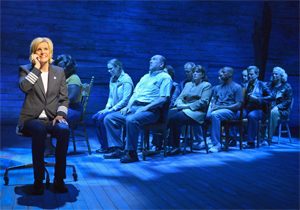 The show takes place on and around the date September 11, 2001, in the small Canadian town of Gander, Newfoundland. On this day, as the World Trade Center was alarming the world, several planes were diverted to this tiny town on the east coast of Canada.
Come From Away is a feel-good story of a town coming together in the face of adversity to take in the stranded travelers who could not return back to the United States during the disaster. While Broadway is a major tourist attraction for visitors to New York City, another popular destination is Ground Zero and the 9/11 museum.
Canadian Prime Minister Boots PR
In this way, Come From Away manages to strike a chord with audiences who are interested in exploring this piece of recent history on their trip to New York, pulling at their heartstrings regarding this tragedy. Beyond that attraction, Come From Away succeeded in reeling in audiences due to a beneficial piece of PR: the Canadian prime minister, Justin Trudeau, saw the show not only after it opened, bringing a group of guests including Ivanka Trump.
In this way, the evening was covered by the press as a message of solidarity across nations, during the period when the media was in an uproar regarding Trump's immigration ban. This boosted awareness of the show on an international scale, furthering the message of good will and the idea of this show as an uplifting, emotionally engaging work of theatre.
A National Tour On The Way
Given the success of the show in its Broadway incarnation, it has been announced that Come From Away will launch on a national tour across the United States. Starting in October 2018, the tour will embark with its first stop at Seattle's 5th Avenue Theatre.
Meanwhile, a Canadian production will take place for four weeks in Winnipeg in the early part of 2018, followed by a return engagement at Toronto's Royal Alexandra Theatre in February 2018. Therefore, while the Broadway production continues to run with healthy grosses, there will continue to be more opportunities to see this show across North America.
Discount Broadway Tickets
---
---