Cirque du Soleil Commits to a Permanent Show in American Dream Mall, NJ
Cirque Du Soleil Sets Up For Its Debut In New Jersey At The American Dream Mall With High Hopes For Enthusiastic Visitors In 2017, Despite Previous Setbacks From The Mall Financial Backers
---
Cirque du Soleil Sets Up For American Dream Meadowlands Mall in 2017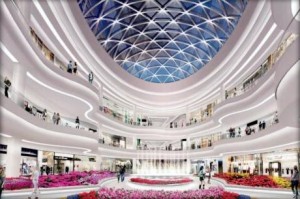 The American Dream Mall in the Meadowlands, East Rutherford, NJ has committed to establish a permanent theatre for a Las Vegas-style Cirque du Soleil show at the former Xanadu shopping and entertainment development, to premiere alongside its long list of premium and luxury retail stores. The new development is on schedule to finish construction and open late summer 2017. Cirque du Soleil has signed on to perform up to 10 shows a week in The American Dream's 1,500-seat theater, but it remains to be seen if CDS will be able to attract the 15,000 ticket sales per week in a shopping mall location somewhat far off the beaten track of Broadway in order to sustain such a show in the black.
In recent years, Cirque du Soleil has faced many challenges in the NYC area for a variety of reasons, including lack of space and zoning issues. It has been over 20 years since the full show first appeared on Manhattan island itself. In 1995, the show was ideally located at Battery Park, but since then it has been a hodgepodge of big tent shows at Liberty State Park in New Jersey, Randalls Island, and various cut-down shows at Madison Square Garden (MSG) and the Beacon Theatre. The 2001 version of Zarkana at Radio City Music Hall finally proved to MSG executives that New York City could sustain a big show like this for extended periods and remain profitable.
Cirque du Soleil Faces Uncertain Future at American Dream Mall
Although the final name for the Cirque du Soleil show in development for the American Dream Mall has not yet been announced, Cirque du Soleil has toyed with keeping the original name of the mall site, namely Xanadu. This could be problematic, however, because of the Broadway musical that shares that name. Furthermore, Cirque du Soleil executives may find that it is a big stretch to get the notoriously picky Manhattan-ites to take the train out to Secaucus Junction to see this show. This leaves just the residents of New Jersey who own cars as the potential audience for this show, all 8.9 million of them.
It remains unclear if that will be enough tickets sold to sustain Cirque du Soleil, let alone the whole mall. If the mall falters, Cirque du Soleil could ultimately fail, because it is not clear who will want to go and see a show in a "ghost mall" in the depths of New Jersey. Triple Five is building out a dedicated theatre space for Cirque du Soleil's show, so expect to see a mix of entertaining land and water based acts, taking in the very best of the Vegas shows and rolling them into one. It has also been mentioned that they may opt to change the show every 18 months with one of their traveling shows, keeping the content fresh and innovative.
The American Dream Mall's Theater Space Offers Broadway Potential
You can trust that Triple Five has a backup plan if Cirque du Soleil bails on the project for any reason, so expect to see other Broadway shows consider going into the space. With the lack of effective Broadway theatre space of this size in NYC, this location could become a haven for out-of-town Broadway tryouts or even permanent shows that are crying out for 1,500 seat theatres. This seems likely even more now as the waiting list for Broadway theatres stretches into years.
One more show that could be a good shoe-in for the space is the somewhat beleaguered Medieval Times, located just along the turnpike in Lyndhurst, New Jersey. Although the space may require extensive re-configuration to accommodate the seating and format for this knight, horse and dueling spectacle, it could very well work well at the venue.
The "American Dream Mall" Development Tries Very Hard Not To Become The "Xanadu" Nightmare It Once Was
Just when thousands of shopping malls across America are closing down due to high operational costs and lackluster in-store retail sales (due to their customers exodus to buying goods online), the somewhat ill-conceived (and possibly ill-timed) former Xanadu construction development at the Meadowlands in East Rutherford, New Jersey finally gets construction going and plans to open soon under the new name, American Dream.
In a throwback to the greedy "retail therapy" genre of the 1990's, this $5 Billion multi-use shopping and entertainment development built and conceived by Triple Five will cover a 21-acre site, including a multi-level mall over half a mile long, challenging the world's super-malls that now exist in Macau and Dubai. The shopping mall will feature many premium retailers including the embattled FAO Schwarz (which has left its iconic Manhattan location), Toys R Us (which will move its flagship store here also), Saks Fifth Avenue, Lord & Taylor, Deckers, Victoria's Secret, Uniqlo and Gap, to name but a few.
Development Promises To Become Big Draw For 40 Million+ Visitors Per Year
To help draw customers to the location, The American Dream complex also has a SeaLife Aquarium and Legoland Discovery Center, and is also connected to Metlife Stadium, the official home to The Jets and The Giants. Metlife Stadium also hosts all manner of monster truck rallies and music concerts, so the mall hopes to borrow from that traffic. The ambitious project also promises to deliver North America's largest indoor amusement park, complete with the world's steepest roller coaster (coaster nerds may not be sure how it can be steeper than the 90 degree roller-coasters that are already out there), and the world's largest indoor water park that features the tallest twin-body water slides.
The water park will also feature double-wide Flowriders (the popular surf machines often found on cruise ships), on which there will be surfing contests and the world's largest wave-generating pool at 2 million gallons, twice the size of the current largest wave pool in Spain. The development will also have the first indoor ski hill in the Western Hemisphere (similar to the famous slope in Mall of the Emirates in Dubai), which will be priced at $10 per run, also including an après-ski experience. An Olympic-sized ice rink and a 260-foot Ferris wheel are also planned for the site (although the latter may be dwarfed by the giant 600+ foot Ferris wheel currently being built in Staten Island).
The Development Faces Financial Challenges
The American Dream hopes to draw up to 40 million visitors per year, but needs at least 15 million visitors per year to remain financially viable. Triple Five have delivered countless reasons to encourage people to visit the complex. Triple Five has also determined that they need to keep visitors there for at least four hours (where the current national average at a mall is just 1.5 hours), but regular shopping malls do not have the draws that American Dream has in its arsenal.
Although the State of New Jersey backs the newly redesigned project with a bevy of tax benefits and relaxed state policies, retail partners hope that this development does not become another version of the Xanadu nightmare, which was recently dubbed by the NJ Governor as the "ugliest building in New Jersey," beating out the Elizabeth sewage works and the county jail in Trenton. The American Dream Meadowlands was scheduled to open late summer 2017. Given the frenetic pace of the current construction, this seems like a reasonable target for me to hit, provided that they remain financially solvent, which in this day and age is a large consideration.