Al Pacino Helps China Doll Ends Dramatic Run in Profits on Broadway
Al Pacino Still Draws In A Powerful Broadway Crowd Proving To Be A Significant Factor In Helping China Doll And Close In The Black Despite The Poor Reviews And Challenging Controversy
---
David Mamet's Latest is a Critical Disappointment, but Recouped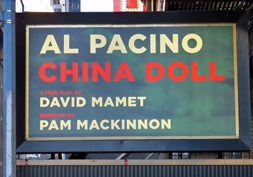 This fall season, David Mamet premiered another new play, his latest since 2012's The Anarchist, a laughing stock which closed after only 17 post-opening performances. Though China Doll managed to make it to the end of its run, recouping its initial investment, the play will go down in history as no more successful than The Anarchist. The reason is that the show received very bad reviews, and even prior to that, rumors were spreading regarding unconscionable situations such as Al Pacino needing an earpiece prompter for his lines, David Mamet refusing to attend most preview performances, nor allowing director Pam MacKinnon to alter any word of his sacred text, despite the huge necessity for improvement.
The producers even decided to delay opening night for two weeks, which was clearly an effort to stave off the bad reviews. Although on the surface this would be begging for an extra two weeks to improve the production, it was more importantly an extra two weeks for ticket buyers to naively drive up advance ticket purchases before their decisions were proven imprudent. In effect, almost half of the run was preview performances, with 40 previews and 54 regular performances, allowing the play's faults to remain speculation until a good chunk of the performances were over, and many more advance tickets were bought.
Al Pacino Criticized, Though Not as Badly as the Broadway Play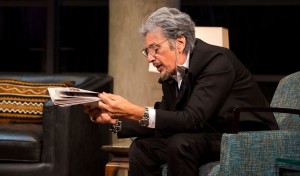 The main reason that China Doll survived its run while The Anarchist perished is the box office gold name that is Al Pacino. While The Anarchist starred Patti LuPone and Debra Winger, by no means unknown actresses, Al Pacino has long proven to be a huge selling point for Broadway ticket buyers. This was his twelfth Broadway performance, having won two Tony Awards in addition to an Academy Award for 1993's Scent of a Woman, in addition to a further seven Academy Award nominations. Most recently, Pacino appeared in another Mamet play, this time a revival of Glengarry Glen Ross, from December 2012 to January 2013.
That play likewise was a critical disappointment. While it sold well, it was thought to be coasting on the recognition of the names involved, as well as the quality of the play itself, which premiered in 1984, when Mamet was still in his prime. Unfortunately, China Doll is by no means as good of a play as Glengarry Glen Ross, and thus it became somewhat of a joke that the play managed to sell so well at the box office.
Box Office Superb Until Shortly After Reviews Came Out
When China Doll began previews on October 21, 2015, it grossed $1,072,111 over the course of six performances, representing an outstanding 112.01% of the show's gross potential with an average paid admission of $166.37. This average paid admission per ticket decreased almost continually for every week of the run following. In the penultimate week of performances, the week ending January 24, 2016, the show brought in $358,928 over the course of 5 performances, representing just 53.54% of its gross potential, with an average paid admission of $95.13. The final week saw a slight upsurge only because it was coming to a close, bringing in $658,216 over 7 performances, representing 69.10% of its gross potential with an average paid admission of $103.72.
It is quite extraordinary that China Doll brought in over one million dollars for six weeks out of the 15-week run, especially because no week played more than 7 performances, and many played only 6, sometimes only 5 or 4. With such an entitled box office player as Al Pacino, the producers were confident that they could kowtow to his needs for minimal performances, while still recouping their $3.7 million capitalization. Turns out they were right, despite the circus of critical press that surrounded the play throughout its run.