"China Doll" Begins Previews on Broadway
China Doll Eagerly Began Previews At The Gerald Schoenfeld Theatre On Broadway On October 21, 2015 With Excellent Box Office Success, But The Play May Not Be As Good As Anticipated
---
Al Pacino Stars in David Mamet World Premiere Play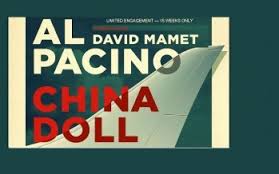 This past week, China Doll began previews at the Gerald Schoenfeld Theatre. The play is a world premiere written by David Mamet, whose other works include Glengarry Glen Ross, The Anarchist, A Life in the Theatre, Race, Oleanna, American Buffalo, Speed-the-Plow, and November. David Mamet is well known not only for his plays and screenplays, but also for his essays chronicling his opinionated remarks on topics ranging from acting theory to American culture. This world premiere of China Doll is directed by Pam MacKinnnon, whose previous Broadway credits include The Heidi Chronicles starring Elisabeth Moss, A Delicate Balance starring Glenn Close, Who's Afraid of Virginia Woolf?, and Clybourne Park.
This is the first time MacKinnon has taken on a David Mamet play for Broadway, as she is very well known for interpreting the works of Edward Albee. The play is just a two-hander, starring Al Pacino alongside the supporting actor Christopher Denham. Al Pacino, who is very famous for his screen performances in such films as The Godfather Parts I, II, and III, has appeared on Broadway numerous times in plays including Glengarry Glen Ross, The Merchant of Venice, Salome, Hughie, Chinese Coffee, and American Buffalo. His collaboration with David Mamet goes back many years, as his first performance in a Mamet play on Broadway took place in 1983.
A Slam Dunk at the Broadway Box Office Early in the Game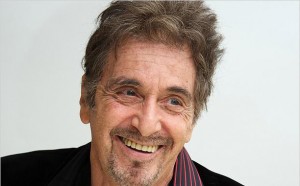 In its first week of previews, China Doll played six performances out of a total normal eight performances in a full week. In this time, it brought in an outstanding weekly gross of $1,072,111, which represents 112.0% of the show's gross potential. With a top ticket price of $350, the average paid admission was the remarkable amount of $166.37. Out of a total 6,444 seats to fill in the Gerald Schoenfeld Theatre over the course of the six performances, 6,414 were filled. This represents an audience capacity of 100.5%.
The outstanding nature of these initial box office figures are testament to the winning combination of David Mamet, who is one of the few playwrights who can be considered box office names, along with Al Pacino, who has proved time and again to be box office gold with the Broadway ticket buying public. In Pacino's last time on Broadway, which was also a collaboration with David Mamet – Glengarry Glen Ross – the ticket sales were equally outstanding.
Questionable Buzz at this Early Stage in the Run
Although the show will not have its official opening until November 19, 2015, there are already some reports of a questionable nature regarding this play. Michael Riedel, a columnist at the New York Post, is known for spreading juicy gossip about the theatre community, but this time he seems to be onto something very real. In his October 29th article in the Post, he reported many facts of an eyebrow raising nature. First of all, he reported that many audience members are leaving at the intermission due to the poor quality of the play. He even called the crowd leaving at intermission both an "exodus" and a "stampede."
The reason behind this seems to be the apathetic involvement of the playwright, David Mamet, whom he reports to have barely participated in the rehearsal process – only attending the last two dress rehearsals and then the first preview – before flying back out West to abandon his piece to Pam MacKinnon. However, at the same time, he is an auteur about his work and will not allow a word to be changed by anyone else. This has led to a play of less than stellar quality.
Actors Memorization Troubles Raise Concerns about Broadway Play's Success
Al Pacino is reportedly having trouble memorizing his lines, such that he has a Bluetooth headset (conveniently a prop that his billionaire character would wear), as well as two teleprompters hidden in the set. All of this is to show that the play may not be worth the anticipatory hype, and perhaps once the opening reviews are out, the box office may not be as stellar as the producers have hoped.