"Chaplin" on Broadway Show Critical Review
The Life And Career Of Silent Film Star Charlie Chaplin Hits Broadway With The New Musical Chaplin, Now Playing At The Barrymore Theatre, Showing A Biographical Sketch Of The Legendary Film Icon
---
A Biographical Portrait of a Comedy Legend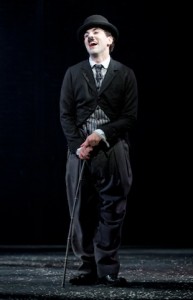 For those unfamiliar with the man behind the funny little mustache, Chaplin offers an interesting biographical sketch that touches on his vaudeville days in London, his massive Hollywood success, and the controversial turn to politics that led to career-ending charges of communism. Unfortunately Chaplin doesn't rise above the level of a sketch often enough. A scene that depicts young Charlie's first attempt to act on film, and a sequence that shows how Charlie and his business manager brother Sydney (Wayne Alan Wilcox) make him one of the richest men in the movies are great glimpses into the goings-on of early Hollywood.
But other things are glossed over, as the show depicts his rise to stardom as being lightning fast, and then breezes through his many marriages and declines to explore his apparent attraction to very young women (two of his wives were only teenagers when he married them). A gossip columnist's obsession with outing Chaplin as a communist comes off as an over-simplification of a much more intriguing aspect of his life. But Chaplin does still have a lot going for it. The show is well directed by Warren Carlyle, and features a fairly simple but attractive and effective set design by Beowulf Boritt.
Rob McClure Shines as Charlie Chaplin on Broadway
The costuming, which sticks to shades of black, white, and gray throughout most of the show, creates a sense of period, evoking the old days of black and white movies. Film footage is also nicely integrated into the show at key points, helping to remind us of Charlie Chaplin's brilliance on screen. Chaplin's score (written by Christopher Curtis) is not especially memorable, but it works well in the context of the show. And, unlike many musicals, Chaplin isn't unnecessarily over-stuffed with songs.
This musical's greatest asset is certainly the actor playing Charlie Chaplin, Rob McClure. In a star-making performance, McClure offers a fully-formed character, showing us a naive young showman as he grows into a true artist, one who wrestles with his own massive ego and eventually with the frustration of feeling forgotten. It's amazing how effortlessly McClure transforms from Chaplin the man into the "Little Tramp" character that defined him on the silver screen. It's a wonderful performance and helps to make Chaplin well worth seeing on stage, despite its flaws.