Casting Continues For Film Version of Broadway Play "August: Osage County"
Tracy Letts' Pulitzer Prize-Winning Broadway Play, August: Osage County, Gathering Star-Studded Ensemble With More Roles To Fill, Starring Julia Roberts, Abigail Breslin, And Juliette Lewis
---
Cast Grows for Film Adaptation of Broadway Play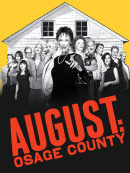 The forthcoming film version of Tracy Letts' Pulitzer Prize-winning Broadway play August: Osage County has already amassed an impressive group of stars, and there are still many characters yet to be cast. The Broadway hit, which began at Chicago's Steppenwolf Theatre Company, is a sprawling melodrama about a dysfunctional Midwestern family that is thrown into turmoil when the family patriarch goes missing. Meryl Streep was among the first cast as the manipulative family matriarch, the pill-popping Violet Weston.
Julia Roberts is taking on the pivotal role of Barbara Weston, Violet's take-charge daughter, and Abigail Breslin (Little Miss Sunshine) will be playing her daughter, Jean. Juliette Lewis (Natural Born Killers, Cape Fear) has been chosen to play Barbara's sister, Karen. The most recent additions to the cast are a marvelous pair of character actors, Margo Martindale (Million Dollar Baby, TV's Justified), playing Violet's brash sister Mattie Fae, and Chris Cooper (The Bourne Identity, American Beauty), who will take on the role of Mattie Fae's husband Charles. Fans of the play, which ran for a year and a half on Broadway before closing in June 2009, have reacted positively to most of the casting.
Julia Roberts Takes on Iconic Broadway Role
The choice that has created the greatest doubt is the casting of Julia Roberts in a role that was perfectly played by Amy Morton on Broadway. But apparently none of the original Broadway cast was deemed famous enough, since so far the film is bringing in someone new for each role. August: Osage County is being directed by John Wells, and George Clooney is serving as one of the film's producers.