Cameron Diaz To Co-Star in Film of Broadway Musical Annie
---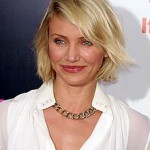 Casting for the forthcoming movie version of
Annie
, starring Oscar nominee Quvenzhane Wallis (
Beasts of the Southern Wild
), continues. It has been announced that Cameron Diaz will take on the part of the harried and bitter orphanage matron Miss Hannigan. Cameron Diaz is a well-known film actress, having starred in movies such as
There's Something About Mary
,
Being John Malkovich
,
Shrek
, and
Charlie's Angels
. The role of Miss Hannigan is currently being played by Jane Lynch (TV's
Glee
) in the Broadway revival of
Annie
. When the production opened, Katie Finneran was playing the part. It was also notably played by Carol Burnett in the original film version of
Annie
. The new
Annie
movie is being produced by Jay-Z and Will Smith. While it will include many of the Broadway musical's classic songs, it will also incorporate new songs by Jay-Z. Jamie Foxx is set to co-star in the movie, playing the Daddy Warbucks character, renamed Benjamin Stacks.