"Bullets Over Broadway" Opens at the St. James Theatre
---
Bullets over Broadway
, the new musical based off the 1994 film of the same name, opened on April 10, 2014 at Broadway's St. James Theatre. With a book by Woody Allen based on the screenplay he wrote along with Douglas McGrath, the musical is directed and choreographed by Susan Stroman. The story is a fitting one for Broadway, as it tells of a young playwright in 1929 named David Shayne who is desperately trying to get his first Broadway production. In order to secure financing for the play, he agrees to hire the girlfriend of a gangster, in exchange for that gangster backing the production. The actress' gangster escort turns out to be a genius contributor to revising the play, but soon David is pretending that those ideas are his own. Bad turns to worse, as David begins cheating on his girlfriend with the alcoholic leading lady, and the leading man, who is also a compulsive eater, begins to eye the gangster's girlfriend. The cast is led by actor-writer Zach Braff (
Garden State
,
Scrubs
) as David Shayne. Though this is Braff's Broadway debut, he is a familiar face on the Off-Broadway scene, not only as an actor but also as playwright; his play
All New People
played at New York's Second Stage Theatre in 2011. The cast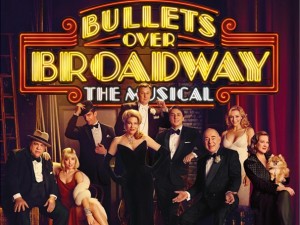 of
Bullets over Broadway
also includes Marin Mazzie as the leading lady Helen Sinclair, Helene Yorke as the gangster's girlfriend Olive, and Nick Cordero as her escort Cheech. Of all these actors, however, only Nick Cordero received a Tony nomination, for the category of Best Featured Actor in a Musical. In total, the musical received six Tony Award nominations, also including those for Best Book of a Musical for Woody Allen, Best Scenic Design for Santo Loquasto, Best Costume Design for William Ivey Long, Best Choreography for Susan Stroman, and Best Orchestrations for Doug Besterman. This may be considered a disappointment compared to what some theatre industry watchers were expecting, as the musical failed to be nominated in any of the major categories, such as Best New Musical, Best Director, or Best Score. Furthermore, it is interesting to note that Woody Allen, for his first ever Tony nomination, will be competing against Douglas McGrath, who wrote the book for
Beautiful: The Carole King Musical
, and who also co-wrote the screenplay for the film
Bullets over Broadway
. However, the biggest disappointment is that the musical received fairly negative reviews. Ben Brantley of
The New York Times
called it "occasionally funny but mostly just loud." Ending his review on a perhaps prophetic note, Brantley then suggested that the authenticity-seeking Cheech take over direction of the musical, and the Tony nominating committee seemed to agr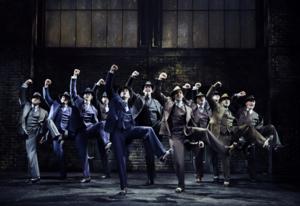 ee that this performance was one of the best things going for the show. Furthermore, Marilyn Stasio of
Variety
remarked how the script was surprisingly few on laughs, and that several of the big dance numbers fall flat, most notably "The Hot Dog Song."
The Hollywood Reporter
also disliked the show, comparing it to a "watered-down champagne cocktail." Only
NBC New York
seemed to like it, even going so far as to call it the best new musical on Broadway this season. Too bad the Tony committee did not agree. Financially, the show has been staying afloat, if not exceedingly well. In the week ending April 27, 2014, it grossed $956,227, and it did even a little bit better in the week preceding that. In the first few weeks of performances, it did numbers in the 700 to 800,000 dollar range, which is still fairly decent. Its audience capacity has been flitting between 86 to 92 percent, with an average ticket price around 70 or 80 dollars, which shows a normal amount of discounting for a show still trying to hit its stride. All in all, the name value of this title will certainly help it find its audience, and the star power of Zach Braff shouldn't hurt. Still, with mediocre reviews and minimal Tony recognition, this musical may not ever become the hit that its producers hoped it would.
Discount Broadway Tickets
---
---