"Bullets Over Broadway" Closes
Bullets Over Broadway Closed On August 24, 2014 After Having Only Played For A Few Months. This Musical Is Based Off The Woody Allen Film.
---
An All-Star Team Leads To Naught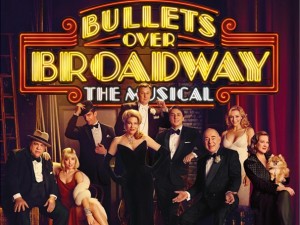 On August 24, 2014, the new musical Bullets over Broadway played its last performance at the St. James Theatre. Highly anticipated upon its start of previews on March 11, 2014, the musical disappointed when the reviews came out after its opening night of April 10, 2014.
This show is based off the 1994 film of the same name by Woody Allen and Douglas McGrath. The musical book was written by Woody Allen, and the score is made up of songs from the 1920s orchestrated by Doug Besterman.
"Bullets Over Broadway" Directed By Susan Stroman
The show was directed and choreographed by the very successful Susan Stroman (The Producers). Nevertheless, despite this powerful team of proven talents, the show was a quick flop.
The cast featured Zach Braff (Garden State, Scrubs) in his Broadway debut, alongside Marin Mazzie, Nick Cordero, Karen Ziemba, Vincent Pastore, and Brooks Ashmanskas.
Mixed Reviews In A Competitive Season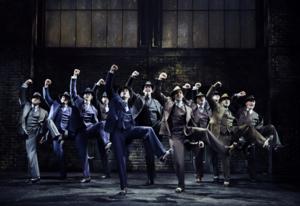 With a budget of $14 million, the show is sure to close at a significant financial loss. The musical only played 33 preview performances and 156 regular performances, which is much less than would have been needed to recoup that large investment.
Due to mixed reviews in a season with a slew of competing large-scale musicals, the box office sales never got off the ground. Its highest numbers were earned in the weeks shortly after the show's official opening, when reviews spurred word of mouth.
A Serious Financial Loss
In those weeks, the grosses inched towards the million-dollar mark without ever reaching it; the highest weekly gross was $974,076 in the week ending April 20, 2014. With a few more scattered weeks in the $800,000 and $900,000 range, the show's numbers have been seriously tapering off in recent weeks.
All throughout July and August, the show has struggled to maintain a gross as high as $650,000. It even reached the supremely low gross of $492,009 in the week ending July 6, 2014. Therefore, on July 22, 2014, the producers announced that the show would be closing on August 24th.
Six Tony Award Nominations
The show received six Tony Award nominations, but failed to win any. They were those for Best Book of a Musical for Woody Allen, Best Featured Actor in a Musical for Nick Cordero, Best Scenic Design of a Musical for Santo Loquasto, Best Costume Design of a Musical for William Ivey Long, Best Choreography for Susan Stroman, and Best Orchestrations for Doug Besterman.
"Bullets Over Broadway" Storyline
However, those nominations may have been more of a nod for the producers, as there was certainly a lot of hype going into this spring season, although none of it came to muster. The story involves the world of theatre in the 1920s, as a playwright named David Shayne is finally getting his first play produced on Broadway.
A wealthy gangster who is financing the show wants his girlfriend to play the lead, and her dim-witted bodyguard comes up with some good ideas to improve the script. Unfortunately, it appears that the antics of the earlier generations of theatre were not enough to entice a theatergoing audience, who are underwhelmed by farce and look for more original forms of entertainment.