Bruce Springsteen Earns Rave Reviews on Broadway
Bruce Springsteen Earned Rave Reviews For His Solo Show On Broadway At The Walter Kerr Theatre.
---
Sold Out Engagement Brings "The Boss" Up Close And Personal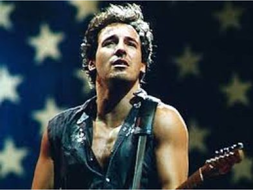 On October 12, 2017, Springsteen on Broadway had its official opening night at the Walter Kerr Theatre, where it has been running since October 3, 2017. This solo show by this great American musician brings him to a rare engagement on Broadway five times a week, all the way through the holiday season until February 3, 2018.
The show has seen enormous box office success, making use of Ticketmaster's Verified Fan program to allow early access to tickets for individuals who pre-register on their website, and prove that they have a purchasing history with the Boss, or at least a social media presence to demonstrate that they are true humans, rather than ticketbuying bots.
Ticket Prices Skyrocket
In addition to combating the secondary ticket market, this program has allowed true devotees of Bruce Springsteen to purchase tickets before the general public. Nevertheless, ticket prices are skyrocketing, and fans are thrilled no matter the price.
With a song list including such hits as "Growing Up," "Born to Run," "Dancing in the Dark," and "Born in the U.S.A.," the show also includes Springsteen reading excerpts from his autobiography, entitled "Born to Run," in addition to further interstitial extemporizing.
Rave Reviews From Almost All Major Critics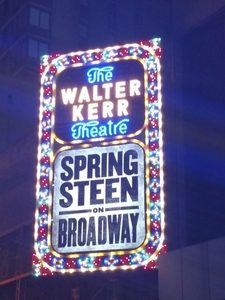 According to the recently released reviews, the fans who paid top dollar for this show will not be disappointed. Jesse Green from The New York Times eloquently stated that during the performance he saw, there was one moment where he felt that he could see "straight through his many masks to some core truth of his being."
This divine quality of the show is echoed by Adam Feldman in his five-star Time Out New York review, calling it "an intimate show and a generous one," and concluding simply by stating: "It's magic."
A Man Beyond A Rockstar
Madison Vain from Entertainment Weekly calls the show "hilarious, heartbreaking, and political," enjoying how the show's format paints a picture of the man beyond the rockstar. Hardeep Phull from the New York Post also loved the show, calling it "unnervingly immersive" and enjoying how it went full circle on his entire career.
Interestingly, one critic from Springsteen's own home state of New Jersey had a divergent opinion: Bobby Olivier from NJ.com wrote the headline: "Sorry, Bruce Fans, But 'Springsteen on Broadway' is a Dud." His justification was that everything he says is regurgitated from his memoir, and that the arc of the production is disjointed as he has chosen to mount his Broadway show without the help of a seasoned stage director. Nevertheless, this one opinion will clearly not stop the droves of fans who are lining up for this rare opportunity.
A Sell-Out First Week Of Over 2 Million Dollars
Over the first five performances in Bruce's first week on the Broadway stage, he brought in a weekly gross of $2,332,108. While this is one of the highest grosses this past week of any show, it is even more impressive as it only was for five performances.
With a top ticket price of $850, the average ticket price was $496.72, which is far and above the highest average paid admission of any show on Broadway. In contrast, Hamilton this past week had an average paid admission of $272.24, and this year's Tony Award winning Best Musical, Dear Evan Hansen, had an average paid admission of $209.31.
See A Musical Legend
Springsteen on Broadway is a unique Broadway show in that it leverages the purchasing power of an entirely different demographic – fans of music, not just theatre – while also offering the rare opportunity to see a musical legend in a more intimate venue in the heart of New York City. Springsteen will continue his shows until early February, and tickets are surely going to become even more difficult to get as the weeks wear on.
Discount Broadway Tickets
---
---