Broadway's Edwin Drood Gives the Vote to Facebook Fans
Broadway's Interactive Play Edwin Drood Opens Up Voting To Facebook Plus Adds A Chance To Win One Of Five Pairs Of Tickets Being Given Away
---
Interactive Broadway Play "The Mystery Of Edwin Drood"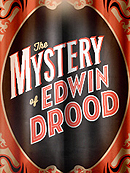 Broadway fans who have seen the Roundabout Theatre Company production of The Mystery of Edwin Drood know that one of its unique and popular features is that, during the 2nd act of the musical, the audience is invited to vote on various aspects of the plot, affecting the way that the show ends on any given night.
Now you don't have to be at Studio 54, where the production plays, in order to register your vote. For a special Wednesday, January 30th performance, the ending of The Mystery of Edwin Drood will be determined by fans who vote on Facebook.
Cast Your Vote On Facebook For A Chance To Win
By casting your vote on Facebook, you also make yourself eligible to win one of five pairs of tickets being given away to that performance. To cast your vote, visit www.facebook.com/RoundaboutTheatreCompany. Votes must be in by January 24 at 11:59pm.
Discount Broadway Tickets
---
---