Broadway Understudies Take the Spotlight in "At This Performance"
Musicals Tonight!'s Concert Event, At This Performance, Offers Understudies And Standbys The Spotlight They Deserve At The Lion Theatre On Broadway October 21, Hosted By Stephen Deangelis
---
Understudies and Standbys Shine in Broadway Event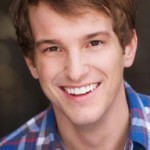 There is no more waiting in the wings for the understudies and standby performers of Broadway and Off-Broadway. At This Performance, presented by Musicals Tonight!, is an ongoing concert event that gives these hard-working theater folk the opportunity to shine. The latest concert is being held at The Lion Theatre, an Off-Broadway venue at 410 W. 42nd Street, at 7pm on October 21. The event will be hosted by casting director Stephen DeAngelis, and Eugene Gwozdz will provide piano accompaniment and music direction.
A host of Broadway understudies and standbys will sing numbers and talk about some of their standby experiences. Among those performing are Justin Bowen (understudy for the title role in Chaplin), Mike Faist (Jack Kelly understudy in Newsies), Jennifer Smith (Nice Work If You Can Get It), Nikki Bohne (Bring It On: The Musical), and several understudies for the recent Shakespeare in the Park production of the musical Into the Woods. Learn more about At This Performance at www.musicalstonight.org. Tickets are just $25 and can be purchased through Telecharge by calling 212-239-6200.