Broadway Ticket Lotteries Revamped
Over 20 Broadway Shows Now Offer A Ticket Lottery That Provides A Great Method To Secure Discount Tickets.
---
Broadway Show Ticket Lotteries

Many Broadway shows now offer lottery tickets at incredible discounts that are designed to create some buzz about the show.
Recently, most Broadway shows have switched from the age-old practice of the in-person lotteries (that required the entrant to be physically at the theatre) to online ticket lotteries where anyone with internet access or a mobile phone can enter to win the right to purchase the best-seats-in-the-house for as little as $10.
Free To Enter Broadway Lotteries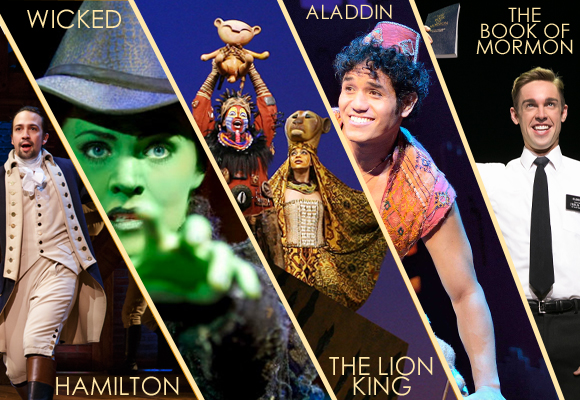 All of the Broadway show ticket lotteries are free to enter, but not all Broadway shows offer a ticket lottery. The vast majority of Broadway shows that do offer a ticket lottery, do it via the internet rather than in-person.
Don't be surprised to see that a Broadway show might send you an email ticket offer long after you have entered into their ticket lottery - this will usually happen when the show is no longer so hot, as this is one of the biggest reasons the shows offer the ticket lottery in the first place, to get your juicy contact data. For The Broadway Show Ticket Lottery Schedule Please CLICK HERE
Top 5 Broadway Ticket Lotteries
Hamilton - $10
Lin-Manuel Miranda's mega-hit HAMILTON offers 21 tickets for just $10 per seat for every performance. When the ticket lottery is conducted outside the Richard Rodgers theatre it becomes a crazy scene with hundreds of people on 46th street. The NYPD requested that the ticket lottery be moved online, where now over 25,000 people enter for every performance, except Wed mat, which is still conducted outside. Double-perfs show days provide the best odds of winning this lottery which is still the biggest bargain in town. Prepare to be disappointed, console yourself with the free online Ham4Ham perfs.
Wicked - $35
Since 2003, WICKED has been a popular Broadway show that currently provides both an in-person and an online ticket lottery.The in-person lottery will stay for the moment and the new online lottery will remain for at least the spring 2016 shows - so right now both lotteries are available. This show offers great value as they provide up to 25 lottery tickets per show, that are drawing for just $35 each. With most of the tickets being in the front row, fans get to see the show up-close-and-personal. Online and in-person ticket lotteries are limited to just 2 tickets per person. Perfect for you and a friend - but which friend?
The Lion King - $30
Now in its 19th year, Disney's THE LION KING remains one of the most popular stage musicals in the world. In the fall of 2015, the hit show launched its first-ever ticket lottery for just $30 tickets to every performance via a digital lottery system that provides up to 20 tickets per day. This week's average ticket price for this show is $168, so this is a great opportunity to experience the stunning artistry, the unforgettable music and the exhilarating choreography of this musical theater phenomenon – one of the most awe-inspiring productions ever brought to life on stage, at a very reasonable price.
Aladdin - $30
Disney's ALADDIN opened to critical acclaim in 2014 and quickly established itself as one of the biggest new Broadway blockbusters in recent years. The show features favorite songs from the Academy Award®-winning soundtrack and more written especially for the stage. Last week's average ticket price for this show is $134, with the top price ticket at $250. Just this week, this popular show switched to an on-line lottery (in place of their in-person lottery that would see up to 250 people per day). The cost of the on-line lottery tickets are just $30 and up to 30 seats are up for grabs for each performance.
The Book of Mormon - $32
This 9-time Tony Award Winning musical's success has been due in part to its irreverent story and engaging music. With the average ticket price for this show at $161, THE BOOK OF MORMON fills 100% all the seats of the rather compact Eugene O'Neill Theatre for every show. This show currently has an in-person lottery and has not transferred to the popular online-lottery format. Each ticket for the in-person lottery is priced at $32 and as interest for the show has leveled off (compared to its heyday of $1000 face value on tickets) the odds of winning the Book of Mormon lottery are greatly increased.
Other Broadway Shows That Provide Ticket Lotteries:
A number of other Broadway shows provide ticket lotteries include: An American in Paris, Beautiful, Blackbird, Chicago, Curious Incident, Cirque Du Soleil's PARAMOUR, Finding Neverland, Fun Home, Jersey Boys, The King and I, Kinky Boots, Les Miserables, Long Day's Journey Into Night, Matilda, On Your Feet!, School of Rock and Something Rotten. For The Broadway Show Ticket Lottery Schedule Please CLICK HERE