The Most Popular Online Broadway Ticket Lotteries
In-depth guide for all of the best and worst Broadway show lottery ticket services currently available in NYC
---
The Most Popular Online Broadway Ticket Lotteries:
The Broadway show ticket lottery systems are a fairly new invention and are regarded as a great way to give back to Broadway fans and also create some good PR for a Broadway show. There are currently 21 Broadway shows using an online ticket lottery and just a couple of others who use an in-person lottery. Most Broadway shows have now moved to an online service to administer the ticket lottery process (and the ticket giveaway). The cost to enter the ticket lotteries is still free, but the lottery winners still have to pay a small amount for the tickets if they do win the lottery. The charge is between $10 and $45, depending on the show and the performance. The seat locations can vary wildly, with some being in the front-row, center and others towards the back or on the sides of the theatre. Oddly enough, most of the lottery ticket services are being run by the actual theatre landlords, as if they do not trust anyone else to administer a lottery system that is fair and unbiased. Some of the ticket lotteries are better than others and we have put together a list of the most popular Broadway show ticket lotteries below:
Telecharge.com - The Shubert Organization
This is the most common Broadway ticket lottery system and is also the most egregious. This service is currently used by eight Broadway shows that have the misfortune to have the Shubert Organization as their theatre landlord, so the decision to use this service is often dictated by their geography and is not freely chosen. The shows using this service include: Ain't Too Proud - The Life and Times of the Temptations, Be More Chill, Beautiful, Come From Away, Dear Evan Hansen, King Kong, Oklahoma! and The Phantom of the Opera. This service does not allow users to visit a single site to enter all the ticket lotteries, making users work so much harder for so little benefit.
On the back end of this service the Shubert Organization using the much maligned SocialToaster service and it is through this app that the Shubert Organization attempts to wrestle away some control of the entrants social media accounts, and browser security, just to allow the user to enter the ticket lottery. The service requires that all lottery entrants allow third party cookies on their browser just to visit the website and then to be able to enter the ticket lottery, fans have to allow the service to access sensitive areas of their own social media accounts and allow the specific show to automatically make posts on the users Twitter, Facebook or LinkedIn accounts, which lottery entrants often rebuke. Who would give anyone that kind of control would be a fair question? Probably only idiots. More specifically, the Shubert Organization demands that Facebook users allow them to see everybody on the users friends list, timeline posts, birthday, current city, page likes, gender and email address. On Twitter it is even worse. The Shubert organization demands that users allow them to read tweets from their timeline, see who they follow, and follow new people, update your profile and post tweets for them. The Shubert Organization does stress that they do not access their direct messages, see their email address or see their Twitter password, but at this point they might as well go all the way and just ask for that too.
This is a clear overreach of harvesting customer data and the oft-arrogant Shubert Organization shows that it cares very little about leveraging its potential customers data as they often lack the moral fiber you would expect from an organization this size. As this lottery requires significant access to users social media accounts just to enter it, most people shy away from entering these lotteries using this broken service. Those that do enter, often create a fake set of social media accounts and then add a couple of friends just for this purpose, because they realize just how egregious the entry requirements are, just for a chance to enter a competition to win Broadway tickets, which is more often that not a losing proposition for them.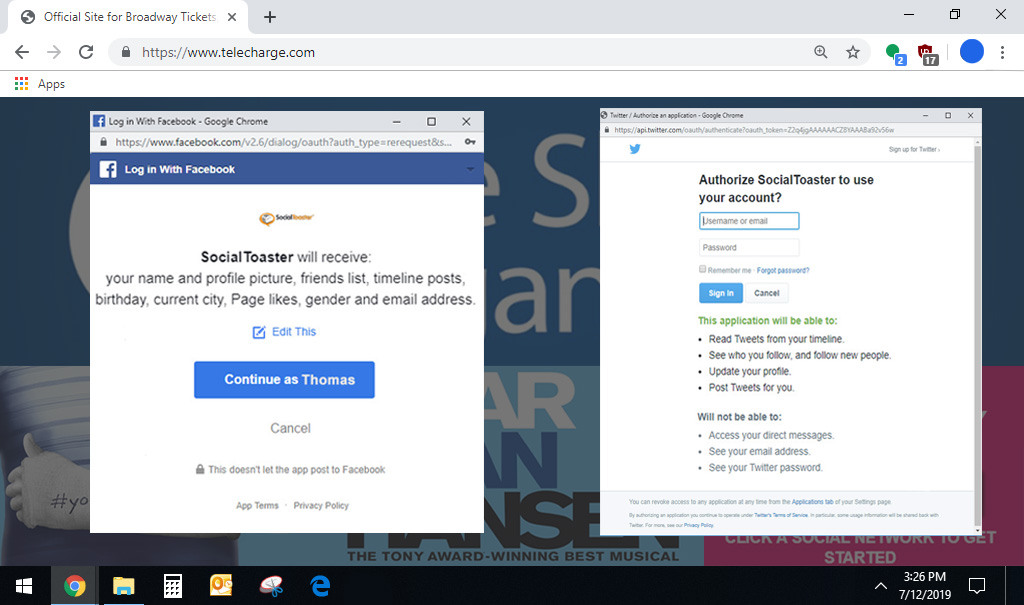 Fans can see these Broadway show ticket lotteries updated in real time

BroadwayDirect - Nederlander Company
The BroadwayDirect lottery service is run by the Nederlander Company and is for the six Broadway shows that are currently located in Nederlander owned theatres. This service is used by the following shows: Aladdin, The Cher Show, Hamilton, The Lion King, Pretty Woman The Musical and Tootsie. This ticket lottery service has one of the least intrusive systems on the Great White Way as lottery entrants do not need an account with their website to sign up for the ticket lottery and the lottery ticket service does not require access to the entrants social media pages. In order to enter into their ticket lottery users need to provide an email address that needs to be confirmed by clicking the link that BroadwayDirect sends all of their first-time users. Entrants must provide their first, last name and a zip code and that is pretty much it. There is also a Google Recaptcha key that entrants have to get through, that makes sure that users are not just a robot who is trying to beat their system, which is what ticket brokers always love to attempt to get tickets at bargain prices.

On the lottery tab at BroadwayDirect's main website there are six Broadway shows where they provide ticket lotteries. This service provides a single URL that entrants can see all the current ticket lottery choices, but they must enter the lotteries one at a time. The show tickets range anywhere from $10.00 a ticket to $42.00 a ticket, with Hamilton having the least expensive tickets and Tootsie and Pretty Woman the Musical having the most expensive tickets. All ticket lotteries by BroadwayDirect are for next-day shows, which means lottery entrants have a tight window between 10 and 31 hours to register, win, pay and then see show. Obviously performances times change, but the window of lottery opportunity remains the same. BroadwayDirect sends an email to all entrants confirming that they have received their submission. They send a congratulatory email to the winners with instructions on how to accept and pay for the tickets, they also send a "Sorry, better luck next time" email to the losers. If winning entrants do not accept/pay for their winning tickets before the cutoff time, BroadwayDirect will give the unclaimed tickets back to the theatre box office, who usually then give the unclaimed seats to the standing room only ticket line, outside the theatre.

Fans can see these Broadway show ticket lotteries updated in real time

Lucky Seat - Jujamcyn Theaters
The Lucky Seat lottery service is owned and run by the Jujamcyn Theater Corporation and is used to run the lottery ticket sales for the five shows that are currently playing in their Broadway theatres. This service is used by the following Broadway shows: The Book of Mormon, Frozen, Hadestown, Mean Girls and Moulin Rouge. Lucky Seat is probably the easiest lottery service to use, once you have created an account. After that, the site is easy to navigate and their unique "Select All" button gives users an easy way to enter themselves in for all of the ticket lotteries for their shows for the entire week ahead, for up to eight perfomances for five shows.
To create an account with Lucky Seat, users follow the site instructions and must provide the standard account information; name (first and last), home address, email address, Country, Zip code and then complete a Google Recaptcha key. When signing up for an account there is also a checkbox that asks users if they are over the age of 18, as all accounts must be held by persons over that age. Before entrants complete the registration, there is an optional account feature users where users can provide a cell phone number so Lucky Seat can text them with new show information and notify the winners when they have won the show tickets. This service does not send an email to lottery losers. There is a convenient single page on this service that allows users to see/enter all of their lotteries on one page.
Lucky Seat, currently offers lotteries for five Broadway shows, as well as other productions in various cities all around the world. These 11 other productions are located in London, Chicago, Phoenix, Baltimore and Memphis as well as the Hugh Jackman World Tour. Lucky Seat runs the Hamilton lotteries for all the other cities around the world, except for New York, which is run by BroadwayDirect. The winning Broadway tickets from Lucky Seat will cost winners from $29.00 to $42.50 a seat, which is a steal compared to the original three to four digit prices for face value Tickets. Besides the texting feature and "Select All" button, there is one other feature that Lucky Seat has. Entrants are given the option to Tweet on their personal Twitter accounts about their lottery entry and/or post on their personal Facebook wall's in order to double or triple their odds of winning the lottery tickets. Other lottery sites like Telecharge, force entrants to tweet or post on Facebook every time a user enters one of their ticket lotteries, but this service keeps it optional.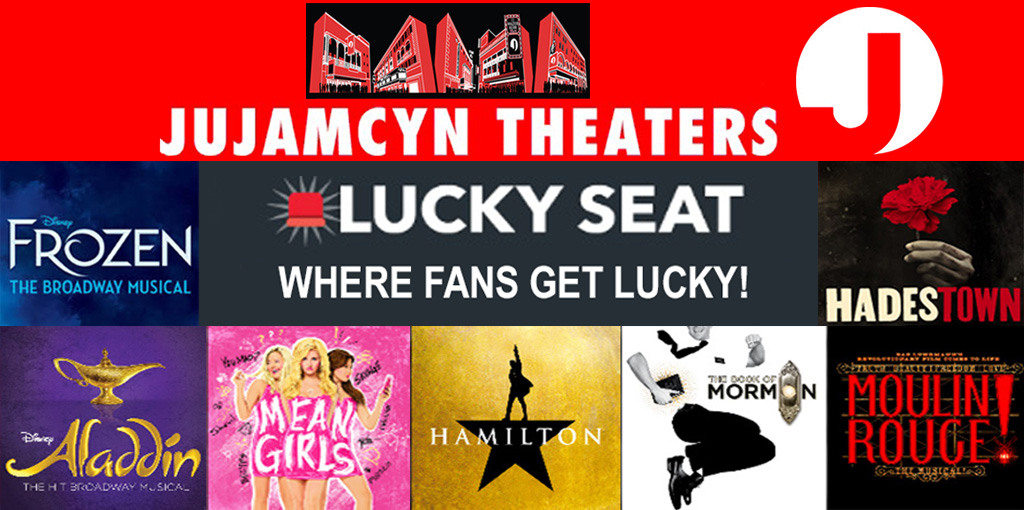 Fans can see these Broadway show ticket lotteries updated in real time

TodayTix - Ambassador Theatre Group
TodayTix is a privately owned ticketing website that does not specialize in ticket lotteries, preferring to just sell face value and ticket broker tickets.They do however currently have a contract to provide ticket lotteries for two Broadway shows which are both being in theatres owned by the Ambassador Theatre Company, a British import firm, but owned by the US based Providence Equity Partners. Through the ATG affiliation, the TodayTix ticket lottery service is being used by: Burn This and Harry Potter and the Cursed Child. This ticket lottery service is pretty straightforward and simple to use. Lottery entrants just need to provide them with an email address and all the rest is taken care of.
Being that there are only two shows that TodayTix currently offers, there is no single URL for users to see both the shows the lotteries that are being offered. Burn This tickets are being offered to lottery winners for $39.00 a seat and are only being offered for showings on the same day of entry. Ticket winners for the show must accept and pay for their tickets within 30 minutes after their name has been drawn and they have been notified of winning. In order to not miss their short acceptance window, there is an option for users that allows them to use their mobile phone number to get notified and the TodayTix team will send the lucky ticket winners a text message as soon as they win. This way, winners can accept and pay for the winning tickets as soon as possible and without having to frequently check their computers. If the tickets are not claimed within the short time frame, which happens a great deal, the drawing will be redone and the next person will have 30 minutes to accept and pay for the tickets. Due to the short time frame that this service works with, it is almost feels as if this lottery is being done like an in person lottery right in front of the theatre box office.
The two parter Broadway show, Harry Potter and the Cursed Child tickets is run differently than Burn This, and they are offering lottery tickets for $40.00 each. For these performances, Harry Potter hopefuls may enter the ticket lottery up to ten days in advance. Winners are provided with tickets for both parts of this two part show. After the ticket drawing, winners will be notified and have one hour to accept and pay for the tickets. Also, just like Lucky Seat, entrants have the option to leave a Tweet on their personal Twitter accounts or write a post on their personal Facebook page to tell their friends and followers about their lottery ticket entries on TodayTix. This is used as a way to promote the website and increase the entrants winning odds, because TodayTix will enter their names for a second or third time in the drawings when they see the posts. To find a way around the New York State Lottery laws, entrants can also enter the lottery via mail by mailing an envelope with name, email, phone number, Zip code, and desired performance to the TodayTix offices in the theatre district.

Fans can see these Broadway show ticket lotteries updated in real time
In Person Live Lotteries
There are two other ticket lotteries on Broadway that still adopt the rather old-school in-person ticket lotteries and they are Beetlejuice and Wicked.
These shows run their own ticket lottery on the day of the performance only and fans can turn up in-person with a few hundred other people to enter the ticket lotteries. The chances of winning these ticket lotteries is substantially greater.
Fans can see these Broadway show ticket lotteries updated in real time
Discount Broadway Tickets
---
---