Broadway Stars Go Nuts At The 2014 Oscars
Broadway's Favorite Stars Make Appearances At The 86th Annual Academy Awards Produced Craig Zadan And Neil Meron
---
86th Annual Academy Awards Crossed Paths With Broadway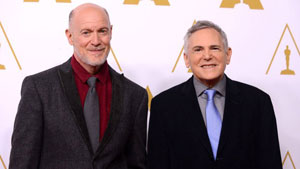 For the second year in a row, the event was produced by Craig Zadan and Neil Meron – who, in addition to having produced the recent Broadway revivals of How to Succeed in Business Without Really Trying and Promises, Promises, have perfected the Broadway musical to film adaptation concept with such movie hits as Annie (1999), Chicago (2002), The Music Man (2003), and Hairspray (2007).
They also executive produced NBC's Broadway-themed TV show Smash. It does make sense that these producers, with their expertise in the cross-section between theatre and film, would be chosen to run the film industry's most significant stage show.
Traditional Ceremony With Broadway's Favorite Stars
Last year, they may have taken the concept a little too far, as they made the unprecedented choice to give the 2013 Oscars a theme: music in film. Though it was arguably appropriate because one of the nominees was Les Misérables, some critics thought they took the idea too far.
This year, they opted for a traditionally theme-less ceremony, and received far less criticism. Still, purely on their own merits, some of Broadway's favorite stars made appearances at the 86th Annual Academy Awards.