Broadway Shows WINTER STORMS: Blizzard Conditions and Show Cancellations
Ticket Policies And Practices Which Broadway Shows Follow After A Forecast For Extreme Weather Conditions In NYC Including Winter Storms And Snow Blizzards
---
Broadway Shows and Winter Storms in NYC: Why The Broadway Shows Must Go On
NYC weather forecasters often lament that they keep getting snow storm forecasts incorrect, more often than they get them correct. If the weather forecast calls for one inch, then two feet of the fluffy white stuff may come down and vice versa.

Given this, the once-bitten-twice-shy "Broadway League" and the "NYC Mayor's Office" (both of which who make the final recommendations on Broadway show closures) are often slow to make a cancellation decision for all Broadway show productions, given the big financial impact to the shows (and the city) and the past inaccuracy for snowfall predictions from the weather services.
Broadway Has The Final Say
Even after these organizations have given their edict, Individual Broadway shows can still decide to cancel a performance but they rarely do, given the financial impact. House managers arm their theatre staff with snow shovels and tons of salt and they keep the entrances to their Broadway theatre clear at all costs. Although rare, the house manager at each theatre can override any decision made by the producers of the show, the Mayor or even the Broadway League.

For most Winter storms, Broadway shows will still perform, but ticket holders who have problems traveling, should be able to exchange their tickets if they so choose, for a performance on another day. Straight refunds are a different matter and each show has a different policy, depending on whether the show still plays or not. If the show does not play, everyone automatically gets a straight refund without even asking for it.

What Should Impacted Ticket Holders Do?
Ticket holders should call their point-of-purchase for their show. Listed below are the contacts for face value and discounted tickets (Ticket broker numbers are not listed as they are too numerous to mention):
- Telecharge at 212-239-6210
- Ticketmaster at 800-653-8000
- Roundabout Theatre 212-719-1300
- Manhattan Theatre Club 212-399-3040

Make the call to exchange your tickets now or better get your snow boots and skis out of the closet.
Public Transit Is A Major Factor

Broadway shows will stay open even during the worst winter snow storms, as long as the NYC public transportation systems in New York City (and the surrounding areas) are still in operation. This has been true in many recent New York storms; Broadway shows will always close if the New York City Mayor issues a storm emergency, closes all public transportation, closes the bridges and tunnels going into the city and issues a vehicle and people-ban on the streets.

If the Mayor has not issued such a mass-closure announcement like this, then Broadway shows may still announce their own mass-closure in advance of (or in place of) the Mayor's announcement, but this is rare - they normally take their lead from the Mayor's Office. Broadway shows will usually only close for the most egregious or dangerous conditions, so it takes more than just a major ice storm, crazy blizzard, or damaging hurricane to turn the lights off at the Broadway stage.
Non-weather related closures
For non-weather related issues, the "show must go on" and individual show performances will only be cancelled if there is a power outage or flooding, where it will be dangerous for cast, crew and audience to be in the theatre. Even in major power outages, some Broadway shows still put on a performance, which was true in the North East Blackout of 2003 and for the Hurricane Sandy blackout aftermath in 2012, which both lasted for a week.
Broadway Show Cancellation Announcements And Ticket Refunds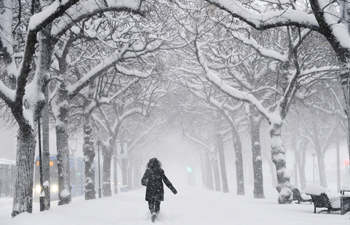 In the extreme case where the New York City Mayor issues a weather emergency and a complete travel-ban and the Broadway League then announces a mass Broadway show closure, then all Broadway show tickets are usually automatically cancelled.
In this case all tickets are refunded, an automatic refund check is mailed or online purchases credited to the credit card that was used. In lesser storms, the Broadway League usually lets each individual show make their own decision to whether they will open, or not.
Last-minute decisions by the Mayor and Governor

The New York City Mayor and the NY State Governor are notorious for leaving it to the last minute to make their announcement, especially after getting it wrong in recent years. This makes it difficult for Broadway theatregoers to plan around this important information.

The Broadway League may step in

The Broadway producers and theatre owners industry group, "The Broadway League," headed by Charlotte St. Martin, will often follow the Mayor's lead, or make their own decision earlier, to close all shows based on their own information and/or feedback from Broadway theatre owners and producers and the city.

Their official decision can be found on their page: www.broadway.org. and is a good source to determine what Broadway shows will be open and which ones will be closed. Obviously, the League does not want to make Broadway patrons feel compelled if it is dangerous, as legal liability issues can arise. They may err on the side of caution, striking a tricky balance between the interests of their Broadway landlord membership and the safety of the general public at large.

Clear sidewalks are essential
Some Broadway theatre landlords do a great job in clearing snow outside their theatre and salting during the actual storm, while others will wait for the storm to pass before trying to get it clear. The latter theatres will often not open during the storm as their sidewalk is not clear and they will have insurance liability issues with the talent, crew and theatre audience.
If The Broadway Show Is Not Cancelled, Refunds Are Not Issued
If the Broadway show is not cancelled, then Broadway ticket refunds will not be issued. While it may be more difficult than usual to get to the show, it is the responsibility of the Broadway show ticket holder to get to the theatre to see the show, if they do not want to lose their tickets.

If they do not turn up, or do not make other arrangements for a ticket exchange, they will effectively lose the value of their tickets, as their seat will remain empty during the show performance and it cannot be re-sold by the box office to anyone else.
Getting A Ticket Exchanged In Advance Of The Storm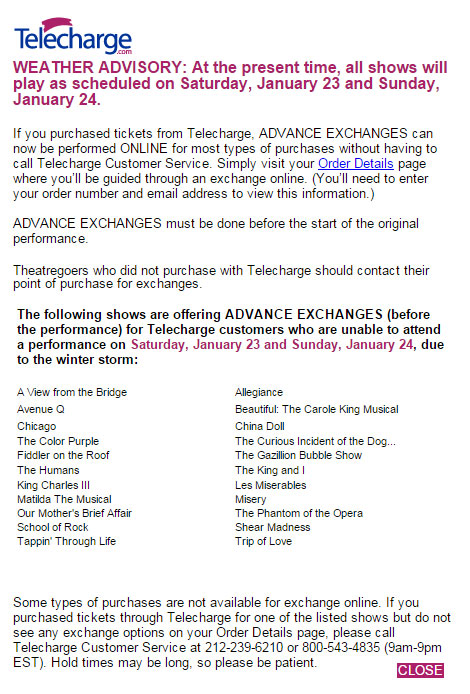 Many Broadway patrons opt to exchange their tickets for another performance after the storm has passed. These ticket exchanges are at the discretion of the individual show, and are usually only available on the phone or from the box office in person, in advance of the actual show.

Patrons waiting until the last minute may find their request denied, especially if the show is still scheduled to perform. If you have purchased the extra insurance, you can just have the whole transaction refunded, but otherwise, you are left to fend with Telecharge and Ticketmaster.

Box office staff can help
Box office staff are in the perfect position to help but they are not legally compelled to exchange these tickets. Telecharge.com also offers "Advance Exchanges" for the days when the storm will likely have the most impact on the city, but not all Broadway shows participate in this process.
Getting "Ticket Broker" Tickets Refunded
Ticket brokers are not the most helpful when a big storm approaches New York as they have already made their profit from the sale, and are not interested in the concerns of their clients pertaining to any potential danger in getting to the show. When all Broadway shows are completely cancelled and refunds are automatically processed for ticket holders, some ticket brokers only refund their clients' money, when requested, which is a highly questionable practice.

Mass-Cancellation of All Broadway Shows

Many Broadway Shows Still Go On With A Snow-Performance.
In past years, even if all the Broadway show performances are officially cancelled and the snow is piling up on the streets, many Broadway shows actually perform anyway. This is because many of the actors and stage crew live in New York City and they can easily make it to the theatre for work. For ones that live outside the city, they are often asked to make arrangements to stay locally during the storm.

These Broadway shows usually do not hold the original ticket holder to the contract to appear, but the shows often play to empty houses or even let people in for free (or for lottery prices), after it becomes clear that the original ticket holders are not turning up - often the show starts an hour after it was scheduled to accommodate the ever-changing weather situation.

The Book Of Mormon and Chicago

The Book of Mormon and Chicago have been known to do this in the past to the delight of the people who are still in NYC, passers-by or people looking at their official show Facebook page. Broadway Shows that are aimed at younger children, will often cancel and not hold a "snow performance", The Lion King is a good example of this. Ticket holders who do not turn up for a "snow performance" are automatically refunded the ticket sales price.
Broadway Storm-Shows Can Often Be A Bargain
When Broadway is officially closed, but an individual Broadway show still chooses to run, the box office becomes a bargain-hunter's dream. The producers will be left with lots of unsold ticket inventory from the patrons who exchanged their tickets ahead of the storm, and the producers are eager to offload that now-spare ticket inventory.

The TDF TKTS ticket stand willbe closed in Times Square because of the weather, so expect prices to be slashed and the best tickets in the house running at a 90% discount. Sometimes they just hand out tickets for free at the front door. When the storm hits, things can get crazy at the theatre, but this is part of what makes New York theatre so great.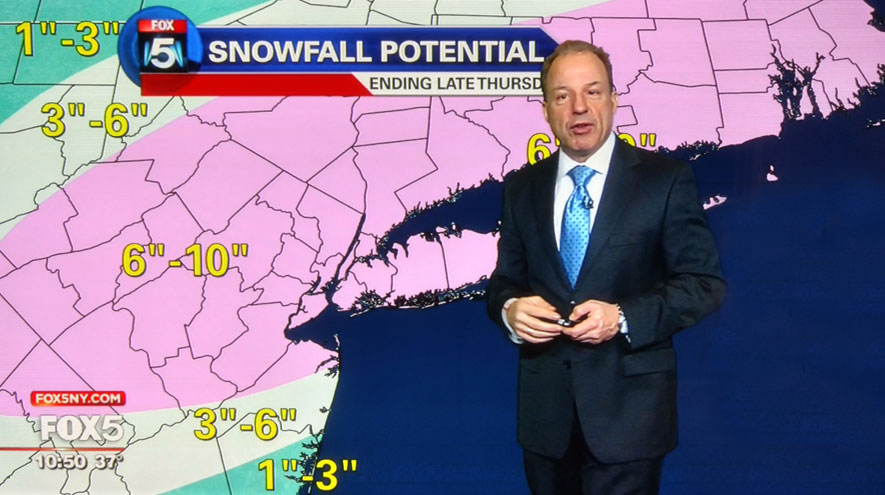 Historic NYC Winter Snow Storms and Blizzards, and Their Effect on Broadway Show Performances
Despite the forecast of up to 18" of snow for NYC from Winter Storm Quinn, all Broadway performances on Thursday, March 8, 2018 were not cancelled and Broadway business went on as normal.

The actual snowfall ended up being just 8", so the city called it pretty poorly this time - the Peter and dyke syndrome will happen next time, where people will not believe the forecasters - people have long memories about these kinds of things and you cannot keep getting it wrong then expect credibility in these matters.
Winter storm blizzard Grayson arrived in NYC in the early hours on Thursday 01/04/18 and ran through to the same early hours on Friday 01/05/18. It was forecast to dump anywhere from 4-7 inches of snow on NYC. Although Winter Storm Grayson may have had scary meteorological names like a Bombogenesis and a Bomb Cyclone, it did not bring that much snow to NYC, just some very strong winds and freezing temps for a few days after the event passed.

All NYC schools were closed and many people got a snow day off from work out of an abundance of caution, but Broadway show performances were not affected and went ahead at their normally scheduled performance times. In the end NYC got just 2 inches and the storm was another dud.
Winter Storm Stella - March 14, 2017
This snow storm was forecast to dump up to 2 feet of snow on NYC and it ended up being a paltry 5 inches. Broadway shows waited until the last minute to decide if the shows would be cancelled because of the poor track record that the weather forecasters have had in the past and the producers called it right this time, as it ended as being a complete non-event and the Broadway shows went ahead with very little, or no impact.
Winter Storm Niko
February 08, 2017 was forecast to dump 12 inches of the white fluffy stuff in NYC, but it barely brought in more than five inches, which also did not have any impact on Broadway show performances.
NYC Weather Forecasters Got it Very Wrong For Winter Storms Stella, Niko and Juno
The NYC weather forecasters inaccuracy is costing NYC a huge amount of money in losses each time they get the forecast wrong, which is now becoming quite common. They have got the forecast very wrong in three of the last five major snow storms in NYC, including Winter Storm Stella, Niko and Juno.

This is a batting average of just 400, very poor for meteorologists. Despite NBC having the very expensive Doppler 4000, it is clearly providing little value in predicting the amount of precipitation. The cost to NYC in lost business for inaccurate forecasts that force NYC to close is astronomical for even just one day. The losses have been estimated at over $3 Billion in total lost revenue and productivity. Its impact to Broadway can be felt for months after the Winter event.
Winter Storm Jonas
(AKA Blizzard 16) Saturday, January 23, 2016. This blizzard was correctly forecast and became the second-largest snowstorm in New York City history. At 26.8 inches of the white fluffy stuff falling in Central Park (the official weather monitoring station) this blizzard was just shy of the record 26.9 inches set in 2006.

With up to four feet of snow in drifts in NYC, most Broadway shows were still planning to be open for business on Saturday with all performances still going ahead on time until the NYC Mayor and NY State Governor issued a travel ban at 1PM on Saturday, January 23. The travel ban lasted until the following Sunday morning.

The Broadway League responds

This meant that the Broadway League then followed suit and issued a mass Broadway show closure statement for all shows on Saturday, January 23, 2016. Broadway shows resumed for the matinee shows on Sunday, January 24. All Broadway shows processed automatic ticket refunds for tickets for the Saturday cancellations. The producers also offered ticket exchanges for all shows on Saturday Jan 23 and Sunday Jan 24.

Ticket holders had to request a ticket exchange - by contacting Telecharge or Ticketmaster over the telephone (or go to the box office) to arrange a ticket exchange. The TDF discount booth at Times Square was open both days of this winter storm, for anyone brave enough to face the pounding snow-in-the-face, but as shows closed on the Saturday, any tickets gleaned from the TKTS booth were be refunded to the poor souls who braved the blizzard and still got cancelled.

Winter Storm Chris
March 15, 2015. Despite a total of 18 inches of snow falling in 24 hours, most Broadway shows still played, but shows did offer ticket exchanges for future performances to ticket holders for that night's performances only. This was graciously applied to all people who did not turn up for the show, despite not pre-arranging ticket exchanges.
Winter Storm Juno
(AKA Snowmageddon, Snowpocalypse) January 25, 2015. The New York City Mayor, Bill De Blasio, warned New Yorkers that a historic snow storm with 3 feet of snow was heading to New York on the following day. He closed all public transportation systems, and all Broadway shows were forced to close. Fortunately, it was a Monday when most of Broadway was dark anyway, and little inconvenience was felt by Broadway patrons.

De Blasio's statement sent New York City residents running to stores to stock up on food, snow shovels, and rock salt. The Mayor was erring on the side of safety; he just got it wrong this time. This was the first time that the New York City subway has ever closed for snow reasons, and ultimately a paltry 9.8 inches fell in NYC, making residents angry at the mistake in the forecasts. Boston, MA, however, was buried in up to three feet of snow.
Winter Storm Knife
(AKA Snowvember) November 13–21, 2014. This series of Winter storms dumped over 33 inches on NYC, but as the dumping was spread over a few days, NYC was able to keep ahead of the snow ploughing and there were no stoppages to the city or the Broadway show schedule during this time.
Winter Storm Double
January 26, 2011. 19 Inches of snow - All Broadway shows closed
Boxing Day Blizzard
December 26, 2010. 26 Inches of snow - Some Broadway shows closed
Snowicane
February 25, 2010. 21 Inches of snow - No Broadway shows were closed
New York City Blizzard
February 11, 2006. 27 Inches of snow - All Broadway shows closed
Presidents Day Blizzard
February 16, 2003. 20 inches of snow - All Broadway shows closed
---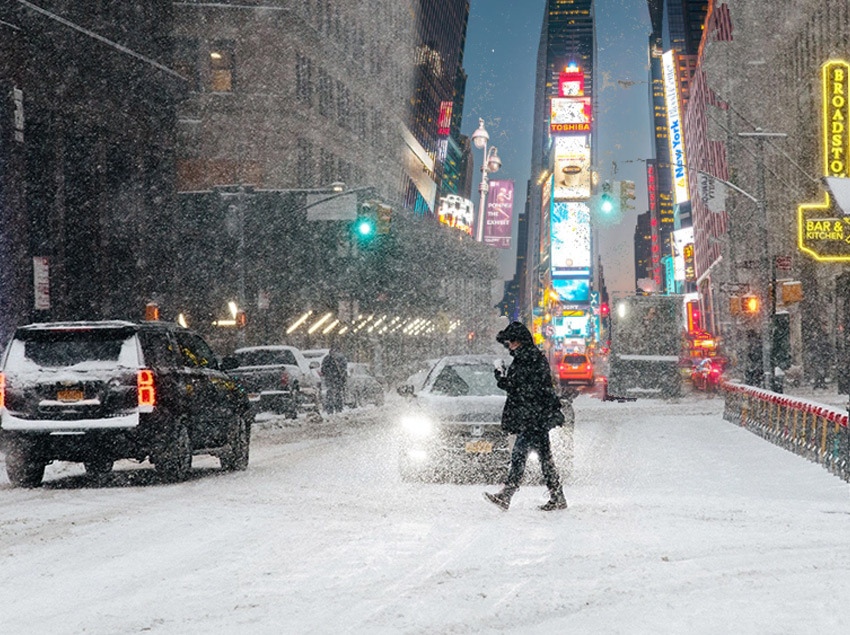 Who Gets To Name The Winter Storms?

Although Hurricanes always get named, the National Weather Service, does not typically name Winter storms. NBC's "The Weather Channel" began naming them during the 2012-13 winter season, but many media outlets still do not recognize them. The Weather Channel will only name the storm if it significantly threatens populations of at least 2 million people, so a winter storm needs to be pretty severe and hit a major city to get a name.

The Weather Channel (TWC) has been ridiculed in the press for using many comedic names for Winter storms that failed to recognize the potentially life-threatening destruction that they can often wage upon cities across the United States. When someone dies during the storm, its no longer funny that the name of the storm is Winter Storm "Snowtorious B.I.G."