Winter Storms on Broadway: WINTER STORM QUINN 03/07/18
Winter storm Quinn hit New York City on 03/07/18 no Broadway shows were closed due to the blizzard, extreme snow and dangerous ice conditions
---
WINTER STORM QUINN UPDATE: 03/07/18
Blizzard, extreme snow, and ice conditions are again forecast for New York City for this storm, so it's a great time to revisit the policies and practices of what happens to Broadway show performances during a Winter storm event. Many Broadway ticket holders wonder if their shows will be cancelled due to the blizzard, or whether they will have to fight the extreme weather to get to the show. Some people ask whether they can exchange their Broadway tickets now, for another performance after the snow storm has passed. Others ask if they can get a straight refund on their tickets. Below we attempt to answer all the latest weather status questions and give you a brief history into what has happened in the past, so you know what to expect in the future.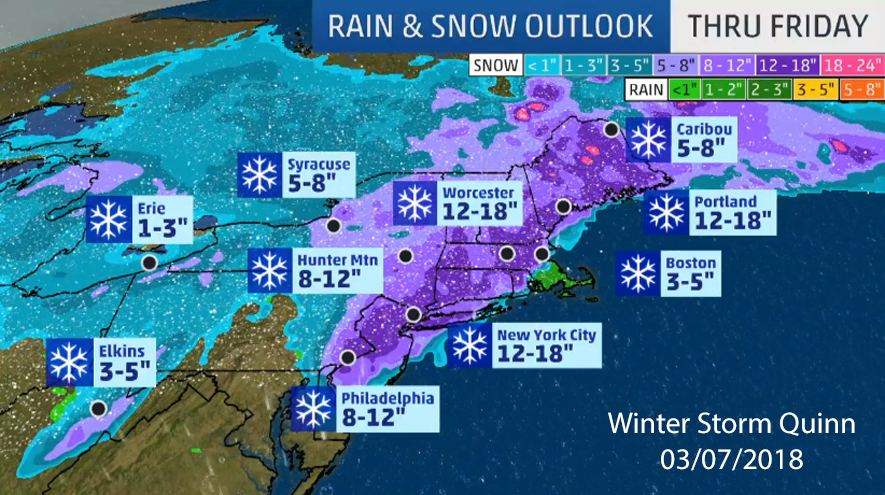 BROADWAY SHOW WEATHER ADVISORY STATUS:
At the present time, all shows on Broadway will play as scheduled on Wednesday, March 7, 2018 despite the forecast of up to 18" of snow. It is unlikely that performances on Thursday, March 8 will be cancelled and will probably go on as normal, but the situation will be updated if there are any changes. If you purchased tickets from Telecharge or Ticketmaster, ADVANCE EXCHANGES can now be performed ONLINE for most types of purchases without having to call Customer Service. Simply visit your Order Status page on a desktop computer where you'll be guided through an exchange online. (You'll need to enter your order number and email address to view this information.) ADVANCE EXCHANGES must be done before the start of the original performance. All Broadway shows are offering ADVANCE EXCHANGES (before the performance) for customers who are unable to attend any MATINEE and/or EVENING performance on Wednesday, March 7, due to the winter storm: If you purchased tickets at the box office call their Customer Service to exchange your tickets. If you did not purchase your tickets from Telecharge or Ticketmaster directly, please contact your original point of purchase. Some types of purchases are not available for exchange online.
Telecharge Customer Service 212-239-6210 or 800-543-4835 (9am-9pm EST)
Ticketmaster Customer Service 877-250-2929 or 212-307-4100 (9am-9pm EST)
Roundabout Theatre 212-719-1300 (9am-8pm EST)
Manhattan Theatre Club 212-399-3040 (9am-6pm EST)

Discount Broadway Tickets
---
---