Broadway Show Ticket Sales* w/e 9/30/2012
This Week On Broadway, Ticket Sales See A Slight Increase, Virginia Woolfe Has A Decent Start In Its Broadway Debut, Ticketing Challenges Faced By Other Broadway Shows Like An Enemy Of The People
---
Broadway Sees a Slight Rise in Revenue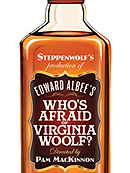 September closed out with a slight sales increase on Broadway, as total ticket revenue rose from $17,072,241 the previous week to $17,166,463 this week. Longtime runner Jersey Boys cracked the one million mark for the first time since May, bringing in $1,052,914 in sales.
"Virgina Woolf" Opens on Broadway
Who's Afraid of Virginia Woolf?, the only new entry on the chart this week, had a decent start of previews, filling the theater to 85.60% capacity. The Steppenwolf Theatre Company production of the Edward Albee classic should get some significant attention as one of the prestige productions of the season, given its pedigree (Steppenwolf is one of the country's most respected theaters, and Albee is considered by many to be the greatest living American playwright) and the fact that it stars Pulitzer Prize winning writer Tracy Letts (August: Osage County) playing opposite August's breakout star Amy Morton.
"Peter and the Starcatcher" Show Ticket Sales Strength
Peter and the Starcatcher saw some modest improvements, with capacity rising to 68.64% (from last week's 62.66%) and average paid admission increasing to $59.80 (up from $56.61 last week). But though the increases may be encouraging, the numbers are still low overall, leading to the play announcing its intention to close in January. No doubt the show's producers are counting on Peter's family friendliness to carry it through the holidays, but it still fails to appeal to that demographic on a scale that can influence mass ticket sales.
"Rock of Ages" Shows An Unexplained Chart Disparity In Broadway Sales Data
Rock of Ages continues with its unexplained ticket sales graph disparity (see graph below) between Average Paid Admission and Total Attendance model when compared to other Broadway shows (the same kind of disparity can also be seen in Book of Mormon ticket sales and even this season's hit Once, to a lesser degree) -- possibly indicating that its location at the Helen Hayes Theatre may be stifling its ticket sales efficiency curve, as the Helen Hayes Broadway theatre only has 597 seats. Would this Broadway show still be as popular if it was in a less intimate venue, of say 800 seats instead of 600?
A brief history of this show sees Rock of Ages starting Off-Broadway at New World Stages with 430 seats, moved to the Brooks Atkinson Theatre with a 1000 seats (where tickets sold well, but not stellar), and then on to the Helen Hayes with 597 seats in January 2011, where it still remains with strong sales, but the graph clearly indicates ticket sales inefficiency. It would be interesting to see the sales curve in another, slightly larger theater.
Other Broadway Shows Face Ticketing Challenges
It's clear that a production like The Book of Mormon would suffer if it moved to a larger venue, but the jury is out with Rock of Ages - it is after all an amazing "big" music and rock concert experience show, quite unlike anything else on Broadway. This week it appears that Broadway show ticket 'papering' is in effect at An Enemy Of The People, Cyrano de Bergerac, and Who's Afraid of Virginia Woolf?, indicated by their low ticket grosses, low average paid admission, and high capacity.
The Following are the Broadway Ticket Sales Numbers from the Week Ending September 30, 2012: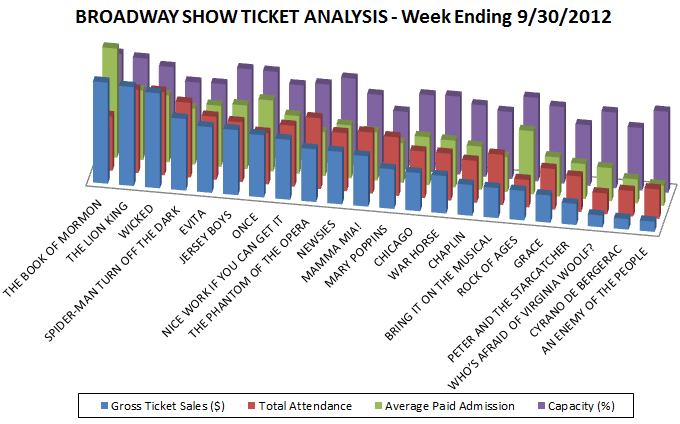 | | | | | |
| --- | --- | --- | --- | --- |
| Show Name | GrossGross | TotalAttn | %Cap | AvgPaidAdm |
| AN ENEMY OF THE PEOPLE | $165,381 | 4,724 | 91.69% | $35.01 |
| BRING IT ON THE MUSICAL | $485,269 | 8,091 | 75.82% | $59.98 |
| CHAPLIN | $498,568 | 6,740 | 80.62% | $73.97 |
| CHICAGO | $616,184 | 7,499 | 86.79% | $82.17 |
| CYRANO DE BERGERAC | $169,950 | 4,112 | 70.60% | $41.33 |
| EVITA | $1,061,157 | 10,152 | 78.72% | $104.53 |
| GRACE | $440,352 | 6,544 | 86.64% | $67.29 |
| JERSEY BOYS | $1,052,914 | 9,645 | 98.18% | $109.17 |
| MAMMA MIA! | $813,955 | 9,828 | 82.01% | $82.82 |
| MARY POPPINS | $639,620 | 9,422 | 65.54% | $67.89 |
| NEWSIES | $848,585 | 9,354 | 97.85% | $90.72 |
| NICE WORK IF YOU CAN GET IT | $969,674 | 9,804 | 85.16% | $98.91 |
| ONCE | $1,007,256 | 8,284 | 97.87% | $121.59 |
| PETER AND THE STARCATCHER | $340,839 | 5,700 | 68.64% | $59.80 |
| ROCK OF AGES | $476,793 | 4,400 | 94.34% | $108.36 |
| SPIDER-MAN TURN OFF THE DARK | $1,159,061 | 12,041 | 77.99% | $96.26 |
| THE BOOK OF MORMON | $1,636,331 | 8,752 | 102.63% | $186.97 |
| THE LION KING | $1,600,129 | 13,416 | 100.00% | $119.27 |
| THE PHANTOM OF THE OPERA | $853,340 | 11,386 | 88.68% | $74.95 |
| WAR HORSE | $604,824 | 7,532 | 88.07% | $80.30 |
| WHO'S AFRAID OF VIRGINIA WOOLF? | $190,160 | 3,347 | 85.60% | $56.82 |
| WICKED | $1,536,124 | 13,437 | 92.85% | $114.32 |
| Total: | $17,166,463 | 184,210 | 86.20% | $87.84 |
*Broadway Grosses provided courtesy of The Broadway League
Discount Broadway Tickets
---
---