Broadway Show Ticket Sales* w/e 9/16/2012
---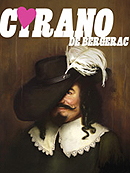 Broadway rallied slightly this week, pushing back up above the $17 million mark in total ticket sales revenue. The summer tourists may have all fled, but the locals have recovered from their vacations and back-to-school preparations, giving them time to get back into the swing of seeing Broadway shows. Two new productions,
Cyrano de Bergerac
and
Grace
, began previews mid-week, accounting for their particularly low grosses ($103,184 and $219,944, respectively). With a very low average paid admission of $38.16 so far,
Cyrano
will need to start building good word-of-mouth to get its numbers up.
Grace
, on the other hand, is already selling at nearly 90% capacity with an average paid admission of $76.05. That play has a secret weapon in the form of star Paul Rudd, whose presence will be a big draw to movie fans who might not otherwise go to a Broadway show. A slew of recent closings (mostly of shows that had been struggling at the box office) in the last few weeks have helped pave the way for the many new shows opening this fall. But one straggler in particular is
Peter and the Starcatcher
, which came in quite low at $373,814 in sales this week. Its numbers have bounced around quite a bit, with the theater filling anywhere from 60% to 80% capacity over the last several weeks. The family-friendly show will be getting some stiff competition from
Annie
,
A Christmas Story
, and
Elf
soon, so
Peter and the Starcatcher
may have a difficult time running much longer.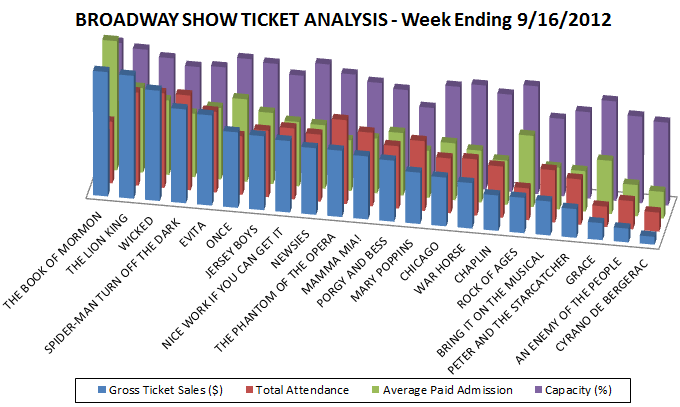 The following are the Broadway ticket sales numbers from the week ending September 16, 2012:
| | | | | |
| --- | --- | --- | --- | --- |
| Show Name | GrossGross | TotalAttn | %Cap | AvgPaidAdm |
| AN ENEMY OF THE PEOPLE | $179,173 | 4,005 | 77.74% | $44.74 |
| BRING IT ON THE MUSICAL | $442,787 | 7,412 | 69.45% | $59.74 |
| CHAPLIN | $460,925 | 7,286 | 87.15% | $63.26 |
| CHICAGO | $633,465 | 7,781 | 90.06% | $81.41 |
| CYRANO DE BERGERAC | $103,184 | 2,704 | 74.39% | $38.16 |
| EVITA | $1,174,627 | 11,467 | 88.92% | $102.44 |
| GRACE | $219,944 | 2,892 | 89.34% | $76.05 |
| JERSEY BOYS | $962,514 | 9,451 | 96.20% | $101.84 |
| MAMMA MIA! | $820,085 | 10,461 | 87.29% | $78.39 |
| MARY POPPINS | $667,919 | 9,917 | 68.98% | $67.35 |
| NEWSIES | $866,351 | 9,542 | 99.81% | $90.79 |
| NICE WORK IF YOU CAN GET IT | $930,380 | 10,087 | 87.62% | $92.24 |
| ONCE | $982,878 | 8,327 | 98.38% | $118.04 |
| PETER AND THE STARCATCHER | $373,814 | 6,443 | 77.59% | $58.02 |
| PORGY AND BESS | $794,242 | 8,867 | 83.02% | $89.57 |
| ROCK OF AGES | $459,775 | 4,510 | 96.70% | $101.95 |
| SPIDER-MAN TURN OFF THE DARK | $1,222,322 | 13,459 | 87.17% | $90.82 |
| THE BOOK OF MORMON | $1,618,059 | 8,752 | 102.63% | $184.88 |
| THE LION KING | $1,599,094 | 13,230 | 98.61% | $120.87 |
| THE PHANTOM OF THE OPERA | $864,177 | 11,912 | 92.77% | $72.55 |
| WAR HORSE | $591,941 | 7,976 | 93.26% | $74.22 |
| WICKED | $1,435,082 | 13,449 | 92.93% | $106.71 |
| Total: | $17,402,736 | 189,930 | 88.18% | $87.00 |
*Broadway Grosses provided courtesy of The Broadway League