Broadway Show Ticket Sales Analysis w/e 9/8/2013
---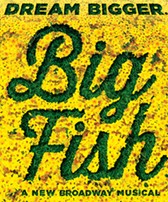 TWO MILLION DOLLAR DROP IN BROADWAY SALES
If there was any doubt that summer vacation in Broadway land is now over, one need only look at this week's overall ticket revenue. Total Broadway ticket sales took a dive the first week of September, dropping from $20,496,640 down to $18,374,969. With vacationers now back home, kids returning to school, and locals concentrating on work, the Great White Way isn't getting as much attention right now. But as the season's new shows start rolling out, interest should gradually pick up over the next few weeks.
BROADWAY WEEK INCREASES ATTENDANCE, BUT DROPS PARTICIPATING SHOWS REVENUE
This years Broadway week promotion of 2 for 1 tickets (A discount that no Broadway show is usually allowed to do - as dictated by the Shuberts) had a significant affect in raising attendance in a normally "soft" period, but the discounts ate into revenue, lowering total revenue by 10%. The big surprise is that 2 of the top 5 Broadway shows discounted their tickets for this annual promotion and even though they could have sold the tickets at face value, both Lion King and Wicked took the hit to drum up some promotion, not that they needed it given their track record of stellar sales. They did however, move down a notch in sales, Lion King moved from 1st place to 2nd and Wicked from 3rd place to 4th. It is anticipated that they will move back to their normal spots after Broadway Week ends, which is on September 15. Kinky Boots, Motown and The Book Of Mormon chose not to participate in Broadway Week, but given Book of Mormon's ongoing war with ticket brokers, they probably felt that a discount ticket offer would not reach consumers and and fall into ticket brokers hands instead.
BIG FISH BEGINS PREVIEWS
Although late summer saw a few new productions opening, it isn't until autumn that the more hotly anticipated Broadway shows start making their way to the theater district.
Big Fish
, starring Norbert Leo Butz, is one of the fall's more eagerly awaited new musicals. In its first week, the show quite impressively filled its theater to 100.95% capacity. Meanwhile the average admission was okay, but not great, at $69.48 per ticket.
The following are the Broadway ticket sales numbers from the week ending September 8, 2013: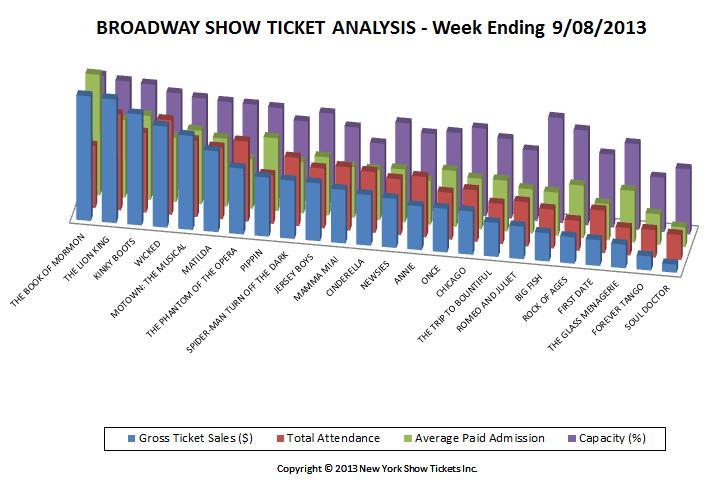 | | | | | |
| --- | --- | --- | --- | --- |
| Show Name | GrossGross | TotalAttn | %Cap | AvgPdAdm |
| ANNIE | $595,536 | 8,500 | 74.77% | $70.06 |
| BIG FISH | $383,543 | 5,520 | 100.95% | $69.48 |
| CHICAGO | $587,646 | 7,280 | 84.26% | $80.72 |
| CINDERELLA | $686,831 | 8,565 | 61.14% | $80.19 |
| FIRST DATE | $349,853 | 6,005 | 70.22% | $58.26 |
| FOREVER TANGO | $190,462 | 3,876 | 52.21% | $49.14 |
| JERSEY BOYS | $785,299 | 8,425 | 85.76% | $93.21 |
| KINKY BOOTS | $1,507,607 | 11,212 | 98.42% | $134.46 |
| MAMMA MIA! | $726,845 | 8,926 | 74.48% | $81.43 |
| MATILDA | $1,099,556 | 10,102 | 88.18% | $108.85 |
| MOTOWN: THE MUSICAL | $1,277,120 | 10,799 | 89.57% | $118.26 |
| NEWSIES | $666,148 | 7,862 | 82.93% | $84.73 |
| ONCE | $592,222 | 6,603 | 77.94% | $89.69 |
| PIPPIN | $802,535 | 6,869 | 86.73% | $116.83 |
| ROCK OF AGES | $358,542 | 4,252 | 91.17% | $84.32 |
| ROMEO AND JULIET | $442,142 | 6,227 | 67.44% | $71.00 |
| SOUL DOCTOR | $110,717 | 3,515 | 62.59% | $31.50 |
| SPIDER-MAN TURN OFF THE DARK | $790,714 | 9,631 | 76.05% | $82.10 |
| THE BOOK OF MORMON | $1,692,289 | 8,752 | 102.63% | $193.36 |
| THE GLASS MENAGERIE | $318,952 | 3,847 | 82.41% | $82.91 |
| THE LION KING | $1,680,327 | 13,520 | 99.41% | $124.28 |
| THE PHANTOM OF THE OPERA | $894,516 | 11,275 | 87.81% | $79.34 |
| THE TRIP TO BOUNTIFUL | $461,684 | 5,676 | 76.28% | $81.34 |
| WICKED | $1,373,885 | 13,339 | 92.17% | $103.00 |
| Totals: | $18,374,969 | 190,578 | 81.90% | $90.35 |
Broadway ticket sales raw data are provided courtesy of The Broadway League All other data, text, opinion, charts and commentary are copyright © 2012 nytix.com