Broadway Show Ticket Sales Analysis w/e 9/29/2013
Broadway Show Ticket Sales Analysis For Week Ending 09/29/2013 Shows A Small Decline In Ticket Sales While A Time To Kill Nearly Sells Out
---
Very Small Decline In Broadway Ticket Sales

There was a small decrease in overall Broadway ticket sales this week, as revenue went from the previous week's $19,497,278 down to $19,453,418, a drop of approximately $45,000.
"A Time To Kill" Nearly Sells Out
The new Broadway play adaptation A Time to Kill marks the first time that a John Grisham novel has made its way to the stage, and even though it has only just begun previews, the production is coming close to selling out its theater at 96.67% capacity.
The average paid admission is a modest $70.81, though, indicating that the production is selling many of its preview performance tickets at a discounted price.
"The Lion King" Tops The Chart
Disney's The Lion King, the perennial Broadway favorite, took its much-frequented spot as #1 on the chart this week, grossing $1,710,914. The Book of Mormon was a close second place at $1,699,204.
Those two musicals have spent most of the year being joined by Wicked in the Top 3, but relative newcomer Kinky Boots beat out the long-running Wizard of Oz prequel, out-grossing it by well over a million dollars.
The following are the Broadway ticket sales numbers from the week ending September 29, 2013: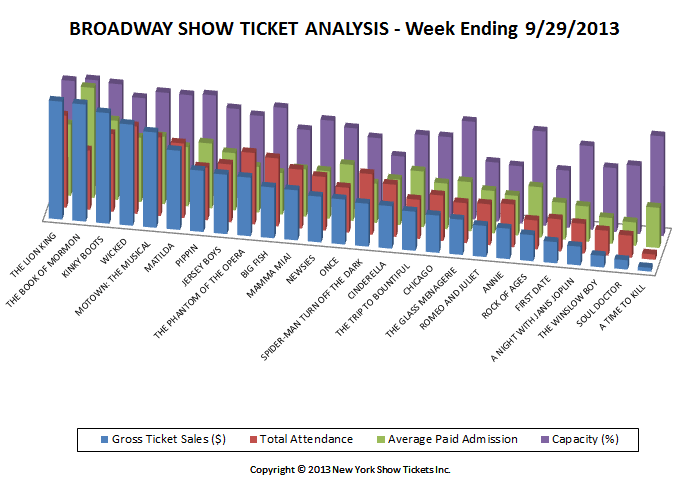 | | | | | |
| --- | --- | --- | --- | --- |
| Show Name | GrossGross | TotalAttn | %Cap | AvgPdAdm |
| A NIGHT WITH JANIS JOPLIN | $271,564 | 4,372 | 81.08% | $62.11 |
| A TIME TO KILL | $54,952 | 776 | 96.76% | $70.81 |
| ANNIE | $441,059 | 6,320 | 55.59% | $69.79 |
| BIG FISH | $736,722 | 10,048 | 91.88% | $73.32 |
| CHICAGO | $540,459 | 6,713 | 77.70% | $80.51 |
| CINDERELLA | $615,987 | 7,689 | 54.89% | $80.11 |
| FIRST DATE | $306,593 | 4,734 | 55.36% | $64.76 |
| JERSEY BOYS | $861,977 | 8,531 | 86.84% | $101.04 |
| KINKY BOOTS | $1,604,362 | 11,480 | 100.77% | $139.75 |
| MAMMA MIA! | $725,606 | 8,688 | 72.50% | $83.52 |
| MATILDA | $1,148,640 | 11,013 | 96.13% | $104.30 |
| MOTOWN: THE MUSICAL | $1,384,216 | 11,630 | 96.47% | $119.02 |
| NEWSIES | $663,518 | 7,920 | 83.54% | $83.78 |
| ONCE | $653,267 | 6,622 | 78.16% | $98.65 |
| PIPPIN | $888,583 | 7,764 | 98.03% | $114.45 |
| ROCK OF AGES | $377,822 | 4,259 | 91.32% | $88.71 |
| ROMEO AND JULIET | $450,894 | 6,030 | 57.15% | $74.78 |
| SOUL DOCTOR | $134,027 | 3,245 | 66.04% | $41.30 |
| SPIDER-MAN TURN OFF THE DARK | $621,960 | 8,950 | 70.67% | $69.49 |
| THE BOOK OF MORMON | $1,699,204 | 8,752 | 102.63% | $194.15 |
| THE GLASS MENAGERIE | $511,429 | 5,892 | 94.67% | $86.80 |
| THE LION KING | $1,710,914 | 13,586 | 99.90% | $125.93 |
| THE PHANTOM OF THE OPERA | $848,934 | 10,536 | 82.06% | $80.57 |
| THE TRIP TO BOUNTIFUL | $566,482 | 5,769 | 77.53% | $98.19 |
| THE WINSLOW BOY | $166,477 | 3,664 | 61.89% | $45.44 |
| WICKED | $1,467,774 | 12,923 | 89.30% | $113.58 |
| Totals: | $19,453,418 | 197,906 | 81.49% | $90.96 |
Broadway ticket sales raw data are provided courtesy of The Broadway League All other data, text, opinion, charts and commentary are copyright © 2012 nytix.com