Broadway Show Ticket Sales Analysis w/e 9/22/2013
Broadway Show Ticket Sales Analysis For Week Ending 09/22/2013 Saw An Increase Of Nearly A Million Dollars As The Winslow Boy Starts Previews
---
Broadway Sees A Boost In Ticket Sales

As more and more new shows start appearing on Broadway, ticket sales are rising. This week saw an increase of nearly a million dollars, as the total Broadway ticket revenue went from the previous week's $18,556,316 up to $19,497,278.
Janis Joplin On Broadway
People are already heading out in pretty good numbers to spend A Night with Janis Joplin. The musical revue, which just began preview performances this week, saw 90.71% attendance, with an average paid admission of $77.83.

"The Winslow Boy" Starts Previews
Audiences have been somewhat less enthusiastic about seeing The Winslow Boy, the latest revival production from Roundabout Theatre Company. In its first week on Broadway, the play filled the theater to just 63.84% capacity and had a very low average ticket price of $37.52.
The following are the Broadway ticket sales numbers from the week ending September 22, 2013: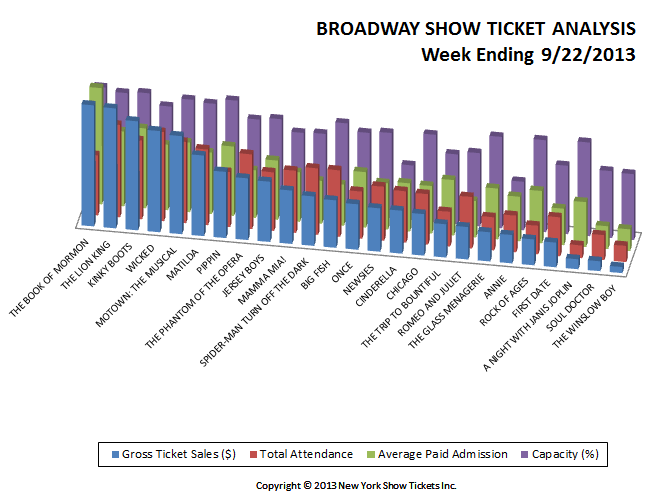 | | | | | |
| --- | --- | --- | --- | --- |
| Show Name | GrossGross | TotalAttn | %Cap | AvgPdAdm |
| A NIGHT WITH JANIS JOPLIN | $144,461 | 1,856 | 90.71% | $77.83 |
| ANNIE | $412,001 | 5,348 | 47.04% | $77.04 |
| BIG FISH | $690,188 | 9,685 | 88.56% | $71.26 |
| CHICAGO | $603,095 | 7,343 | 84.99% | $82.13 |
| CINDERELLA | $624,567 | 7,479 | 53.39% | $83.51 |
| FIRST DATE | $358,225 | 5,672 | 66.32% | $63.16 |
| JERSEY BOYS | $876,545 | 8,536 | 86.89% | $102.69 |
| KINKY BOOTS | $1,584,027 | 11,480 | 100.77% | $137.98 |
| MAMMA MIA! | $775,756 | 9,054 | 75.55% | $85.68 |
| MATILDA | $1,171,253 | 11,016 | 96.16% | $106.32 |
| MOTOWN: THE MUSICAL | $1,425,653 | 11,841 | 98.22% | $120.40 |
| NEWSIES | $630,288 | 7,865 | 82.96% | $80.14 |
| ONCE | $660,873 | 6,875 | 81.15% | $96.13 |
| PIPPIN | $962,677 | 8,008 | 101.11% | $120.21 |
| ROCK OF AGES | $376,048 | 4,159 | 89.17% | $90.42 |
| ROMEO AND JULIET | $471,441 | 7,495 | 71.03% | $62.90 |
| SOUL DOCTOR | $143,750 | 3,642 | 64.85% | $39.47 |
| SPIDER-MAN TURN OFF THE DARK | $718,957 | 9,683 | 76.46% | $74.25 |
| THE BOOK OF MORMON | $1,759,612 | 8,752 | 102.63% | $201.05 |
| THE GLASS MENAGERIE | $424,420 | 4,829 | 88.67% | $87.89 |
| THE LION KING | $1,743,149 | 13,468 | 99.03% | $129.43 |
| THE PHANTOM OF THE OPERA | $896,703 | 10,869 | 84.65% | $82.50 |
| THE TRIP TO BOUNTIFUL | $483,907 | 5,051 | 67.88% | $95.80 |
| THE WINSLOW BOY | $88,627 | 2,362 | 63.84% | $37.52 |
| WICKED | $1,471,059 | 12,987 | 89.74% | $113.27 |
| Totals: | $19,497,278 | 195,355 | 82.07% | $92.76 |
Broadway ticket sales raw data are provided courtesy of The Broadway League All other data, text, opinion, charts and commentary are copyright © 2012 nytix.com