Broadway Show Ticket Sales Analysis w/e 9/21/2014
The Top Earner In The Week Ending September 21, 2014 Was The Lion King, Which Also Now Reached The Honor Of Being The Top Grossing Show Worldwide.
---
"The Lion King" Is Box Office Gold
In the week ending September 21, 2014, The Lion King grossed the highest of all the Broadway shows: $1,740,907. Though it is not unusual for this top-grossing show to top the weekly charts, it is notable that the show is now officially the top grossing show in Broadway history, with a global gross of over $6.2 billion. This is even more than any film in history.
The record was previously held by The Phantom of the Opera at $6 billion, but that has now been surpassed. The Lion King was also the first show to reach a global gross of $1 billion in its Broadway incarnation, and this threshold was also passed by the Hamburg production of the show as well as the U.S. National Tour. This week, that gross of $1,740,907 only represented 91.36% of its gross potential. With 13,600 seats to fill each week in the Minskoff Theatre, the gross potential for The Lion King is very high.
The Lyric Theatre Has A New Occupant
The Lyric Theatre, previously home to the infamous Spiderman: Turn Off The Dark, has a new occupant. On The Town, a revival of a wholesome musical from 1944, has taken hold of the venue. It began previews this past week, with its first show on September 20, 2014. In that one performance, it grossed $103,586, which is only 44.80% of its gross potential.
Though it is unfair to judge a show from its first preview alone, it will be tough for this show to compete in this marketplace. With 1,874 seats to fill per performance, it was difficult for the spectacle-filled Spiderman to reach capacity in the Lyric.
New Show: "On The Town"
The next occupant was originally supposed to be King Kong, an equally spectacular show complete with a giant gorilla and a household name for its title, which may have fared better.

However, when that show was postponed, On The Town volunteered for the vacancy. As this is a lesser known title, a revival, and a musical of the old-fashioned variety, it will be very tough to make the numbers work in their favor.
The following are the Broadway ticket sales numbers for the week ending September 21, 2014: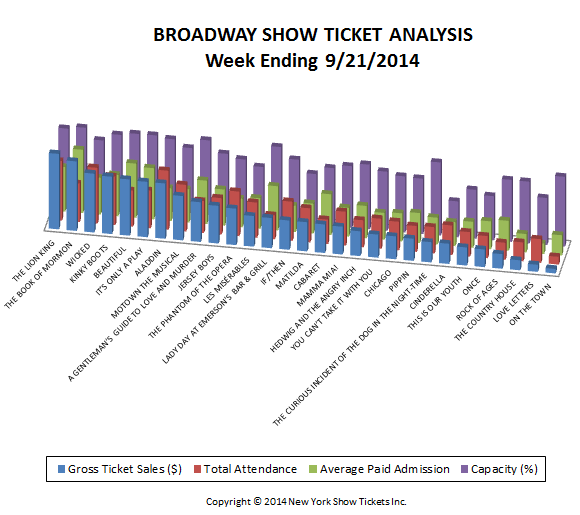 | | | | | |
| --- | --- | --- | --- | --- |
| Show | GrossGross | Total Attn | %Cap | AvgPdAdm |
| A GENTLEMAN'S GUIDE TO LOVE AND MURDER | $915,495 | 7,289 | 100.45% | $125.60 |
| ALADDIN | $1,276,833 | 13,475 | 97.76% | $94.76 |
| BEAUTIFUL | $1,295,796 | 8,261 | 100.65% | $156.86 |
| CABARET | $657,828 | 5,570 | 77.97% | $118.10 |
| CHICAGO | $528,307 | 6,513 | 75.38% | $81.12 |
| CINDERELLA | $466,579 | 6,732 | 48.06% | $69.31 |
| HEDWIG AND THE ANGRY INCH | $572,955 | 6,127 | 86.92% | $93.51 |
| IF/THEN | $675,958 | 8,927 | 85.12% | $75.72 |
| IT'S ONLY A PLAY | $1,277,059 | 8,623 | 100.83% | $148.10 |
| JERSEY BOYS | $868,591 | 8,300 | 84.49% | $104.65 |
| KINKY BOOTS | $1,323,036 | 11,086 | 97.31% | $119.34 |
| LADY DAY AT EMERSON'S BAR & GRILL | $696,922 | 5,459 | 100.05% | $127.66 |
| LES MISÉRABLES | $706,054 | 8,011 | 71.07% | $88.14 |
| LOVE LETTERS | $162,749 | 5,407 | 63.28% | $30.10 |
| MAMMA MIA! | $641,542 | 7,717 | 82.73% | $83.13 |
| MATILDA | $672,778 | 7,776 | 67.88% | $86.52 |
| MOTOWN THE MUSICAL | $1,021,745 | 10,609 | 88.00% | $96.31 |
| ON THE TOWN | $103,586 | 1,759 | 93.86% | $58.89 |
| ONCE | $407,108 | 5,033 | 59.41% | $80.89 |
| PIPPIN | $509,482 | 5,895 | 74.43% | $86.43 |
| ROCK OF AGES | $337,242 | 3,888 | 83.36% | $86.74 |
| THE BOOK OF MORMON | $1,602,733 | 8,752 | 102.63% | $183.13 |
| THE COUNTRY HOUSE | $230,242 | 4,322 | 83.12% | $53.27 |
| THE CURIOUS INCIDENT OF THE DOG IN THE NIGHT-TIME | $466,650 | 6,005 | 98.31% | $77.71 |
| THE LION KING | $1,740,907 | 13,516 | 99.38% | $128.80 |
| THE PHANTOM OF THE OPERA | $840,392 | 10,155 | 79.09% | $82.76 |
| THIS IS OUR YOUTH | $418,041 | 5,580 | 65.74% | $74.92 |
| WICKED | $1,356,354 | 12,694 | 87.71% | $106.85 |
| YOU CAN'T TAKE IT WITH YOU | $532,217 | 6,831 | 79.58% | $77.91 |
| Totals: | $22,305,179 | 220,312 | 83.95% | $96.46 |
Broadway ticket sales raw data are provided courtesy of The Broadway League All other data, text, opinion, charts and commentary are copyright © 2014 nytix.com