Broadway Show Ticket Sales Analysis w/e 9/14/2014
The Week Ending September 14, 2014 Was A Stark Improvement In Terms Of Ticket Sales From The Week Before, Which Was A Notable Poor Week.
---
Picking Up From Last Week
In the week ending September 14, 2014, the Broadway industry has picked up the slack from its poor week of returns last week. Now that the fall season is officially underway, with new shows opening and others beginning previews, locals and tourists alike are finding their fare of choice.
In this past week, the overall gross for all running Broadway shows increased by $2,447,824 compared to the week before. Furthermore, every single individual show saw an increased gross with one exception: The Phantom of the Opera, which only decreased by a negligible $21,679.
Big Increase For "Beautiful: The Carole King Musical"
The biggest increase for any show that was running both this past week and the week before was Beautiful: The Carole King Musical, which has now officially recouped at the box office.
It grossed $1,300,961 this past week, which was an increase of $223,444 from the week before. The next biggest boost was seen by Cinderella, which increased by $140,143 to reach a weekly gross of $598,979. This is however still exceedingly low, at only 37.12% of its gross potential.
New Shows On Broadway This Week
There were three new shows that began previews this past week. The best performing of the three was The Curious Incident of the Dog in the Night-time, which transfers to Broadway from the National Theatre via the West End with excellent acclaim. In its first week of four performances, this play based on the novel of the same name grossed $288,614, which represents 65.69% of the show's gross potential.
These numbers are sure to pick up as word of mouth spreads, and especially after the show's official opening on October 5, 2014. The next new show was The Country House, which grossed $198,383 over the course of 7 performances.
"Love Letters" Struggles In First Week
This new play by Donald Margulies stars Blythe Danner, but in its first week the show only grossed 38.30% of its gross potential. Time will tell whether sales pick up for this one, or whether it plateaus at some unprofitable level. The third and worst performing of the new plays was Love Letters, which earned only $54,749 over the course of its first two performances.
This A.R. Gurney play will have a starry cast that will rotate over the course of the run, and presently the stars are Mia Farrow and Brian Dennehy. It is therefore surprising that the play has performed so poorly. It is to be expected that sales will increase as the public becomes aware of the A-list names on that stage.
The following are the Broadway ticket sales numbers for the week ending September 14, 2014: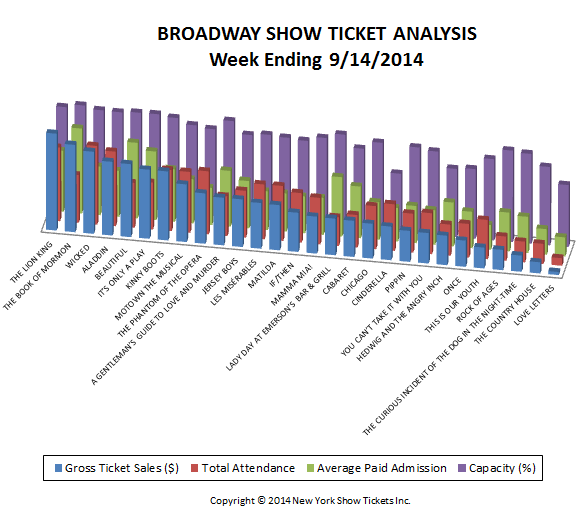 | | | | | |
| --- | --- | --- | --- | --- |
| Show | GrossGross | Total Attn | %Cap | AvgPdAdm |
| A GENTLEMAN'S GUIDE TO LOVE AND MURDER | $848,790 | 7,257 | 100.01% | $116.96 |
| ALADDIN | $1,312,257 | 13,616 | 98.78% | $96.38 |
| BEAUTIFUL | $1,300,961 | 8,215 | 100.09% | $158.36 |
| CABARET | $643,502 | 5,946 | 83.23% | $108.22 |
| CHICAGO | $619,784 | 7,874 | 91.13% | $78.71 |
| CINDERELLA | $598,979 | 8,506 | 60.72% | $70.42 |
| HEDWIG AND THE ANGRY INCH | $524,687 | 5,705 | 70.82% | $91.97 |
| IF/THEN | $698,918 | 9,045 | 86.24% | $77.27 |
| IT'S ONLY A PLAY | $1,230,603 | 8,569 | 100.20% | $143.61 |
| JERSEY BOYS | $848,378 | 8,561 | 87.14% | $99.10 |
| KINKY BOOTS | $1,228,758 | 11,168 | 98.03% | $110.02 |
| LADY DAY AT EMERSON'S BAR & GRILL | $652,702 | 5,245 | 96.13% | $124.44 |
| LES MISÉRABLES | $813,225 | 10,034 | 89.02% | $81.05 |
| LOVE LETTERS | $54,749 | 1,375 | 64.37% | $39.82 |
| MAMMA MIA! | $659,092 | 8,481 | 90.92% | $77.71 |
| MATILDA | $805,004 | 10,050 | 87.73% | $80.10 |
| MOTOWN THE MUSICAL | $1,026,470 | 11,108 | 92.14% | $92.41 |
| ONCE | $467,069 | 6,129 | 72.34% | $76.21 |
| PIPPIN | $552,516 | 7,101 | 89.66% | $77.81 |
| ROCK OF AGES | $360,561 | 4,431 | 95.00% | $81.37 |
| THE BOOK OF MORMON | $1,555,886 | 8,741 | 102.50% | $178.00 |
| THE COUNTRY HOUSE | $198,383 | 3,704 | 81.41% | $53.56 |
| THE CURIOUS INCIDENT OF THE DOG IN THE NIGHT-TIME | $288,614 | 3,801 | 93.34% | $75.93 |
| THE LION KING | $1,725,567 | 13,478 | 99.10% | $128.03 |
| THE PHANTOM OF THE OPERA | $897,140 | 11,522 | 89.74% | $77.86 |
| THIS IS OUR YOUTH | $372,793 | 7,164 | 84.40% | $52.04 |
| WICKED | $1,462,840 | 14,352 | 99.17% | $101.93 |
| YOU CAN'T TAKE IT WITH YOU | $542,918 | 7,481 | 87.15% | $72.57 |
| Totals: | $22,291,144 | 228,659 | 88.95% | $93.64 |
Broadway ticket sales raw data are provided courtesy of The Broadway League All other data, text, opinion, charts and commentary are copyright © 2014 nytix.com
Discount Broadway Tickets
---
---