Broadway Show Ticket Sales Analysis w/e 9/07/2014
This Was A Very Slow Week On Broadway, With Ticket Sales Decreasing Almost Across The Board. The Only Exception Was It's Only A Play.
---
A Very Slow Week For Broadway
In the week ending September 7, 2014, the entire Broadway industry saw a decrease in gross sales of $2,504,029 from the week prior. Of the 24 shows presently running, only one saw an increase in sales. That was It's Only a Play, written by Terrence McNally and starring Matthew Broderick, Nathan Lane, Stockard Channing, F. Murray Abraham, and Rupert Grint.
The only reason that show saw an increase, however, is because last week it began its run with only 5 performances. This week was its first full week of eight performances, and thus it increased its gross by $370,580.
Big Loss For Wicked
However, the show's gross potential decreased from 112.45% last week to 104.48% this week. Even though that show is still performing amazingly for a new production of a straight play still in previews, it too saw a relative decrease from last week.
As for the other shows, every single one was in the red comparatively, with the biggest loss seen by Wicked, which earned $367,560 less this week than the week before. Still Wicked grossed a respectable $1,340,668.
What Is The Reason For This?
The reason for such a steep decline can only be speculated. It can be chalked up to the fact that we are in a transition between seasons. We are officially out of the summer season, with Labor Day a full week behind us, and therefore most Americans who travel to New York for a summer vacation are firmly back in their school and work routines.
New Yorkers, however, are either still holding onto the idea of summer, taking last minute trips out of town while the weather is still warm, or they are also beginning to buckle down for the start of fall. In any case, they are not focused on Broadway.
"It's Only A Play" Attracts Attention
The exception is the new play It's Only a Play which hints of more exciting fare to come in this fall season. That show is attracting a lot of attention and sales, and its opening press is sure to make it an even hotter ticket than it already is. We can trust that sales will pick up as the season is more firmly underway.
The following are the Broadway ticket sales numbers for the week ending September 7,
2014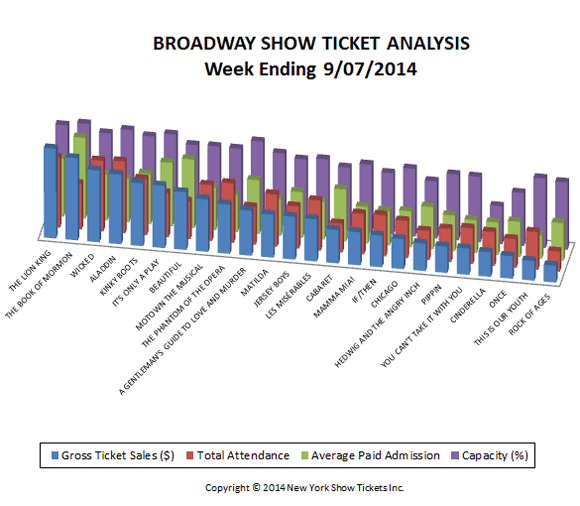 | | | | | |
| --- | --- | --- | --- | --- |
| Show | GrossGross | Total Attn | %Cap | AvgPdAdm |
| A GENTLEMAN'S GUIDE TO LOVE AND MURDER | $840,503 | 7,235 | 99.71% | $116.17 |
| ALADDIN | $1,299,483 | 13,736 | 99.65% | $94.60 |
| BEAUTIFUL | $1,077,517 | 7,244 | 88.26% | $148.75 |
| CABARET | $623,833 | 5,522 | 77.30% | $112.97 |
| CHICAGO | $559,420 | 7,152 | 82.78% | $78.22 |
| CINDERELLA | $458,836 | 6,499 | 46.39% | $70.60 |
| HEDWIG AND THE ANGRY INCH | $514,411 | 5,622 | 69.79% | $91.50 |
| IF/THEN | $589,923 | 7,882 | 75.15% | $74.84 |
| IT'S ONLY A PLAY | $1,163,626 | 8,465 | 98.98% | $137.46 |
| JERSEY BOYS | $799,476 | 8,087 | 82.32% | $98.86 |
| KINKY BOOTS | $1,172,025 | 10,725 | 94.15% | $109.28 |
| LES MISÉRABLES | $788,527 | 9,581 | 85.00% | $82.30 |
| MAMMA MIA! | $616,314 | 7,773 | 83.33% | $79.29 |
| MATILDA | $803,129 | 10,024 | 87.50% | $80.12 |
| MOTOWN THE MUSICAL | $979,034 | 10,715 | 88.88% | $91.37 |
| ONCE | $420,739 | 5,512 | 65.06% | $76.33 |
| PIPPIN | $492,718 | 6,370 | 80.43% | $77.35 |
| ROCK OF AGES | $315,675 | 3,857 | 82.70% | $81.84 |
| THE BOOK OF MORMON | $1,532,948 | 8,751 | 102.61% | $175.17 |
| THE LION KING | $1,677,604 | 13,396 | 98.50% | $125.23 |
| THE PHANTOM OF THE OPERA | $918,819 | 11,382 | 88.64% | $80.73 |
| THIS IS OUR YOUTH | $367,207 | 7,220 | 85.06% | $50.86 |
| WICKED | $1,340,668 | 13,507 | 93.33% | $99.26 |
| YOU CAN'T TAKE IT WITH YOU | $490,887 | 6,871 | 80.04% | $71.44 |
| Totals: | $19,843,322 | 203,128 | 84.82% | $96.02 |
Broadway ticket sales raw data are provided courtesy of The Broadway League All other data, text, opinion, charts and commentary are copyright © 2014 nytix.com