Broadway Show Ticket Sales Analysis w/e 8/31/2014
New Shows You Can't Take It With You And It's Only A Play Began Performances This Past Week, With The Latter Doing Exceptionally Well At The Box Office.
---
New Shows: "You Can't Take It With You" And "It's Only A Play"
There were two new Broadway shows that began previews in the week ending August 31, 2014. First, on August 26, 2014, You Can't Take It With You began performances at the Longacre Theatre. This is the fifth revival of the Moss Hart and George S. Kaufman comedy that originally premiered in 1936, this time starring James Earl Jones, Rose Byrne, and Annaleigh Ashford in an ensemble cast.
In terms of box office, the show is off to a moderate start. In its first week of 8 performances, it grossed $519,102, which represents 53.80% of its gross potential.
"It's Only A Play" Premieres With A-List Stars
In comparison, It's Only a Play began performances on August 28, 2014. Also a New York revival through a Broadway premiere, this Terrence McNally play features a cast of A-list stars including Nathan Lane, Matthew Broderick, Stockard Channing, F. Murray Abraham, Megan Mullally, and Rupert Grint.
The A-list nature of this cast is certainly showing at the box office. In its first week of 5 performances, It's Only a Play grossed $793,046, which represents a whomping 112.45% of the show's gross potential. This play looks well poised to take the Broadway fall season by storm.
As the Fall Comes In, Musicals Take A Side Seat
Throughout the summer, the big blockbuster musicals indubitably sold exceptionally well in comparison to plays. In fact, for several summer weeks, no straight plays were running at all.
As new plays are beginning to begin performances on Broadway, and as the summer tourists are no longer arriving in full force, the bigger musicals are starting to show a slight decline. The Lion King had a gross this week that was $23,364 lower than the week before, and Wicked declined this week by $87,040.
Changes At The Broadway Box Office
Furthermore, Mamma Mia! decreased by $52,645, Beautiful: The Carole King Musical decreased by $39,360, The Phantom of the Opera went down by $39,318, Cabaret decreased by $18,369, and Hedwig and the Angry Inch went down by $13,293.
Meanwhile, It's Only a Play stormed onto the scene with $793,046 over only 5 performances, and This Is Our Youth increased its gross by $24,758 from the week before.
The following are the Broadway ticket sales numbers for the week ending August 31,
2014: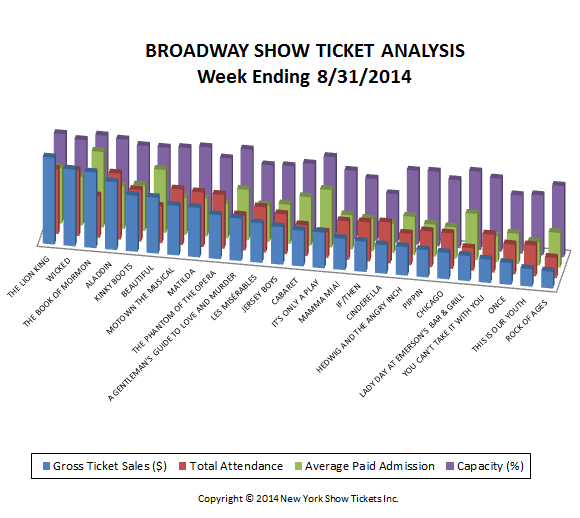 | | | | | |
| --- | --- | --- | --- | --- |
| Show | GrossGross | Total Attn | %Cap | AvgPdAdm |
| A GENTLEMAN'S GUIDE TO LOVE AND MURDER | $942,205 | 7,339 | 101.14% | $128.38 |
| ALADDIN | $1,506,683 | 13,780 | 99.97% | $109.34 |
| BEAUTIFUL | $1,243,050 | 7,738 | 94.27% | $160.64 |
| CABARET | $796,251 | 6,437 | 90.10% | $123.70 |
| CHICAGO | $589,219 | 7,411 | 85.78% | $79.51 |
| CINDERELLA | $638,177 | 8,551 | 61.04% | $74.63 |
| HEDWIG AND THE ANGRY INCH | $635,445 | 6,560 | 93.06% | $96.87 |
| IF/THEN | $672,147 | 8,186 | 78.05% | $82.11 |
| IT'S ONLY A PLAY | $793,046 | 5,402 | 101.07% | $146.81 |
| JERSEY BOYS | $834,445 | 8,333 | 84.82% | $100.14 |
| KINKY BOOTS | $1,246,584 | 10,743 | 94.30% | $116.04 |
| LADY DAY AT EMERSON'S BAR & GRILL | $558,256 | 4,715 | 98.76% | $118.40 |
| LES MISÉRABLES | $878,730 | 9,423 | 83.60% | $93.25 |
| MAMMA MIA! | $697,483 | 8,027 | 86.05% | $86.89 |
| MATILDA | $1,096,864 | 11,398 | 99.49% | $96.23 |
| MOTOWN THE MUSICAL | $1,100,811 | 11,603 | 96.24% | $94.87 |
| ONCE | $481,616 | 6,231 | 73.55% | $77.29 |
| PIPPIN | $608,962 | 7,448 | 94.04% | $81.76 |
| ROCK OF AGES | $372,667 | 4,199 | 90.03% | $88.75 |
| THE BOOK OF MORMON | $1,682,942 | 8,752 | 102.63% | $192.29 |
| THE LION KING | $1,932,032 | 13,603 | 100.02% | $142.03 |
| THE PHANTOM OF THE OPERA | $980,290 | 11,260 | 87.69% | $87.06 |
| THIS IS OUR YOUTH | $390,372 | 6,437 | 75.84% | $60.65 |
| WICKED | $1,708,228 | 13,727 | 94.85% | $124.44 |
| YOU CAN'T TAKE IT WITH YOU | $519,102 | 7,929 | 92.37% | $65.47 |
| Totals: | $22,905,606 | 215,232 | 90.35% | $105.10 |
Broadway ticket sales raw data are provided courtesy of The Broadway League All other data, text, opinion, charts and commentary are copyright © 2014 nytix.com