Broadway Show Ticket Sales Analysis w/e 8/24/2014
This Is Our Youth Began Previews This Week, Earning Just Over Half Of Its Gross Potential Across Seven Performances. The Overall Industry Saw A Large Decrease.
---
"This Is Our Youth" Off To Moderate Start
The Kenneth Lonergan Play This Is Our Youth started previews this past week, performing almost a full week of seven performances. From those seven shows, the production grossed $365,614, which represents 58.20% of the show's gross potential. This is not excellent, but it is not bad given that the show has only just begun previews.
Starring Michael Cera, Kieran Culkin, and Tavi Gevinson, the cast is indeed made up of some household names, but time will tell whether these young stars are box office gold, or just recognizable faces. This show is also one of the first new plays to open in this fall season, and Broadway theatregoers may not have yet become aware that new shows are beginning to premiere. In a few weeks, it will become clear whether this play will have legs this fall season.
An Overall Poor Week For Broadway
In the week ending August 24, 2014, the entire Broadway industry grossed $22,786,507, which was a decrease of $1,521,238 from the week prior. It is the case that some shows closed and others opened, but generally it can be discerned that theatregoers are adjusting to the transition between the summer and fall season.
With the weather still hot and many vacationers still traveling, the summer musical fare is still doing much better financially than new plays such as "This Is Our Youth." After Labor Day on September 1, 2014, we will likely start to see an increase in interest in plays and a slight decrease in some of the larger summer blockbuster musicals such as The Lion King and Wicked, as New Yorkers and tourists alike return home.
Even The Big Musicals Saw A Drop
This week, The Lion King earned $1,955,396, which was a decrease of $253,086 from the week prior. Similarly, Wicked earned $1,795,268, which marks a decrease of $231,434 from the week before. In addition, The Book of Mormon earned $1,606,698, which was a decrease of $152,722 from the week prior.
Therefore, even the biggest musical hits saw a lessening of interest in the week ending August 24, 2014. Nevertheless, each of these three earned at least 99% of their gross potential if not higher, so they can still rightly be called bonafide hits.
The following are the Broadway ticket sales numbers for the week ending August 24, 2014: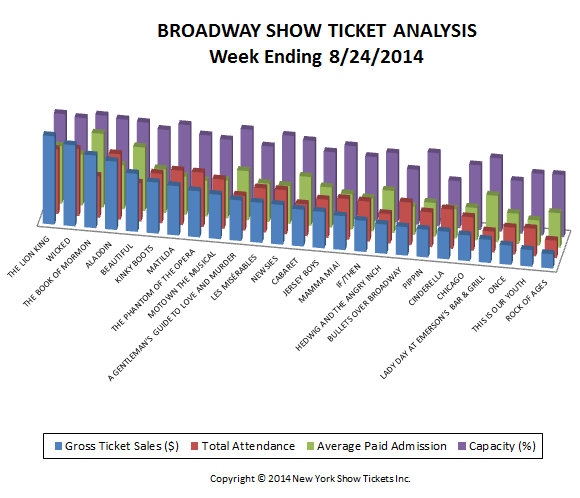 | | | | | |
| --- | --- | --- | --- | --- |
| Show | GrossGross | Total Attn | %Cap | AvgPdAdm |
| A GENTLEMAN'S GUIDE TO LOVE AND MURDER | $898,629 | 7,332 | 101.05% | $122.56 |
| ALADDIN | $1,512,983 | 13,777 | 99.95% | $109.82 |
| BEAUTIFUL | $1,282,410 | 8,088 | 98.54% | $158.56 |
| BULLETS OVER BROADWAY | $630,257 | 8,995 | 68.98% | $70.07 |
| CABARET | $814,620 | 6,706 | 93.87% | $121.48 |
| CHICAGO | $569,511 | 7,045 | 81.54% | $80.84 |
| CINDERELLA | $609,004 | 8,305 | 59.29% | $73.33 |
| HEDWIG AND THE ANGRY INCH | $648,738 | 6,175 | 87.60% | $105.06 |
| IF/THEN | $688,053 | 8,433 | 80.41% | $81.59 |
| JERSEY BOYS | $804,364 | 8,050 | 81.94% | $99.92 |
| KINKY BOOTS | $1,131,425 | 10,423 | 91.49% | $108.55 |
| LADY DAY AT EMERSON'S BAR & GRILL | $511,741 | 4,425 | 92.69% | $115.65 |
| LES MISÉRABLES | $886,074 | 9,254 | 82.10% | $95.75 |
| MAMMA MIA! | $750,128 | 8,572 | 91.90% | $87.51 |
| MATILDA | $1,091,719 | 11,452 | 99.97% | $95.33 |
| MOTOWN THE MUSICAL | $979,849 | 10,372 | 86.03% | $94.47 |
| NEWSIES | $878,556 | 9,285 | 97.94% | $94.62 |
| ONCE | $425,535 | 5,619 | 66.32% | $75.73 |
| PIPPIN | $614,901 | 7,309 | 92.29% | $84.13 |
| ROCK OF AGES | $315,426 | 3,666 | 78.60% | $86.04 |
| THE BOOK OF MORMON | $1,606,698 | 8,752 | 102.63% | $183.58 |
| THE LION KING | $1,955,396 | 13,608 | 100.06% | $143.69 |
| THE PHANTOM OF THE OPERA | $1,019,608 | 11,447 | 89.15% | $89.07 |
| THIS IS OUR YOUTH | $365,614 | 5,772 | 77.72% | $63.34 |
| WICKED | $1,795,268 | 14,077 | 97.27% | $127.53 |
| Totals: | $22,786,505 | 216,939 | 87.97% | $102.73 |
Broadway ticket sales raw data are provided courtesy of The Broadway League All other data, text, opinion, charts and commentary are copyright © 2014 nytix.com