Broadway Show Ticket Sales Analysis w/e 7/7/2013
This Week On Broadway, Ticket Sales Dipped Over July 4 As Most Shows Canceled Performances For The Holiday, Lucky Guy Closes With Big Earnings, And The Lion King Roars Past $2 Million
---
Broadway Ticket Sales Fall Over July 4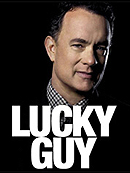 As usual, the July 4 holiday remains one of the few holidays where Broadway actually struggles rather than thrives. Broadway ticket sales dropped from $24,997,386 down to $22,845,376, a difference of more than two million dollars. Nearly every Broadway show cancelled its performance on Independence Day, knowing that people would prefer watching fireworks to watching a show. Most of them did re-schedule for Monday evening or a Friday matinee, but apparently the disruption in schedule was enough to dent ticket sales.
Lucky Guy Closes with Big Earnings
The Tom Hanks vehicle Lucky Guy concluded its limited Broadway engagement this past Wednesday, but even only playing four performances (half of the regular weekly Broadway schedule), the Nora Ephron-penned play still did better total sales than several other shows, coming in at $661,829. Needless to say, the show sold out, and the average paid admission was $137.37 per ticket.
The Lion King Roars Past Two Million
Sales may have been down for Broadway overall, but long-running powerhouse The Lion King wasn't feeling the pain. The Disney musical sold out for the week and was the top earner among all Broadway shows. Coming in at $2,028,471, it was the only show to earn more than two million. The second place show was Wicked, which brought in $1,893,488.
The Following are the Broadway Grosses from the Week Ending July 7, 2013: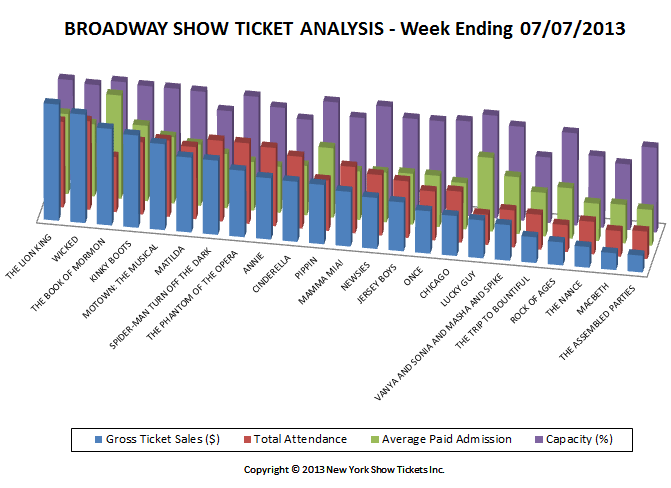 | | | | | |
| --- | --- | --- | --- | --- |
| Show Name | GrossGross | TotalAttn | %Cap | AvgPdAdm |
| ANNIE | $1,069,807 | 12,441 | 91.05% | $85.99 |
| CHICAGO | $697,184 | 8,114 | 93.91% | $85.92 |
| CINDERELLA | $1,049,049 | 11,411 | 81.46% | $91.93 |
| JERSEY BOYS | $852,703 | 9,001 | 91.62% | $94.73 |
| KINKY BOOTS | $1,611,599 | 11,480 | 100.77% | $140.38 |
| LUCKY GUY | $661,829 | 4,818 | 101.90% | $137.37 |
| MACBETH | $292,722 | 4,074 | 65.16% | $71.85 |
| MAMMA MIA! | $954,657 | 10,537 | 87.93% | $90.60 |
| MATILDA | $1,307,168 | 11,455 | 99.99% | $114.11 |
| MOTOWN: THE MUSICAL | $1,500,580 | 12,142 | 100.71% | $123.59 |
| NEWSIES | $889,992 | 9,619 | 101.47% | $92.52 |
| ONCE | $739,280 | 7,766 | 91.67% | $95.19 |
| PIPPIN | $1,035,398 | 8,011 | 101.15% | $129.25 |
| ROCK OF AGES | $400,512 | 4,267 | 91.49% | $93.86 |
| SPIDER-MAN TURN OFF THE DARK | $1,295,190 | 12,831 | 83.10% | $100.94 |
| THE ASSEMBLED PARTIES | $292,368 | 4,373 | 84.10% | $66.86 |
| THE BOOK OF MORMON | $1,684,525 | 8,752 | 102.63% | $192.47 |
| THE LION KING | $2,028,471 | 13,603 | 100.02% | $149.12 |
| THE NANCE | $360,241 | 5,178 | 70.66% | $69.57 |
| THE PHANTOM OF THE OPERA | $1,158,635 | 12,808 | 99.75% | $90.46 |
| THE TRIP TO BOUNTIFUL | $448,887 | 5,540 | 65.15% | $81.03 |
| VANYA AND SONIA AND MASHA AND SPIKE | $621,093 | 5,866 | 93.17% | $105.88 |
| WICKED | $1,893,488 | 14,090 | 97.36% | $134.39 |
| Totals: | $22,845,376 | 208,177 | 91.14% | $106.00 |
Broadway ticket sales raw data are provided courtesy of The Broadway League All other data, text, opinion, charts and commentary are copyright © 2012 nytix.com