Broadway Show Ticket Sales Analysis w/e 7/21/2013
This Week On Broadway Ticket Sales Slightly Increased By Nearly A Half Million, Forever Tango Sees Increase In Average Admission, And Let It Be Is Off To An Unimpressive Start
---
Another Small Increase in Ticket Sales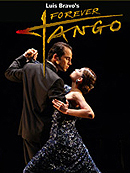 As a week-long heat wave smothered New York City, many people found relief in air-conditioned Broadway theaters. Total Broadway ticket revenue increased from the previous week's $23,190,352 to $23,614,761.
"Forever Tango's" Average Paid Admission Goes Up
Since last week, the new dance revue Forever Tango saw a decrease in attendance (down to 73.30% from the previous week's 82.61%). However, the average paid admission went up by more than $30, making up for the fact that there were fewer people in the seats.
"Let It Be" Begins with Poor Sales
The new Beatles tribute show Let It Be began preview performances this week, but fans of the Fab Four were not out in full force. At 70.80% capacity, the new Broadway show had decent if unimpressive attendance, but the average paid admission was an extremely low $41.90.
The Following are the Broadway Ticket Sales Numbers from the Week Ending July 21, 2013: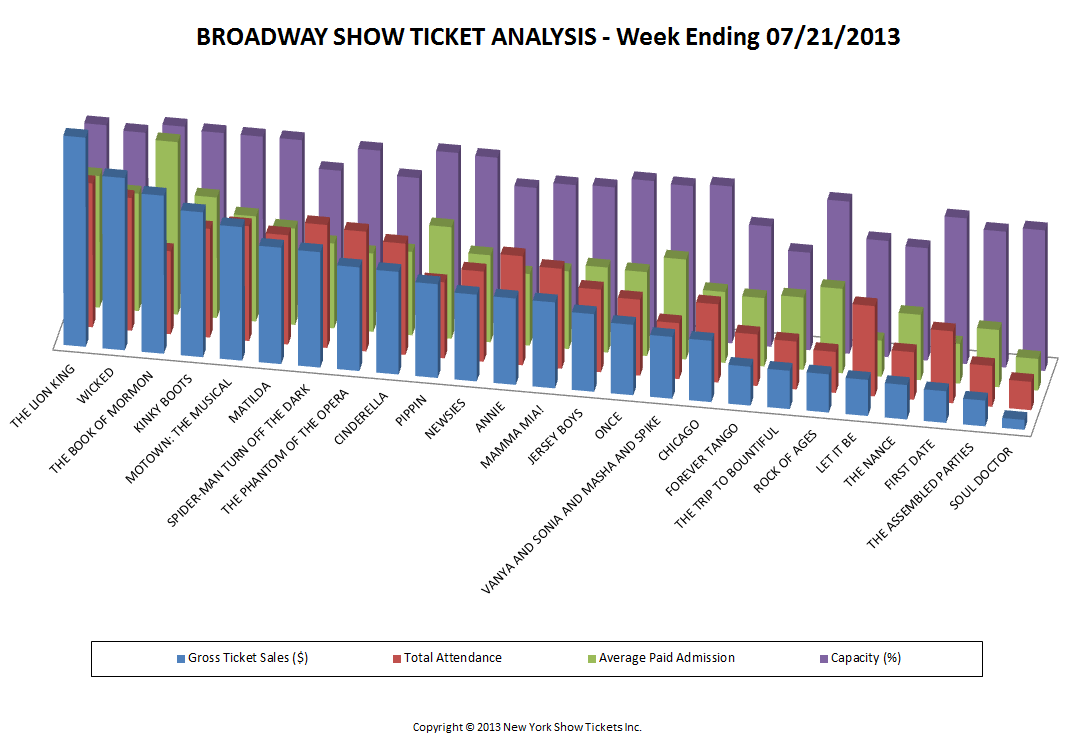 | | | | | |
| --- | --- | --- | --- | --- |
| Show Name | GrossGross | TotalAttn | %Cap | AvgPdAdm |
| ANNIE | $956,255 | 11,510 | 84.20% | $83.08 |
| CHICAGO | $679,103 | 8,257 | 95.60% | $82.25 |
| CINDERELLA | $1,135,743 | 11,746 | 83.90% | $96.69 |
| FIRST DATE | $350,122 | 7,594 | 88.80% | $46.11 |
| FOREVER TANGO | $430,325 | 5,441 | 73.30% | $79.09 |
| JERSEY BOYS | $858,871 | 8,712 | 88.70% | $98.58 |
| KINKY BOOTS | $1,604,272 | 11,480 | 100.80% | $139.74 |
| LET IT BE | $399,319 | 9,530 | 70.80% | $41.90 |
| MAMMA MIA! | $951,216 | 10,548 | 88% | $90.18 |
| MATILDA | $1,288,941 | 11,539 | 100.70% | $111.70 |
| MOTOWN: THE MUSICAL | $1,478,595 | 12,135 | 100.70% | $121.85 |
| NEWSIES | $959,947 | 9,526 | 100.50% | $100.77 |
| ONCE | $779,508 | 8,019 | 94.70% | $97.21 |
| PIPPIN | $1,037,961 | 8,026 | 101.30% | $129.32 |
| ROCK OF AGES | $423,004 | 4,323 | 92.70% | $97.85 |
| SOUL DOCTOR | $109,750 | 2,990 | 85.70% | $36.71 |
| SPIDER-MAN TURN OFF THE DARK | $1,277,702 | 12,987 | 84.10% | $98.38 |
| THE ASSEMBLED PARTIES | $285,154 | 4,306 | 82.80% | $66.22 |
| THE BOOK OF MORMON | $1,749,550 | 8,752 | 102.60% | $199.90 |
| THE LION KING | $2,316,189 | 15,186 | 99.30% | $152.52 |
| THE NANCE | $380,778 | 5,022 | 68.50% | $75.82 |
| THE PHANTOM OF THE OPERA | $1,147,544 | 12,642 | 98.50% | $90.77 |
| THE TRIP TO BOUNTIFUL | $423,827 | 5,054 | 59.40% | $83.86 |
| VANYA AND SONIA AND MASHA AND SPIKE | $683,857 | 5,900 | 93.70% | $115.91 |
| WICKED | $1,907,228 | 14,009 | 96.80% | $136.14 |
| Totals: | $23,614,761 | 225,234 | 89.44% | $98.90 |
Broadway ticket sales raw data are provided courtesy of The Broadway League All other data, text, opinion, charts and commentary are copyright © 2012 nytix.com