Broadway Show Ticket Sales Analysis w/e 6/30/2013
This Week On Broadway, Ticket Sales Witnessed A Significant Boost Nearing The Million-Dollar Mark, Largely Attributed To The Summer Tourist Season, Ann Concluded Its Run At Lincoln Center
---
A Jump in Broadway Ticket Sales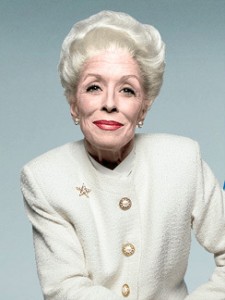 Overall Broadway ticket revenue experienced an increase of close to a million this week, as sales went up from $24,116,852 to $24,997,386. Summer tourism is the most likely driver in this jump in sales figures.
Ann Does Better Than Usual on Her Way Out
The one-woman Broadway play Ann, written by and starring Holland Taylor (TV's Two and a Half Men), concluded its run at Lincoln Center this Sunday, closing out the week with better numbers than usual. At 61.04% capacity, the show had a bigger audience than it's had since very early in its run. The average paid admission of $64.02 was the best Ann has seen in weeks. However, even though the play has been trailing the Broadway pack for quite some time, it is worth noting that one-person shows have far lower running costs than most other Broadway shows, and this one also happened to be in a rather large theater. Ultimately, the play enjoyed a run of several months, along with critical acclaim and enthusiastic word-of-mouth.
School is Out and Broadway Shows are In
With schools out for the summer, now is a better opportunity than ever for parents -- both locals and tourists bringing their families to New York City for vacation -- to take their children to shows. Many of Broadway's most family friendly shows saw an increase in sales this week, including The Lion King, Spiderman: Turn Off the Dark, Cinderella, and Annie.
The Following are the Broadway Ticket Sales Numbers from the Week Ending June 30, 2013: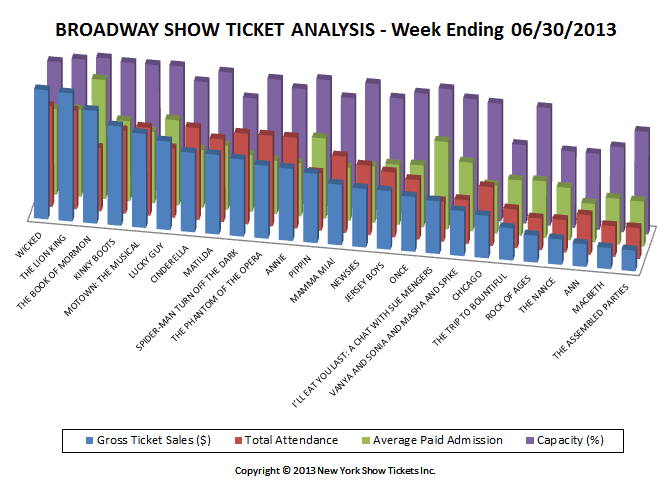 | | | | | |
| --- | --- | --- | --- | --- |
| Show Name | GrossGross | TotalAttn | %Cap | AvgPdAdm |
| ANN | $347,934 | 5,435 | 61.04% | $64.02 |
| ANNIE | $1,112,304 | 12,574 | 92.02% | $88.46 |
| CHICAGO | $653,577 | 8,137 | 94.18% | $80.32 |
| CINDERELLA | $1,223,648 | 12,712 | 90.75% | $96.26 |
| I'LL EAT YOU LAST: A CHAT WITH SUE MENGERS | $810,174 | 5,563 | 102.28% | $145.64 |
| JERSEY BOYS | $901,107 | 8,973 | 91.34% | $100.42 |
| KINKY BOOTS | $1,528,261 | 11,480 | 100.77% | $133.12 |
| LUCKY GUY | $1,364,021 | 9,604 | 101.57% | $142.03 |
| MACBETH | $323,920 | 4,245 | 67.90% | $76.31 |
| MAMMA MIA! | $932,345 | 10,570 | 88.20% | $88.21 |
| MATILDA | $1,222,047 | 11,459 | 100.03% | $106.65 |
| MOTOWN: THE MUSICAL | $1,447,785 | 12,150 | 100.78% | $119.16 |
| NEWSIES | $901,970 | 9,603 | 101.30% | $93.93 |
| ONCE | $844,954 | 8,221 | 97.04% | $102.78 |
| PIPPIN | $1,067,517 | 8,000 | 101.01% | $133.44 |
| ROCK OF AGES | $415,042 | 4,393 | 94.19% | $94.48 |
| SPIDER-MAN TURN OFF THE DARK | $1,186,764 | 12,521 | 81.09% | $94.78 |
| THE ASSEMBLED PARTIES | $320,426 | 4,267 | 82.06% | $75.09 |
| THE BOOK OF MORMON | $1,736,027 | 8,752 | 102.63% | $198.36 |
| THE LION KING | $1,971,393 | 13,604 | 100.03% | $144.91 |
| THE NANCE | $390,725 | 4,486 | 61.22% | $87.10 |
| THE PHANTOM OF THE OPERA | $1,124,860 | 12,560 | 97.82% | $89.56 |
| THE TRIP TO BOUNTIFUL | $493,900 | 5,344 | 62.84% | $92.42 |
| VANYA AND SONIA AND MASHA AND SPIKE | $691,532 | 6,040 | 95.93% | $114.49 |
| WICKED | $1,985,154 | 13,934 | 96.28% | $142.47 |
| Totals: | $24,997,386 | 224,627 | 90.57% | $108.18 |
Broadway ticket sales raw data are provided courtesy of The Broadway League All other data, text, opinion, charts and commentary are copyright © 2012 nytix.com