Broadway Show Ticket Sales Analysis w/e 5/25/2014
Broadway Show Ticket Sales Analysis and summary for the Broadway week ending 5/25/2014
---
Overview of Broadway Ticket Sales for the week ending 5/25/2014
This week saw some changes with overall increase of $1.5 million in tickets sales over the previous week.
Broadway Ticket Sales Picking Up With The Warm Weather And Tourists
Overall, the entire Broadway community saw an increase of $1,508,163 in the week ending May 25, 2014 from its gross of the week before. The majority of individual shows also saw an increase, with those showing a decrease doing so only slightly. The biggest increases were seen by long-running musicals, with
The Phantom of the Opera
going up by $175,375,
Cinderella
increasing by $174,913,
Matilda
up by $160,653,
Wicked
increasing by $126,757, and
The Lion King
going up by $110,196. Surprisingly, the biggest decrease was shown by the Tony Award nominated Best Play, and Drama League winner of Best Play,
All the Way
, which was down $49,238 from the week prior. However, this decrease is still slight, as
All the Way
still saw a remarkable gross of $996,622, just slightly off from the million dollar club. The fact that even the biggest loser did so well supports the observation that this was an overall excellent week for Broadway. As the summer season is approaching and the school term is ending, more tourists are flocking to New York City to buy theatre tickets, and more New York natives are considering the theatre as a destination for their outings.
2014 Tony Award Nominated Shows Lead The Pack In Ticket Sales Growth
With the Tony Awards just over a week away, it is interesting to see how the most nominated shows are faring at the box office. Leading the pack with ten nominations, including that for the coveted award of Best Musical, is
A Gentleman's Guide to Love and Murder
. This past week, it saw a respectable gross of $720,993, which was an increase of $64,973 from the previous week. With an average ticket price of $98.19, ticket buyers are willing to shell out the cash to see this anticipated new show. The second most nominated show is the musical
Hedwig and the Angry Inch
, which boasts eight nominations including Best Revival of a Musical
.
Though this is considered a revival for purposes of Tony consideration, it is the first time this show has been on Broadway, but not its first time in New York.
Hedwig and the Angry Inch
made almost exactly the same amount of money this week as last week, earning $982,475, which was a decrease of just $731 from last week. Still, this extremely hot ticket show made 117.74% of its gross potential, with fans begging to see Neil Patrick Harris in this transformative performance.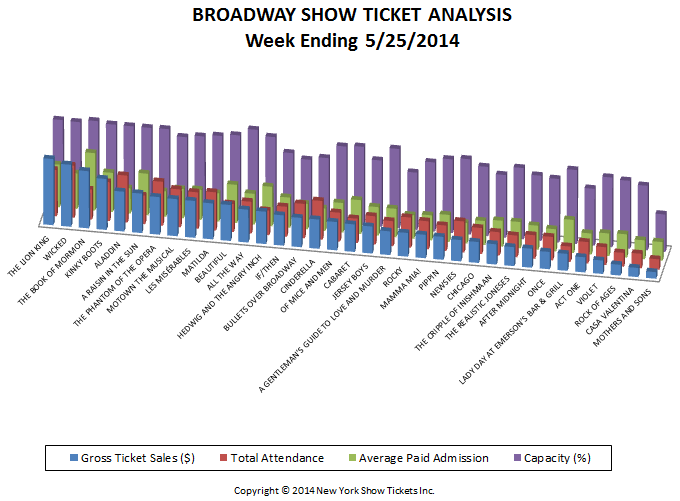 The following are the Broadway ticket sales numbers for the week ending May 25, 2014:
| | | | | |
| --- | --- | --- | --- | --- |
| Show | GrossGross | Total Attn | %Cap | AvgPdAdm |
| A GENTLEMAN'S GUIDE TO LOVE AND MURDER | $720,993 | 7,343 | 101.20% | $98.19 |
| A RAISIN IN THE SUN | $1,198,950 | 8,368 | 100.00% | $143.28 |
| ACT ONE | $458,136 | 6,287 | 72.50% | $72.87 |
| AFTER MIDNIGHT | $574,689 | 6,895 | 83.19% | $83.35 |
| ALADDIN | $1,207,953 | 13,787 | 100.02% | $87.62 |
| ALL THE WAY | $996,622 | 9,348 | 109.56% | $106.61 |
| BEAUTIFUL | $1,089,414 | 8,243 | 100.43% | $132.16 |
| BULLETS OVER BROADWAY | $890,024 | 10,091 | 77.38% | $88.20 |
| CABARET | $836,301 | 7,140 | 99.94% | $117.13 |
| CASA VALENTINA | $277,233 | 4,242 | 82.34% | $65.35 |
| CHICAGO | $635,283 | 7,636 | 88.38% | $83.20 |
| CINDERELLA | $888,512 | 11,416 | 81.50% | $77.83 |
| HEDWIG AND THE ANGRY INCH | $982,475 | 7,210 | 102.28% | $136.27 |
| IF/THEN | $918,720 | 8,796 | 83.87% | $104.45 |
| JERSEY BOYS | $819,397 | 8,305 | 84.54% | $98.66 |
| KINKY BOOTS | $1,545,334 | 11,408 | 100.14% | $135.46 |
| LADY DAY AT EMERSON'S BAR & GRILL | $514,656 | 4,508 | 94.43% | $114.17 |
| LES MISÉRABLES | $1,117,446 | 10,718 | 95.09% | $104.26 |
| MAMMA MIA! | $711,061 | 8,218 | 88.10% | $86.52 |
| MATILDA | $1,090,839 | 11,194 | 97.71% | $97.45 |
| MOTHERS AND SONS | $198,844 | 3,064 | 47.76% | $64.90 |
| MOTOWN THE MUSICAL | $1,124,613 | 11,113 | 92.18% | $101.20 |
| NEWSIES | $647,526 | 9,113 | 96.13% | $71.06 |
| OF MICE AND MEN | $859,979 | 8,439 | 98.31% | $101.91 |
| ONCE | $525,658 | 6,863 | 81.01% | $76.59 |
| PIPPIN | $694,545 | 7,441 | 93.95% | $93.34 |
| ROCK OF AGES | $326,452 | 4,045 | 86.73% | $80.71 |
| ROCKY | $719,407 | 8,858 | 73.04% | $81.22 |
| THE BOOK OF MORMON | $1,734,588 | 8,752 | 102.63% | $198.19 |
| THE CRIPPLE OF INISHMAAN | $614,925 | 6,871 | 80.04% | $89.50 |
| THE LION KING | $2,006,651 | 13,604 | 100.03% | $147.50 |
| THE PHANTOM OF THE OPERA | $1,138,294 | 12,893 | 100.41% | $88.29 |
| THE REALISTIC JONESES | $574,791 | 6,345 | 90.95% | $90.59 |
| VIOLET | $408,945 | 5,220 | 88.90% | $78.34 |
| WICKED | $1,881,975 | 15,316 | 99.30% | $122.88 |
| Totals: | $30,931,230 | 299,090 | 90.68% | $100.55 |
Broadway ticket sales raw data are provided courtesy of The Broadway League All other data, text, opinion, charts and commentary are copyright © 2014 nytix.com