Broadway Show Ticket Sales Analysis w/e 4/27/2014
Broadway Show Ticket Sales Analysis For Week End 04/27/2014 Overall A Slow Week On Broadway After Spring Break Ends And Tourists Head Back Home.
---
A Slow Week For Broadway

In the week ending April 27, 2014, the vast majority of shows saw a decrease in ticket sales from the previous week. Even the heavy hitters went down significantly. For instance, though Wicked and The Lion King still both grossed over two million dollars, Wicked earned $694,805 less and The Lion King earned $399,631 less than the week before.
Other big drops include Matilda, which went down $324,076, Cinderella, which decreased by $293,539, Newsies, which slowed down by $256,702, Rocky, which decreased by $238,855, and The Phantom of the Opera, which went down by $399,865. Even the mega-hit The Book of Mormon decreased by $15,835.
Tourist Favorites Decline After Spring Break
As this list includes some of the top tourist picks, this goes to show that Broadway was hit hard by the last week of April, presumably because spring break has now ended. Certain shows showed a slight increase that may appeal less to tourists, including Violet, The Realistic Joneses, The Bridges of Madison County, Mothers and Sons, and Lady Day at Emerson's Bar and Grill.
Though these grosses are still significantly lower than the tourist shows mentioned above, this is further evidence that the overall decrease is due to the slower numbers of tourists flocking to the city this past week.
Heavy Discounting For "Casa Valentina"

Casa Valentina, Harvey Fierstein's new play about transvestites in the 1960s, is one of the more notable shows in terms of discounting, as evidenced by these figures. Though the play grossed only $210,585 this past week, it still played to an average 91.3% capacity, with an average ticket price of only $44.78. This shows that the play does attract a certain degree of interest from theatregoers, but they are not willing to pay full price.
Furthermore, The Velocity of Autumn had by far the lowest average paid ticket price at $20.77, still only managing to fill up 67.0% average capacity. With a horrendous weekly gross of $84,521, this show looks to be on its very last legs. With those numbers, it has definitely been dispersing complimentary tickets in an effort to spread word of mouth, but it won't be able to last long if sales don't pick up soon.
The following are the Broadway ticket sales numbers for the week ending April 27, 2014: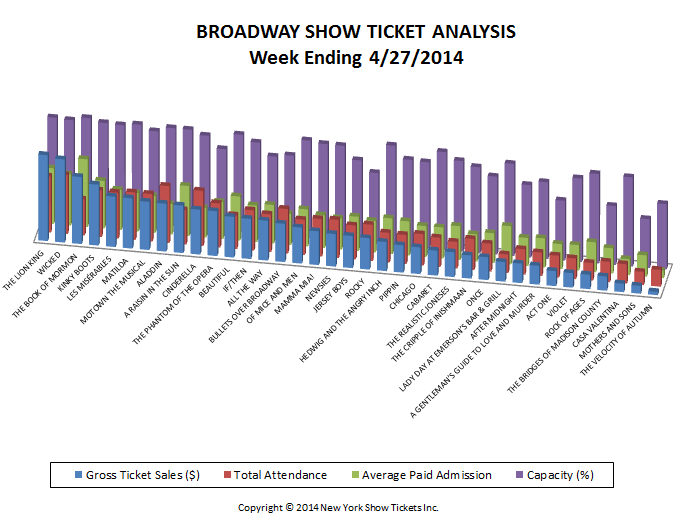 | | | | | |
| --- | --- | --- | --- | --- |
| Show | GrossGross | Total Attn | %Cap | AvgPdAdm |
| A GENTLEMAN'S GUIDE TO LOVE AND MURDER | $470,784 | 5,702 | 78.58% | $82.56 |
| A RAISIN IN THE SUN | $1,183,783 | 8,368 | 100.00% | $141.47 |
| ACT ONE | $373,915 | 5,308 | 61.21% | $70.44 |
| AFTER MIDNIGHT | $488,203 | 6,142 | 74.11% | $79.49 |
| ALADDIN | $1,194,264 | 13,790 | 100.04% | $86.60 |
| ALL THE WAY | $994,085 | 9,118 | 80.15% | $109.02 |
| BEAUTIFUL | $1,015,673 | 8,164 | 99.46% | $124.41 |
| BULLETS OVER BROADWAY | $956,227 | 10,783 | 82.69% | $88.68 |
| CABARET | $624,575 | 7,108 | 100.17% | $87.87 |
| CASA VALENTINA | $210,585 | 4,703 | 91.28% | $44.78 |
| CHICAGO | $667,125 | 7,618 | 88.17% | $87.57 |
| CINDERELLA | $1,119,405 | 13,362 | 95.39% | $83.78 |
| HEDWIG AND THE ANGRY INCH | $725,517 | 7,200 | 102.14% | $100.77 |
| IF/THEN | $1,004,383 | 9,750 | 92.96% | $103.01 |
| JERSEY BOYS | $800,204 | 8,253 | 84.01% | $96.96 |
| KINKY BOOTS | $1,519,830 | 11,300 | 99.19% | $134.50 |
| LADY DAY AT EMERSON'S BAR & GRILL | $489,022 | 4,504 | 94.34% | $108.58 |
| LES MISÉRABLES | $1,258,537 | 11,099 | 98.47% | $113.39 |
| MAMMA MIA! | $842,376 | 9,103 | 97.59% | $92.54 |
| MATILDA | $1,253,017 | 11,517 | 100.53% | $108.80 |
| MOTHERS AND SONS | $192,942 | 3,210 | 50.03% | $60.11 |
| MOTOWN THE MUSICAL | $1,203,398 | 11,487 | 95.28% | $104.76 |
| NEWSIES | $812,665 | 9,232 | 97.38% | $88.03 |
| OF MICE AND MEN | $897,852 | 8,555 | 99.66% | $104.95 |
| ONCE | $569,833 | 6,749 | 79.66% | $84.43 |
| PIPPIN | $682,229 | 7,063 | 89.18% | $96.59 |
| ROCK OF AGES | $359,970 | 4,278 | 91.72% | $84.14 |
| ROCKY | $783,892 | 8,805 | 72.60% | $89.03 |
| THE BOOK OF MORMON | $1,674,070 | 8,752 | 102.63% | $191.28 |
| THE BRIDGES OF MADISON COUNTY | $351,946 | 4,922 | 60.38% | $71.50 |
| THE CRIPPLE OF INISHMAAN | $579,630 | 7,535 | 87.78% | $76.93 |
| THE LION KING | $2,143,746 | 13,602 | 100.01% | $157.61 |
| THE PHANTOM OF THE OPERA | $1,117,440 | 10,679 | 83.17% | $104.64 |
| THE REALISTIC JONESES | $619,507 | 6,458 | 92.57% | $95.93 |
| THE VELOCITY OF AUTUMN | $84,521 | 4,070 | 67.03% | $20.77 |
| VIOLET | $360,849 | 5,022 | 85.52% | $71.85 |
| WICKED | $2,074,749 | 14,320 | 98.95% | $144.88 |
| Totals: | $31,700,745 | 307,631 | 88.49% | $97.10 |
Broadway ticket sales raw data are provided courtesy of The Broadway League All other data, text, opinion, charts and commentary are copyright © 2014 nytix.com