Broadway Show Ticket Sales Analysis w/e 4/13/2014
Broadway Show Ticket Sales Analysis For Week Ending 04/13/2014 Two Straight Plays Opened Last Week And The Cripple Of Inishmaan Began Previews.
---
The "Cripple Of Inishmaan" Begins Previews

This past week, The Cripple of Inishmaan began previews at the Cort Theatre starring Daniel Radcliffe. With only two performances underway, it is difficult to estimate the success of advance ticket sales for this show, but its early figures look promising. The show grossed $155,234 over two performances, averaging 99.4% capacity with an average paid admission of $72.78.
Though this ticket price is fairly low, presumably due to discounting as well as complimentary tickets for the creative team, the play still made 94.75% of its gross potential. Clearly the star power of Daniel Radcliffe has a lot to do with these high numbers, especially in light of the fact that a revival of an Irish dark comedy may not otherwise do so well. This is a transfer from a West End revival of the show, also starring Daniel Radcliffe.
Reviews Do Make A Difference
Two straight plays that opened last week to positive reviews saw a significant increase in ticket sales. A Raisin in the Sun starring Denzel Washington was already faring quite well, selling out during previews. The play even grossed over one million dollars for two weeks in a row during previews, a significant coup for a straight play.
However, in the week leading up to the show's opening, the weekly gross fell to $929,151. Fortunately, after the play opened on April 3rd to laudatory notices, audiences responded with ticket purchases, as this past week the play had its highest weekly gross yet: $1,182,511.
"The Realistic Joneses" Sees An Increase In Sales
More notably, The Realistic Joneses also saw a stark increase in sales following its opening. The reason this increase is more notable than that of A Raisin in the Sun is because the play is written by Will Eno, a playwright only theatre die-hards would know, and it stars famous actors who are not nearly as famous as Denzel Washington.
Though this play grossed less than half as much as Raisin, it still saw a steep increase of $107,825 from the previous week. After the play opened on April 6th, The New York Times declared it a Critics' Pick, and many other reviewers responded strongly as well. Therefore, these figures show how theatregoers indeed respond to published praise, which is good news for producers who rely on critical support to demonstrate the merits of their shows without recognizable names to boost the box office.
The following are the Broadway ticket sales numbers for the week ending April 13, 2014: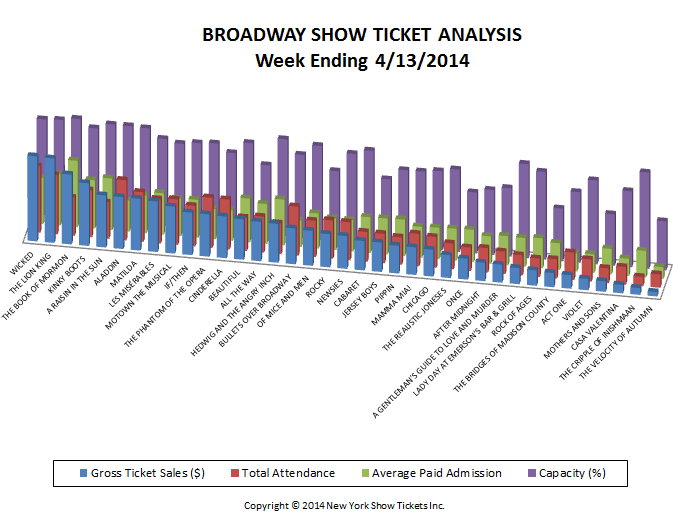 | | | | | |
| --- | --- | --- | --- | --- |
| Show | GrossGross | Total Attn | %Cap | AvgPdAdm |
| A GENTLEMAN'S GUIDE TO LOVE AND MURDER | $407,665 | 5,122 | 70.59% | $79.59 |
| A RAISIN IN THE SUN | $1,182,511 | 8,368 | 100.00% | $141.31 |
| ACT ONE | $309,452 | 6,316 | 72.83% | $48.99 |
| AFTER MIDNIGHT | $417,318 | 5,568 | 67.18% | $74.95 |
| ALADDIN | $1,178,422 | 13,786 | 100.01% | $85.48 |
| ALL THE WAY | $893,167 | 8,206 | 72.13% | $108.84 |
| BEAUTIFUL | $917,392 | 7,669 | 93.43% | $119.62 |
| BULLETS OVER BROADWAY | $813,145 | 11,221 | 86.05% | $72.47 |
| CABARET | $667,721 | 6,823 | 96.59% | $97.86 |
| CASA VALENTINA | $192,074 | 4,047 | 78.55% | $47.46 |
| CHICAGO | $607,106 | 7,070 | 81.83% | $85.87 |
| CINDERELLA | $946,408 | 11,425 | 81.56% | $82.84 |
| HEDWIG AND THE ANGRY INCH | $884,092 | 7,048 | 100.59% | $125.44 |
| IF/THEN | $964,759 | 9,295 | 88.63% | $103.79 |
| JERSEY BOYS | $665,420 | 6,741 | 68.62% | $98.71 |
| KINKY BOOTS | $1,422,291 | 10,769 | 94.53% | $132.07 |
| LADY DAY AT EMERSON'S BAR & GRILL | $366,156 | 4,639 | 97.17% | $78.93 |
| LES MISÉRABLES | $1,147,961 | 10,126 | 89.83% | $113.37 |
| MAMMA MIA! | $627,337 | 7,442 | 79.78% | $84.30 |
| MATILDA | $1,174,694 | 11,368 | 99.23% | $103.33 |
| MOTHERS AND SONS | $238,128 | 3,412 | 53.18% | $69.79 |
| MOTOWN THE MUSICAL | $1,067,046 | 10,425 | 86.47% | $102.35 |
| NEWSIES | $744,353 | 8,701 | 91.78% | $85.55 |
| OF MICE AND MEN | $796,078 | 8,321 | 96.94% | $95.67 |
| ONCE | $473,697 | 5,333 | 62.95% | $88.82 |
| PIPPIN | $630,280 | 6,307 | 79.63% | $99.93 |
| ROCK OF AGES | $347,060 | 4,227 | 90.63% | $82.11 |
| ROCKY | $754,394 | 8,773 | 72.34% | $85.99 |
| THE BOOK OF MORMON | $1,586,091 | 8,752 | 102.63% | $181.23 |
| THE BRIDGES OF MADISON COUNTY | $322,366 | 4,424 | 54.27% | $72.87 |
| THE CRIPPLE OF INISHMAAN | $155,234 | 2,133 | 99.39% | $72.78 |
| THE LION KING | $1,914,937 | 13,602 | 100.01% | $140.78 |
| THE PHANTOM OF THE OPERA | $958,388 | 11,535 | 89.84% | $83.09 |
| THE REALISTIC JONESES | $518,159 | 5,935 | 85.08% | $87.31 |
| THE VELOCITY OF AUTUMN | $100,056 | 3,074 | 50.63% | $32.55 |
| VIOLET | $258,167 | 5,080 | 86.51% | $50.82 |
| WICKED | $1,930,362 | 15,275 | 99.03% | $126.37 |
| Totals: | $28,579,879 | 288,358 | 84.34% | $93.06 |
Broadway ticket sales raw data are provided courtesy of The Broadway League All other data, text, opinion, charts and commentary are copyright © 2014 nytix.com