Broadway Show Ticket Sales Analysis w/e 3/30/2014
Broadway Show Ticket Sales Analysis For Week Ending 03/30/2014 With Hedwig And The Angry Inch Beginning Previews Off To A Promising Start
---
Highly Anticipated "Hedwig And The Angry Inch" Begins Previews

This past week saw the start of previews for the highly anticipated Broadway production of John Cameron Mitchell's Hedwig and the Angry Inch. This glam rock musical, which tells the story of an East German transsexual who underwent a botched sex-change operation, has stirred hearts and minds since its original Off-Broadway production in 1998.
Its audience of fans has expanded through the 2001 movie version and further productions worldwide, yet this is the first time the show has come to Broadway. Starring Neil Patrick Harris, who has proven his charm to the Broadway community through hosting the Tony Awards on several occasions, this production is sure to be an audience favorite – and the numbers show it.
"Hedwig" Is Off To A Promising Start
With only one performance in this first week, the show grossed $144,194, which amounted to an audience capacity of 101.40%, reaching 120.35% of its gross potential. Collecting an average paid admission of $141.92, Hedwig was the top ticket price, with only The Book of Mormon charging a higher average admission. In starting off with a bang, this bodes well for a profitable run.
New Shows Struggling At The Box Office
In the same week, two other shows began previews, but to a much less profitable start. Lady Day at Emerson's Bar & Grill, which stars Audra McDonald as Billie Holiday, only grossed $337,951 over its 7 performances, representing an audience capacity of 83.91%. The show must have discounted significantly, as average paid admission was only $84.36.
Even less profitably, the Roundabout Theatre Company production of Violet ran for four performances at the American Airlines Theatre, grossing only $169,792 with an average paid admission of $60.53. Still, they filled up 96.46% of their audience capacity, with the lower gross deriving from discounted and subscription tickets.
Les Misérables Sees Steep Increases In Ticket Grosses
A musical that saw a steep increase in ticket grosses this past week was the new revival of Les Misérables, which grossed $1,223,317, up $191,448 from last week. In addition, the new Disney production of Aladdin took in $1,104,798, which was an increase of $167,699 from the previous week. Both of these are new productions that are proving to be strong contenders for long healthy runs.
The following are the Broadway ticket sales numbers for the week ending March 23, 2014: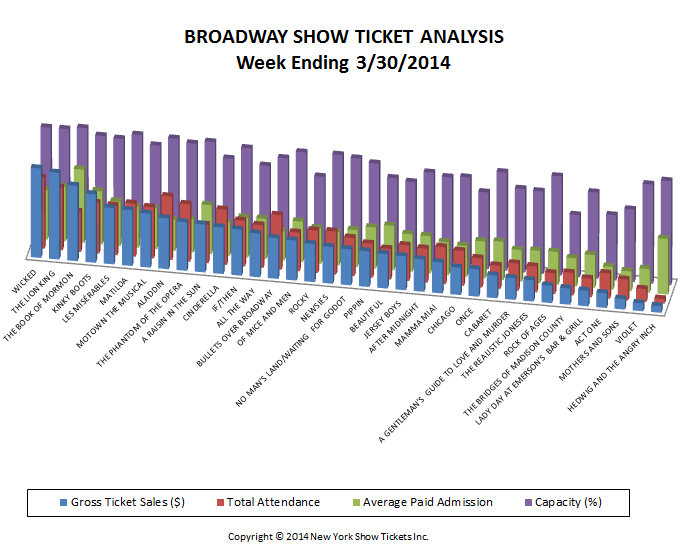 | | | | | |
| --- | --- | --- | --- | --- |
| Show | GrossGross | Total Attn | %Cap | AvgPdAdm |
| A GENTLEMAN'S GUIDE TO LOVE AND MURDER | $472,344 | 5,879 | 81.02% | $80.34 |
| A RAISIN IN THE SUN | $1,045,534 | 8,368 | 100.00% | $124.94 |
| ACT ONE | $318,292 | 5,491 | 63.32% | $57.97 |
| AFTER MIDNIGHT | $702,074 | 7,378 | 89.02% | $95.16 |
| ALADDIN | $1,104,798 | 13,783 | 100.17% | $80.16 |
| ALL THE WAY | $949,056 | 9,283 | 81.60% | $102.24 |
| BEAUTIFUL | $749,305 | 6,610 | 80.53% | $113.36 |
| BULLETS OVER BROADWAY | $886,469 | 11,806 | 90.54% | $75.09 |
| CABARET | $494,440 | 5,069 | 95.68% | $97.54 |
| CHICAGO | $595,765 | 7,559 | 87.49% | $78.82 |
| CINDERELLA | $1,012,922 | 11,953 | 85.33% | $84.74 |
| HEDWIG AND THE ANGRY INCH | $144,194 | 1,016 | 101.40% | $141.92 |
| IF/THEN | $1,002,321 | 9,897 | 97.03% | $101.28 |
| JERSEY BOYS | $737,384 | 7,700 | 78.38% | $95.76 |
| KINKY BOOTS | $1,489,070 | 10,995 | 96.52% | $135.43 |
| LADY DAY AT EMERSON'S BAR & GRILL | $337,951 | 4,006 | 83.91% | $84.36 |
| LES MISÉRABLES | $1,223,317 | 10,736 | 95.24% | $113.95 |
| MAMMA MIA! | $673,967 | 8,032 | 86.11% | $83.91 |
| MATILDA | $1,212,014 | 11,524 | 100.59% | $105.17 |
| MOTHERS AND SONS | $228,669 | 4,518 | 70.42% | $50.61 |
| MOTOWN THE MUSICAL | $1,171,326 | 11,075 | 91.86% | $105.76 |
| NEWSIES | $798,338 | 9,333 | 98.45% | $85.54 |
| NO MAN'S LAND/WAITING FOR GODOT | $782,396 | 8,286 | 96.53% | $94.42 |
| OF MICE AND MEN | $868,728 | 8,390 | 97.74% | $103.54 |
| ONCE | $595,070 | 6,320 | 74.60% | $94.16 |
| PIPPIN | $774,699 | 7,384 | 93.23% | $104.92 |
| ROCK OF AGES | $376,294 | 4,496 | 96.40% | $83.70 |
| ROCKY | $828,848 | 9,178 | 75.68% | $90.31 |
| THE BOOK OF MORMON | $1,638,380 | 8,752 | 102.63% | $187.20 |
| THE BRIDGES OF MADISON COUNTY | $352,896 | 4,920 | 60.35% | $71.73 |
| THE LION KING | $1,885,162 | 13,603 | 100.02% | $138.58 |
| THE PHANTOM OF THE OPERA | $1,057,502 | 12,439 | 96.88% | $85.02 |
| THE REALISTIC JONESES | $462,236 | 5,595 | 80.20% | $82.62 |
| VIOLET | $169,792 | 2,805 | 96.46% | $60.53 |
| WICKED | $1,946,536 | 15,423 | 99.99% | $126.21 |
| Totals: | $29,088,086 | 289,602 | 89.29% | $97.63 |
Broadway ticket sales raw data are provided courtesy of The Broadway League All other data, text, opinion, charts and commentary are copyright © 2014 nytix.com