Broadway Show Ticket Sales Analysis w/e 3/09/2014
Broadway Show Ticket Sales Analysis For Week Ending 03/09/2014 With A Raisin In The Sun Opening In Previews.
---
A Raisin In The Sun Opens In Previews

Shot out of cannon is A Raisin In The Sun, which is only three performances in and already the sell-out show of the new season. Denzel Washington stars in this redo of the Broadway favorite which averaged $144.53 in its first three days of previews.
"Mothers And Sons"
Tyne Daly in Mothers and Sons continues to draw audiences, but is upside down with 81% of seats sold, but with an average of only $45 per ticket price - putting it the bottom two shows on Broadway.
"Rock Of Ages"

Following the close of Bronx Bombers and Machinal, Rock Of Ages has moved into the bottom three Broadway show slot, their first time at this position. Their average paid admission is up on last week though, so time will tell if this can be turned around with recent TV spots that were run on local New York TV stations.
"Jersey Boys"

The musical story of Frankie Valli & The Four Seasons, helmed by Dodger Theatricals, that follows the rags-to-riches tale of four blue-collar kids working their way to stardom has struck a soft spot by only filling only 63.40% of their seats last week. It appears that their strategy is to keep their prices high and seats empty, which is a General Manager strategy that is likely to end with losses for investors.
Once the darling of Broadway, Jersey Boys shows signs of wear and tear, by now finishing in the bottom ten position of all Broadway shows. This show may need a fresh management approach to reinvigorate ticket sales.
The following are the Broadway ticket sales numbers for the week ending March 9, 2014: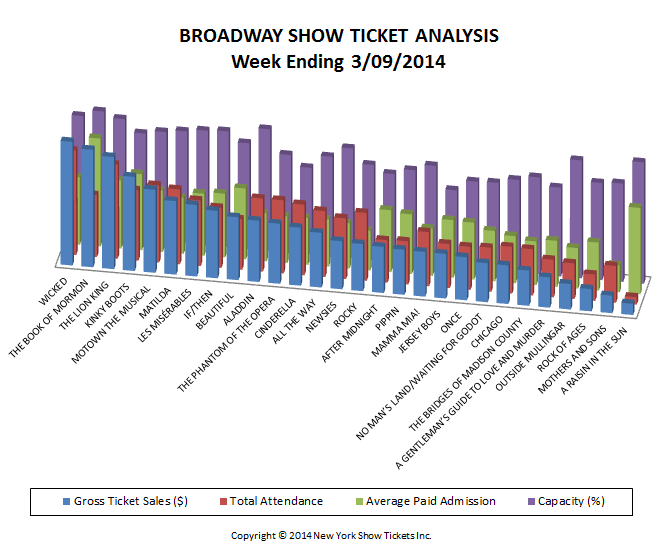 | | | | | |
| --- | --- | --- | --- | --- |
| Show | GrossGross | Total Attn | %Cap | AvgPdAdm |
| A GENTLEMAN'S GUIDE TO LOVE AND MURDER | $409,353 | 5,306 | 73.13% | $77.15 |
| A RAISIN IN THE SUN | $151,179 | 1,046 | 100.00% | $144.53 |
| AFTER MIDNIGHT | $622,013 | 5,986 | 72.22% | $103.91 |
| ALADDIN | $826,491 | 10,320 | 100.00% | $80.09 |
| ALL THE WAY | $736,790 | 9,322 | 81.94% | $79.04 |
| BEAUTIFUL | $847,672 | 7,140 | 86.99% | $118.72 |
| CHICAGO | $520,320 | 6,604 | 76.44% | $78.79 |
| CINDERELLA | $781,798 | 9,988 | 71.30% | $78.27 |
| IF/THEN | $909,159 | 8,502 | 95.26% | $106.93 |
| JERSEY BOYS | $600,488 | 6,228 | 63.40% | $96.42 |
| KINKY BOOTS | $1,268,989 | 9,961 | 87.44% | $127.40 |
| LES MISÉRABLES | $964,004 | 9,286 | 94.28% | $103.81 |
| MAMMA MIA! | $603,731 | 7,642 | 81.93% | $79.00 |
| MATILDA | $991,341 | 10,566 | 92.23% | $93.82 |
| MOTHERS AND SONS | $235,662 | 5,200 | 81.05% | $45.32 |
| MOTOWN THE MUSICAL | $1,119,747 | 10,880 | 90.25% | $102.92 |
| NEWSIES | $648,357 | 8,563 | 90.33% | $75.72 |
| NO MAN'S LAND/WAITING FOR GODOT | $525,313 | 6,224 | 72.51% | $84.40 |
| ONCE | $580,888 | 6,099 | 71.99% | $95.24 |
| OUTSIDE MULLINGAR | $343,445 | 5,048 | 97.08% | $68.04 |
| PIPPIN | $608,988 | 6,086 | 76.84% | $100.06 |
| ROCK OF AGES | $299,674 | 3,730 | 79.97% | $80.34 |
| ROCKY | $635,153 | 9,581 | 78.17% | $66.29 |
| THE BOOK OF MORMON | $1,583,887 | 8,752 | 102.63% | $180.97 |
| THE BRIDGES OF MADISON COUNTY | $476,005 | 6,522 | 80.00% | $72.98 |
| THE LION KING | $1,511,718 | 13,312 | 97.88% | $113.56 |
| THE PHANTOM OF THE OPERA | $809,460 | 10,326 | 80.42% | $78.39 |
| WICKED | $1,667,093 | 14,782 | 97.35% | $112.78 |
| Totals: | $21,278,718 | 223,002 | 84.75% | $94.46 |
Broadway ticket sales raw data are provided courtesy of The Broadway League. All other data, text, opinion, charts and commentary are copyright © 2014 nytix.com