Broadway Show Ticket Sales Analysis w/e 2/9/2014
---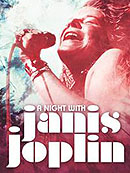 BROADWAY TICKET SALES GO UP
Following a depressing Super Bowl Week low-point in overall Broadway revenue last week, ticket sales on the Great White Way have risen by more than a million dollars, increasing from $16,714,694 to $17,841,889. While the bump up is encouraing, New York City is still mired in the midst of a very cold, snowy winter, so it is too soon to get optimistic that Broadway sales will continue to rise.
A NIGHT WITH JANIS JOPLIN CONCLUDES BROADWAY RUN
At 74.01% theater capacity, the last night of
A Night with Janis Joplin
on Broadway wasn't a standing-room only crowd, but the rollicking musical revue still went out with decent sales in its last week, bringing in $78.63 average paid admission. Though
A Night with Janis Joplin
is no longer on Broadway, producers have already announced their intention to find another venue for the rockin', blues-infused musical.
The following are the Broadway ticket sales numbers for the week ending February 9, 2014: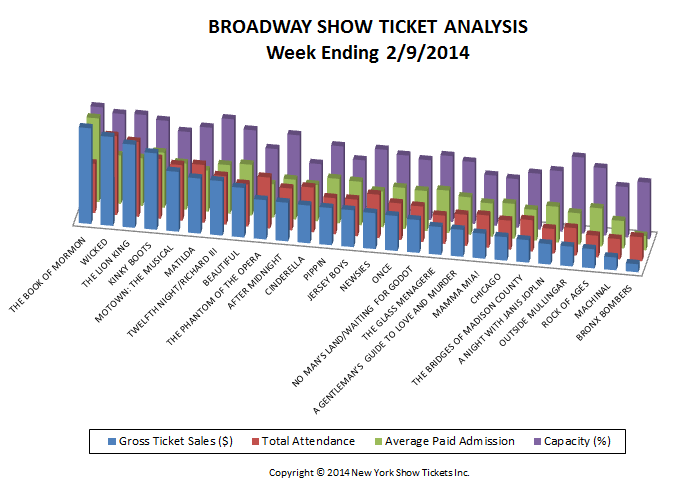 | | | | | |
| --- | --- | --- | --- | --- |
| Show | GrossGross | Total Attn | %Cap | AvgPdAdm |
| A GENTLEMAN'S GUIDE TO LOVE AND MURDER | $452,612 | 5,498 | 75.77% | $82.32 |
| A NIGHT WITH JANIS JOPLIN | $342,185 | 4,352 | 74.01% | $78.63 |
| AFTER MIDNIGHT | $647,925 | 7,426 | 89.60% | $87.25 |
| BEAUTIFUL | $832,495 | 7,460 | 90.89% | $111.59 |
| BRONX BOMBERS | $134,027 | 4,261 | 69.35% | $31.45 |
| CHICAGO | $394,400 | 5,148 | 59.58% | $76.61 |
| CINDERELLA | $633,396 | 7,937 | 56.66% | $79.80 |
| JERSEY BOYS | $618,954 | 6,485 | 66.01% | $95.44 |
| KINKY BOOTS | $1,284,663 | 10,607 | 93.11% | $121.11 |
| MACHINAL | $215,339 | 3,583 | 61.61% | $60.10 |
| MAMMA MIA! | $419,553 | 5,732 | 61.45% | $73.19 |
| MATILDA | $926,219 | 10,243 | 89.41% | $90.42 |
| MOTOWN: THE MUSICAL | $1,005,080 | 9,864 | 81.82% | $101.89 |
| NEWSIES | $602,699 | 7,697 | 81.19% | $78.30 |
| NO MAN'S LAND/WAITING FOR GODOT | $551,720 | 6,284 | 73.21% | $87.80 |
| ONCE | $587,345 | 6,489 | 76.59% | $90.51 |
| OUTSIDE MULLINGAR | $331,915 | 4,842 | 93.12% | $68.55 |
| PIPPIN | $624,252 | 6,398 | 80.78% | $97.57 |
| ROCK OF AGES | $321,202 | 3,842 | 82.38% | $83.60 |
| THE BOOK OF MORMON | $1,608,197 | 8,752 | 102.63% | $183.75 |
| THE BRIDGES OF MADISON COUNTY | $377,124 | 5,585 | 68.51% | $67.52 |
| THE GLASS MENAGERIE | $466,556 | 5,017 | 80.61% | $92.99 |
| THE LION KING | $1,397,103 | 13,313 | 97.89% | $104.94 |
| THE PHANTOM OF THE OPERA | $659,176 | 9,029 | 70.32% | $73.01 |
| TWELFTH NIGHT/RICHARD III | $914,033 | 8,585 | 102.11% | $106.47 |
| WICKED | $1,493,721 | 13,992 | 96.68% | $106.76 |
| Totals: | $17,841,889 | 188,421 | 79.82% | $89.68 |
*Broadway Grosses courtesy of The Broadway League