Broadway Show Ticket Sales Analysis w/e 2/3/2013
Broadway Show Ticket Sales Analysis For Week Ending 02/03/2013 Reflects A Slight Decrease In Overall Ticket Sales With Top Shows Slipping
---
Slight Decrease In Overall Broadway Sales

This week Broadway saw a small decrease in total ticket revenue, dipping to an overall take of $16,564,311, down from $17,182,845 the previous week. This is the lowest amount that Broadway has earned in total ticket sales since the week ending 11/4/2012, when Broadway sales were at approximately 13 and a half million due to the after-effects of the destructive super-storm Sandy.
Barry Manilow On Broadway
New York native Barry Manilow has returned to his hometown and taken over a Broadway theater for a limited engagement. The pop icon had to cancel a few performances of Manilow on Broadway due to sickness, making for a rocky start, but nonetheless he enjoyed great total sales of $796,714 at an average paid admission of $119.61.
Barry Manilow does not necessarily command a huge percentage of the traditional Broadway audience, but enough "fanilows" came out to fill 81.68% of the theater.
Sales For "Cat On A Hot Tin Roof" Fall
Cat on a Hot Tin Roof has been seeing its initially strong numbers falling over the last few weeks. For a classic play revival, an average paid admission of $98.41 is perfectly respectable, but this particular revival happens to feature film star Scarlett Johansson, making it surprising that the theater was only at 66.39% capacity this week.
Part of the problem is no doubt due to the winter blues, but it also may be that Broadway is less hospitable to big stars in plays than it has been in the past, as we saw the Katie Holmes-starring Dead Accounts also bring in poor numbers last fall. Grace, starring Paul Rudd, also under-performed earlier in the season.
The following are the Broadway ticket sales numbers from the week ending February 3, 2013: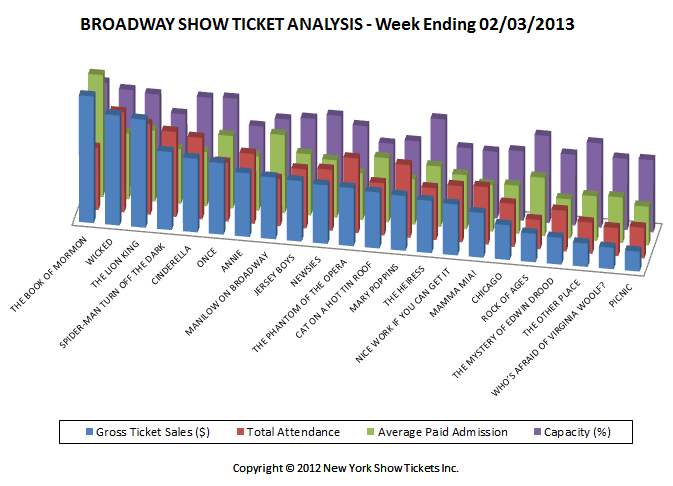 | | | | | |
| --- | --- | --- | --- | --- |
| Show Name | GrossGross | TotalAttn | %Cap | AvgPaidAdm |
| ANNIE | 821,246.00 | 9,870 | 72.23% | $83.21 |
| CAT ON A HOT TIN ROOF | 723,430.50 | 7,351 | 66.39% | $98.41 |
| CHICAGO | 448,439.60 | 6,079 | 70.36% | $73.77 |
| CINDERELLA | 950,035.25 | 11,471 | 96.62% | $82.82 |
| JERSEY BOYS | 779,681.99 | 8,322 | 84.71% | $93.69 |
| MAMMA MIA! | 575,932.34 | 8,091 | 67.52% | $71.18 |
| MANILOW ON BROADWAY | 796,714.00 | 6,661 | 81.68% | $119.61 |
| MARY POPPINS | 708,354.50 | 10,232 | 71.17% | $69.23 |
| NEWSIES | 756,382.90 | 8,596 | 89.92% | $87.99 |
| NICE WORK IF YOU CAN GET IT | 656,108.00 | 7,914 | 68.75% | $82.90 |
| ONCE | 922,096.93 | 8,301 | 98.07% | $111.08 |
| PICNIC | 256,119.95 | 4,327 | 73.09% | $59.19 |
| ROCK OF AGES | 367,947.00 | 4,114 | 88.21% | $89.44 |
| SPIDER-MAN TURN OFF THE DARK | 1,008,401.75 | 11,995 | 77.69% | $84.07 |
| THE BOOK OF MORMON | 1,635,426.13 | 8,752 | 102.63% | $186.86 |
| THE HEIRESS | 673,936.77 | 7,286 | 95.77% | $92.50 |
| THE LION KING | 1,395,073.00 | 12,800 | 95.41% | $108.99 |
| THE MYSTERY OF EDWIN DROOD | 345,209.33 | 5,753 | 71.63% | $60.01 |
| THE OTHER PLACE | 300,190.00 | 4,400 | 85.41% | $68.23 |
| THE PHANTOM OF THE OPERA | 748,948.69 | 10,511 | 81.86% | $71.25 |
| WHO'S AFRAID OF VIRGINIA WOOLF? | 275,387.50 | 3,942 | 72.20% | $69.86 |
| WICKED | 1,419,249.00 | 14,091 | 97.37% | $100.72 |
| Total | $16,564,311.13 | 180,859 | 82.21% | $89.3186 |
Broadway ticket sales raw data are provided courtesy of The Broadway League. All other data, text, opinion, charts and commentary are copyright © 2012 nytix.com
Discount Broadway Tickets
---
---