Broadway Show Ticket Sales Analysis w/e 2/24/2013
Broadway Show Ticket Sales Analysis For Week Ending 02/24/2013 Reflects A Dip In Total Sales Across The Industry With New Shows Starting Slow
---
Total Broadway Ticket Sales Decrease

Following last week's big increase to $19,053,138, this week Broadway saw a dip in total ticket revenue as sales dropped down to $18,315,913. As with most winters, Broadway has continued to see ticket sales go up and down, with mostly very modest numbers overall. But fortunately, spring is around the corner, so Broadway can expect to see ticket sales steadily increase as new Broadway shows open.

New Shows Start Slow

Two new shows, the one-woman play Ann and the new musical Hands on a Hardbody, have just started preview performances on Broadway, but so far they have seen only modest ticket sales. Ann, which stars Holland Taylor as Texas governor Ann Richards, filled its theater to 61.94% capacity with an average paid admission of $54.38. At 88.55% capacity, Hands on a Hardbody did a better job of getting people in seats, but the average admission was only $57.86 per ticket.
"The Lion King" On Top This Week

Six Broadway shows earned over one million dollars this week, including popular newcomer Cinderella, soon-to-be-closing Mary Poppins (no doubt enjoying last-minute business from people who want to see it before it goes), Spiderman, The Book of Mormon, and Wicked. The top earner was Disney's The Lion King, bringing in $1,779,324.
The following are the Broadway ticket sales numbers from the week ending February 24, 2013: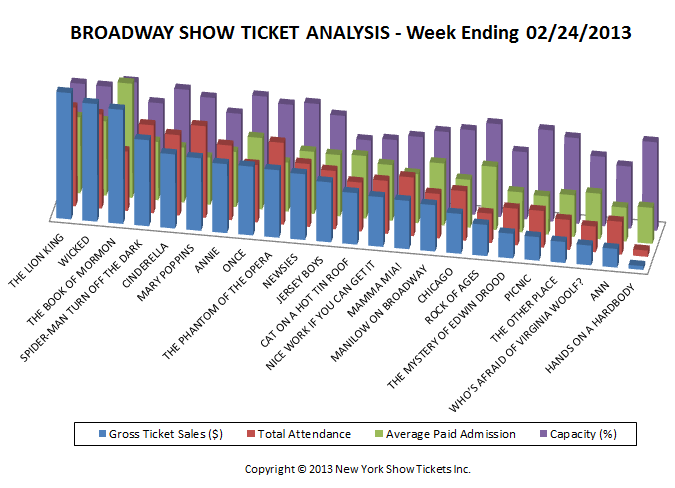 | | | | | |
| --- | --- | --- | --- | --- |
| Show Name | GrossGross | TotalAttn | %Cap | AvgPaidAdm |
| ANN | $262,436 | 4,826 | 61.94% | $54.38 |
| ANNIE | $972,128 | 10,972 | 80.30% | $88.60 |
| CAT ON A HOT TIN ROOF | $725,106 | 7,216 | 65.17% | $100.49 |
| CHICAGO | $561,607 | 7,290 | 84.38% | $77.04 |
| CINDERELLA | $1,045,064 | 11,832 | 99.66% | $88.33 |
| HANDS ON A HARDBODY | $53,229 | 920 | 88.55% | $57.86 |
| JERSEY BOYS | $844,357 | 8,584 | 87.38% | $98.36 |
| MAMMA MIA! | $680,908 | 8,642 | 73.04% | $78.79 |
| MANILOW ON BROADWAY | $653,063 | 6,553 | 80.36% | $99.66 |
| MARY POPPINS | $1,022,585 | 13,485 | 93.80% | $75.83 |
| NEWSIES | $926,915 | 9,275 | 97.02% | $99.94 |
| NICE WORK IF YOU CAN GET IT | $699,893 | 7,800 | 67.76% | $89.73 |
| ONCE | $969,147 | 8,443 | 99.75% | $114.79 |
| PICNIC | $331,975 | 5,400 | 91.22% | $61.48 |
| ROCK OF AGES | $439,386 | 4,328 | 92.80% | $101.52 |
| SPIDER-MAN TURN OFF THE DARK | $1,212,082 | 12,945 | 83.84% | $93.63 |
| THE BOOK OF MORMON | $1,607,985 | 8,752 | 102.63% | $183.73 |
| THE LION KING | $1,779,324 | 14,539 | 96.33% | $122.38 |
| THE MYSTERY OF EDWIN DROOD | $346,637 | 5,392 | 67.13% | $64.29 |
| THE OTHER PLACE | $296,168 | 4,418 | 85.75% | $67.04 |
| THE PHANTOM OF THE OPERA | $950,908 | 12,052 | 93.86% | $78.90 |
| WHO'S AFRAID OF VIRGINIA WOOLF? | $277,424 | 3,787 | 69.36% | $73.26 |
| WICKED | $1,657,584 | 13,874 | 95.87% | $119.47 |
| Total | $18,315,913 | 191,325 | 85.13% | $90.85 |
Broadway ticket sales raw data are provided courtesy of The Broadway League All other data, text, opinion, charts and commentary are copyright © 2012 nytix.com