Broadway Show Ticket Sales Analysis w/e 2/2/2014
Broadway Show Ticket Sales Analysis For Week Ending 02/02/2014 With Overall Ticket Sales Plummeting During Superbowl 48.
---
Superbowl Goes Off Like A Damp Squib

According to the Broadway League, the 2014 Superbowl 48 in New Jersey fails to ignite Broadway ticket sales in New York City and actually kept many Broadway fans away from New York city when compared to the last ten years of sales during the same week.
New York City was busy with many Super Bowl fans milling around, hotels completely sold out, many Super Bowl parties and the NFL awards were at Radio City Music Hall the night before the Super Bowl but very few of these visitors actually went to see a Broadway show - The demographic just didn't fit and Broadway producers failed to sell the dream.
Big Drop In Broadway Ticket Sales
Broadway overall ticket sales plummeted by nearly two and a half million dollars, falling from $19,122,428 down to $16,714,694, which was a unexpected shock to many shows, but with little history on this kind of event it was hard one to predict. Even top selling shows like The Lion King took a big hit from a 98.71% capacity just last week, capacity decreased 10% the week of the Super Bowl.
Though there were plenty of tourists in town, apparently not enough football fans also have a love for Broadway. What may have taken an even bigger toll was that many locals decided to avoid the Times Square area entirely during the week leading up to the big game, when several blocks of Broadway were turned into an interactive Superbowl celebration.

Broadway Ticket Sales Compared To Last Year
We can see a similar decrease in Broadway tickets sales from the 2013 Super Bowl XLVII. Last year, Broadway grossed a total of $16,564,313 in Broadway ticket sales with 22 shows running. This year, Broadway grossed a total of $16,714,694 in Broadway ticket sales with 26 shows running.
This is far less than expected considering there are an additional four Broadway shows this year. With the 2014 Super Bowl being at the Metlife Stadium, one would think the significant increase in the amount of tourists would help Broadway break free from this annual cycle; however, the numbers do not lie. Maybe the Super Bowl Boulevard in Times Square (Broadway from 34th Street to 47th Street) occupied tourists during this time.
"The Book Of Mormon" Tops The Chart
The highest-grossing show this week was The Book of Mormon, which, despite most of Broadway's deep financial freeze this week, had no problem selling out and earning $1,641,717. Wicked came in second with $1,403,247, followed by Disney's The Lion King, rounding out third place with $1,293,167. Kinky Boots was the only other Broadway show to make over a million, bringing in $1,173,857.
The following are the Broadway ticket numbers for the week ending February 2, 2014: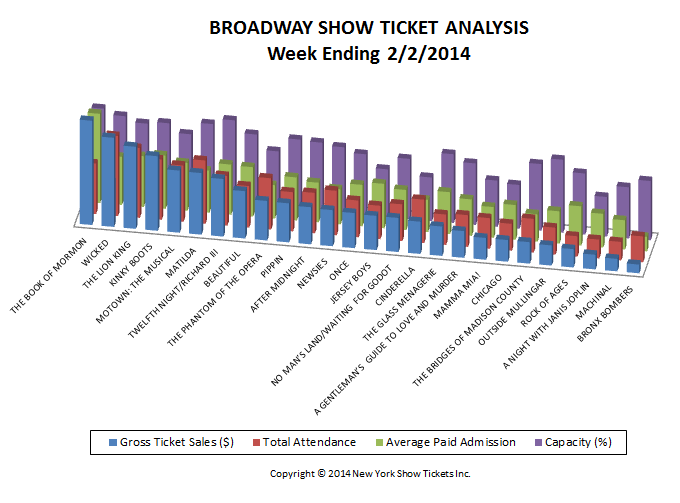 | | | | | |
| --- | --- | --- | --- | --- |
| Show | GrossGross | Total Attn | %Cap | AvgPdAdm |
| A GENTLEMAN'S GUIDE TO LOVE AND MURDER | $420,646 | 5,472 | 75.41% | $76.87 |
| A NIGHT WITH JANIS JOPLIN | $231,225 | 3,254 | 48.42% | $71.06 |
| AFTER MIDNIGHT | $584,044 | 6,983 | 84.25% | $83.64 |
| BEAUTIFUL | $745,443 | 7,158 | 87.21% | $104.14 |
| BRONX BOMBERS | $137,015 | 4,470 | 72.75% | $30.65 |
| CHICAGO | $340,481 | 4,643 | 53.74% | $73.33 |
| CINDERELLA | $508,604 | 7,482 | 53.41% | $67.98 |
| JERSEY BOYS | $538,710 | 5,760 | 58.63% | $93.53 |
| KINKY BOOTS | $1,173,857 | 10,421 | 91.48% | $112.64 |
| MACHINAL | $196,201 | 3,192 | 62.72% | $61.47 |
| MAMMA MIA! | $343,596 | 5,291 | 56.72% | $64.94 |
| MATILDA | $969,639 | 10,910 | 95.23% | $88.88 |
| MOTOWN: THE MUSICAL | $978,954 | 9,694 | 80.41% | $100.99 |
| NEWSIES | $568,494 | 7,678 | 80.99% | $74.04 |
| NO MAN'S LAND/WAITING FOR GODOT | $536,711 | 6,337 | 73.82% | $84.69 |
| ONCE | $552,672 | 6,331 | 74.73% | $87.30 |
| OUTSIDE MULLINGAR | $317,000 | 4,648 | 89.38% | $68.20 |
| PIPPIN | $614,740 | 6,780 | 85.61% | $90.67 |
| ROCK OF AGES | $289,178 | 3,494 | 74.91% | $82.76 |
| THE BOOK OF MORMON | $1,641,717 | 8,724 | 102.30% | $188.18 |
| THE BRIDGES OF MADISON COUNTY | $337,841 | 5,826 | 81.68% | $57.99 |
| THE GLASS MENAGERIE | $462,224 | 5,246 | 84.29% | $88.11 |
| THE LION KING | $1,293,167 | 12,063 | 88.70% | $107.20 |
| THE PHANTOM OF THE OPERA | $622,287 | 8,839 | 68.84% | $70.40 |
| TWELFTH NIGHT/RICHARD III | $907,006 | 8,586 | 102.12% | $105.64 |
| WICKED | $1,403,247 | 13,810 | 95.43% | $101.61 |
| Totals: | $16,714,694 | 183,092 | 77.81% | $86.04 |
Broadway ticket sales raw data are provided courtesy of The Broadway League All other data, text, opinion, charts and commentary are copyright © 2013 nytix.com