Broadway Show Ticket Sales Analysis w/e 2/17/2013
Broadway Show Ticket Sales Analysis For Week Ending 02/07/2013 Reflects A Large Jump In Ticket Sales Of 4 Million Dollars Partly Due To The Holiday Weekend
---
Big Jump In Broadway Ticket Sales

Total Broadway ticket revenue saw a $4 million increase this week, leaping from the previous week's very poor $15,048,035 up to $19,053,138. Part of the credit for the increase likely goes to the fact that this was a holiday weekend (President's Day weekend) and holidays are typically a popular time for Broadway shows.
Top Hits Of The Week
Surprisingly there were a grand total of seven Broadway shows that made it over the million mark this week. As usual, the Top 3 was made up of The Book of Mormon, The Lion King, and Wicked (which earned the most at $1,875,920). The other million dollar babies were Mary Poppins, Spiderman, Once, and newcomer Cinderella.
"Cinderella" Sells Out
Following its very promising first week, Cinderella is already looking like it may be the big Broadway hit of the spring season. The theater was filled to 100% capacity this week, and it earned a total of $1,056,544.
The following are the Broadway ticket sales numbers from the week ending February 17, 2013: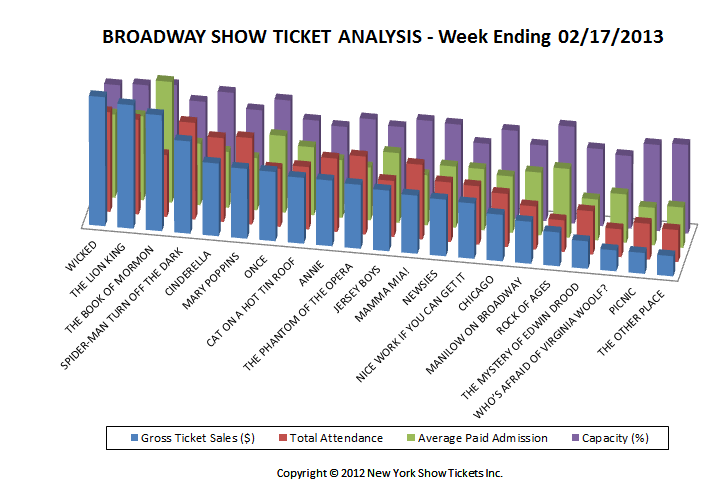 | | | | | |
| --- | --- | --- | --- | --- |
| Show Name | GrossGross | TotalAttn | %Cap | AvgPaidAdm |
| ANNIE | $954,565 | 10,386 | 76.01% | $91.91 |
| CAT ON A HOT TIN ROOF | $957,786 | 8,833 | 79.78% | $108.43 |
| CHICAGO | $675,688 | 7,519 | 87.03% | $89.86 |
| CINDERELLA | $1,056,544 | 11,867 | 99.96% | $89.03 |
| JERSEY BOYS | $882,204 | 7,938 | 80.80% | $111.14 |
| MAMMA MIA! | $845,181 | 10,577 | 89.39% | $79.91 |
| MANILOW ON BROADWAY | $610,616 | 6,104 | 74.85% | $100.04 |
| MARY POPPINS | $1,015,709 | 12,229 | 85.07% | $83.06 |
| NEWSIES | $823,600 | 8,437 | 88.25% | $97.62 |
| NICE WORK IF YOU CAN GET IT | $804,242 | 8,248 | 71.65% | $97.51 |
| ONCE | $1,007,277 | 8,234 | 97.28% | $122.33 |
| PICNIC | $302,778 | 5,062 | 85.51% | $59.81 |
| ROCK OF AGES | $492,289 | 4,483 | 96.12% | $109.81 |
| SPIDER-MAN TURN OFF THE DARK | $1,342,250 | 13,675 | 88.57% | $98.15 |
| THE BOOK OF MORMON | $1,686,039 | 8,752 | 102.63% | $192.65 |
| THE LION KING | $1,795,279 | 13,404 | 99.91% | $133.94 |
| THE MYSTERY OF EDWIN DROOD | $399,591 | 6,133 | 76.36% | $65.15 |
| THE OTHER PLACE | $292,273 | 4,539 | 88.10% | $64.39 |
| THE PHANTOM OF THE OPERA | $929,435 | 11,034 | 85.93% | $84.23 |
| WHO'S AFRAID OF VIRGINIA WOOLF? | $303,874 | 3,933 | 72.03% | $77.26 |
| WICKED | $1,875,920 | 14,116 | 97.54% | $132.89 |
| Total | $19,053,138 | 185,503 | 86.80% | $99.48 |
Broadway ticket sales raw data are provided courtesy of The Broadway League. All other data, text, opinion, charts and commentary are copyright © 2012 nytix.com
Discount Broadway Tickets
---
---