Broadway Show Ticket Sales Analysis w/e 12/29/2013
Broadway Show Ticket Sales Analysis For Week Ending 12/29/2013 Show Massive Increase In Ticket Sales By More Than 10 Million Dollars During Christmas Week
---
Broadway Sales Soar Over Christmas

Overall ticket sales for Broadway during Christmas week were phenomenal, leaping by more than 10 million dollars from the previous week's take of $27,539,204 all the way up to sales of $38,783,854.
"Wicked" Tops Three Million
The long-running hit Wicked blew past the competition over Christmas and, incredibly, earned over $3 million, coming into the chart's top spot with a weekly total of $3,201,333. Completely selling out the gigantic Gershwin Theatre, Wicked managed to earn a very high average paid admission of $184.49.
In the #2 spot, The Lion King was several million behind at $2,837,158, though that is still an extremely impressive weekly gross. Kinky Boots, Spider-man, and The Book of Mormon were the other shows to earn over two million.
"Big Fish" Has Sold Final Week

Though the new musical Big Fish hasn't been able to compete even close to the level of Broadway's top musicals, the tuner did respectable business in its final week on Broadway, coming close to making a million with its weekly total of $950,667. The show played to 87.90% capacity, and the average ticket price paid was $85.16.
The following are the Broadway ticket sales numbers for the week ending December 29, 2013: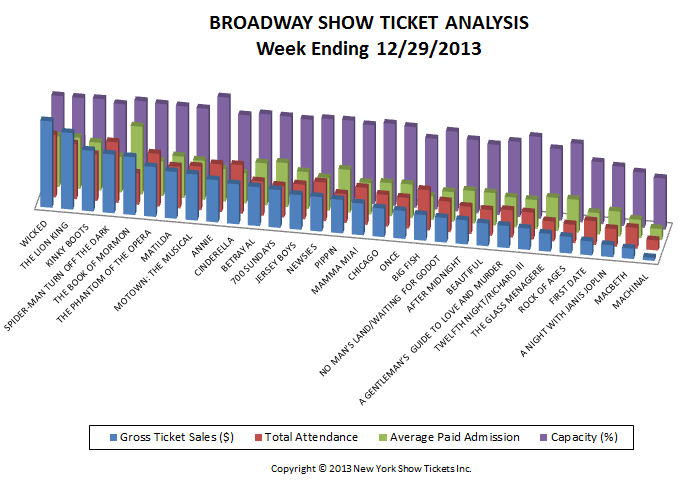 | | | | | |
| --- | --- | --- | --- | --- |
| Show | GrossGross | Total Attn | %Cap | AvgPdAdm |
| 700 SUNDAYS | $1,403,415 | 8,770 | 99.50% | $160.02 |
| A GENTLEMAN'S GUIDE TO LOVE AND MURDER | $816,932 | 7,602 | 93.13% | $107.46 |
| A NIGHT WITH JANIS JOPLIN | $444,357 | 4,943 | 73.56% | $89.90 |
| AFTER MIDNIGHT | $891,410 | 7,529 | 90.84% | $118.40 |
| ANNIE | $1,566,847 | 13,226 | 116.34% | $118.47 |
| BEAUTIFUL | $838,845 | 7,160 | 87.23% | $117.16 |
| BETRAYAL | $1,442,087 | 9,477 | 100.00% | $152.17 |
| BIG FISH | $950,667 | 11,163 | 87.90% | $85.16 |
| CHICAGO | $1,059,107 | 8,792 | 101.76% | $120.46 |
| CINDERELLA | $1,479,890 | 13,523 | 96.54% | $109.44 |
| FIRST DATE | $514,551 | 6,584 | 76.99% | $78.15 |
| JERSEY BOYS | $1,285,451 | 9,619 | 97.91% | $133.64 |
| KINKY BOOTS | $2,247,240 | 12,914 | 100.76% | $174.02 |
| MACBETH | $384,940 | 5,746 | 68.60% | $66.99 |
| MACHINAL | $111,626 | 2,772 | 63.55% | $40.27 |
| MAMMA MIA! | $1,172,129 | 10,269 | 97.86% | $114.14 |
| MATILDA | $1,732,800 | 11,544 | 100.77% | $150.10 |
| MOTOWN: THE MUSICAL | $1,708,597 | 12,070 | 100.12% | $141.56 |
| NEWSIES | $1,278,045 | 10,762 | 100.91% | $118.76 |
| NO MAN'S LAND/WAITING FOR GODOT | $911,906 | 8,485 | 98.85% | $107.47 |
| ONCE | $1,035,178 | 8,482 | 100.12% | $122.04 |
| PIPPIN | $1,245,604 | 8,025 | 101.33% | $155.22 |
| ROCK OF AGES | $612,102 | 5,114 | 97.47% | $119.69 |
| SPIDER-MAN TURN OFF THE DARK | $2,176,436 | 16,803 | 96.64% | $129.53 |
| THE BOOK OF MORMON | $2,145,404 | 8,752 | 102.63% | $245.13 |
| THE GLASS MENAGERIE | $660,124 | 5,515 | 88.61% | $119.70 |
| THE LION KING | $2,837,158 | 15,307 | 100.05% | $185.35 |
| THE PHANTOM OF THE OPERA | $1,843,296 | 14,622 | 101.23% | $126.06 |
| TWELFTH NIGHT/RICHARD III | $786,377 | 7,464 | 101.45% | $105.36 |
| WICKED | $3,201,333 | 17,352 | 100.00% | $184.49 |
| Totals: | $38,783,854 | 290,386 | 94.37% | $126.54 |
Broadway ticket sales raw data are provided courtesy of The Broadway League All other data, text, opinion, charts and commentary are copyright © 2013 nytix.com