Broadway Show Ticket Sales Analysis w/e 11/3/2013
Broadway Show Ticket Sales Analysis For Week Ending 11/03/2013 Ticket Sales Continue To Fall Before The Holiday Rush
---
Broadway Sales Continue To Fall

Whether it was the unseasonably warm weather in New York City or just the calm before the holiday storm that has kept New Yorkers away from Broadway theaters, the total revenue for Broadway dropped again this past week, falling from $23,158,295 down to $22,476,709.
"Mamma Mia!" Has A Good First Weekend In New Theater
After a two-week shut down so that it could move from its original home, the Winter Garden Theater, to the Broadhurst Theater, Mamma Mia! re-opened on November 2 for its first weekend in its new home. The Broadhurst was filled to 70.90% capacity, with the show's average paid admission at $86.60. Mamma Mia's two-day total was $286,371, which actually put it ahead of several Broadway shows' earnings for the entire week.
"Wicked" Comes Out On Top
Perhaps because of the hoopla regarding its 10th anniversary celebration in October, Wicked managed to get the top spot in Broadway ticket sales this week (The Lion King most often seems to reside in the #1 spot). The Book of Mormon and The Lion King were neck and neck for 2nd place at $1,699,199 and $1,699,647 in sales, respectively, with the mighty Lion King just narrowly winning the #2 spot.
The following are the Broadway ticket numbers from the week ending November 3, 2013: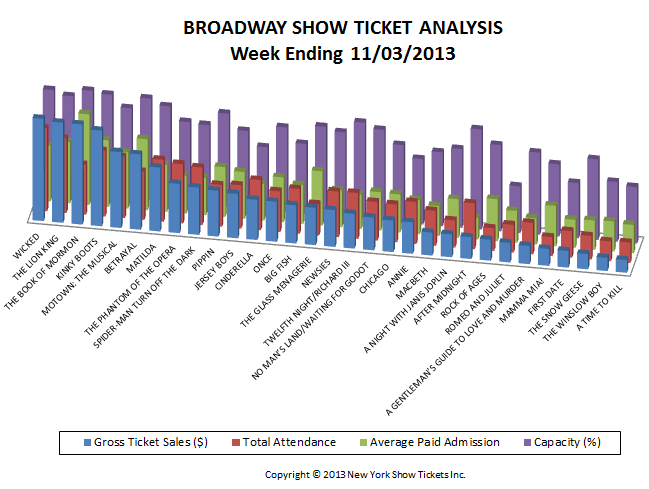 | | | | | |
| --- | --- | --- | --- | --- |
| Show | GrossGross | Total Attn | %Cap | AvgPdAdm |
| A GENTLEMAN'S GUIDE TO LOVE AND MURDER | $308,207 | 5,482 | 80.71% | $56.22 |
| A NIGHT WITH JANIS JOPLIN | $388,662 | 4,716 | 77.46% | $82.41 |
| A TIME TO KILL | $215,431 | 3,554 | 55.39% | $60.62 |
| AFTER MIDNIGHT | $371,312 | 7,986 | 98.45% | $46.50 |
| ANNIE | $534,060 | 7,297 | 64.19% | $73.19 |
| BETRAYAL | $1,277,952 | 8,424 | 100.00% | $151.70 |
| BIG FISH | $647,165 | 7,781 | 68.93% | $83.17 |
| CHICAGO | $536,601 | 6,585 | 76.22% | $81.49 |
| CINDERELLA | $682,960 | 8,738 | 62.38% | $78.16 |
| FIRST DATE | $281,538 | 4,643 | 54.29% | $60.64 |
| JERSEY BOYS | $754,241 | 7,528 | 76.63% | $100.19 |
| KINKY BOOTS | $1,625,209 | 11,442 | 100.44% | $142.04 |
| MACBETH | $389,377 | 6,082 | 72.61% | $64.02 |
| MAMMA MIA! | $286,371 | 3,307 | 70.90% | $86.60 |
| MATILDA | $1,084,210 | 10,763 | 93.95% | $100.73 |
| MOTOWN: THE MUSICAL | $1,288,507 | 10,706 | 88.80% | $120.35 |
| NEWSIES | $624,830 | 7,925 | 83.60% | $78.84 |
| NO MAN'S LAND/WAITING FOR GODOT | $557,098 | 6,727 | 89.56% | $82.82 |
| ONCE | $678,136 | 7,072 | 83.47% | $95.89 |
| PIPPIN | $779,078 | 7,284 | 91.97% | $106.96 |
| ROCK OF AGES | $355,245 | 3,951 | 84.71% | $89.91 |
| ROMEO AND JULIET | $331,348 | 4,847 | 45.93% | $68.36 |
| SPIDER-MAN TURN OFF THE DARK | $801,830 | 10,019 | 79.11% | $80.03 |
| THE BOOK OF MORMON | $1,699,199 | 8,752 | 102.63% | $194.15 |
| THE GLASS MENAGERIE | $633,519 | 5,445 | 87.48% | $116.35 |
| THE LION KING | $1,699,647 | 12,988 | 95.50% | $130.86 |
| THE PHANTOM OF THE OPERA | $836,302 | 10,312 | 80.31% | $81.10 |
| THE SNOW GEESE | $258,152 | 4,116 | 79.15% | $62.72 |
| THE WINSLOW BOY | $223,088 | 3,472 | 58.65% | $64.25 |
| TWELFTH NIGHT/RICHARD III | $590,481 | 7,988 | 95.00% | $73.92 |
| WICKED | $1,736,957 | 14,472 | 100.00% | $120.02 |
| Totals: | $22,476,709 | 230,404 | 80.60% | $91.43 |
Broadway ticket sales raw data are provided courtesy of The Broadway League All other data, text, opinion, charts and commentary are copyright © 2013 nytix.com
Discount Broadway Tickets
---
---