Broadway Show Ticket Sales Analysis w/e 11/25/2012
Broadway Show Ticket Sales Analysis For Week Ending 11/25/2012 Reflects A Large Jump In Sales Due To Thanksgiving With Five Shows In The Millionaires Club
---
Thanksgiving Boosts Broadway Sales

Broadway certainly has cause to be thankful this week for the very existence of Thanksgiving. The holiday is always a hit on Broadway, when families who have gathered for the long holiday weekend find themselves looking for a festive group activity.
Due to this injection of holiday spirit, Broadway's total ticket sales revenue shot up to $27,019,880, an enormous improvement from last week's $20,881,272.
Millionaires Abound On Broadway
Shows that seldom if ever get into seven digits in sales broke the million mark this week as a result of the Thanksgiving holiday. Not surprisingly, family shows in particular profited, including A Christmas Story ($1,104,312), Annie ($1,499,879), Mary Poppins ($1,118,687), and Newsies ($1,106,383).
Even The Phantom of the Opera, Broadway's longest-running musical by far, managed to bring in $1,125,470, despite the fact that it's been playing for 25 years.
"Wicked" And "The Lion King" Exceed Two Million In Sales

Without even completely selling out its enormous theater (the Gershwin was filled to 97.09%), tween-friendly musical Wicked managed to blow past the two million mark and take the top spot, earning a whopping $2,290,819.
The Lion King, which has held a corner on the family theater-going market for years, also was a two-millionaire, completely selling out its theater and bringing in $2,125,661.
Not Enough Wealth To Go Around
While many Broadway shows enjoyed the Thanksgiving bounty, most shows that were already struggling continued to do so. The new musical Chaplin only filled 57.31% of its theater, though its average paid admission was a respectable $77.86. Scandalous' attendance was shockingly low, as the Kathie Lee Gifford-penned musical only filled 33.28% of its theater.
Having Katie Holmes as its star didn't help the new play Dead Accounts sell more than 61.51% of its theater, but its average paid admission of $81.06 wasn't bad for a play. Plays in general (e.g. Cyrano, Golden Boy, The Anarchist) didn't do too well, as they aren't very popular with the holiday crowd.
The following are the Broadway ticket sales numbers from the week ending November 25, 2012: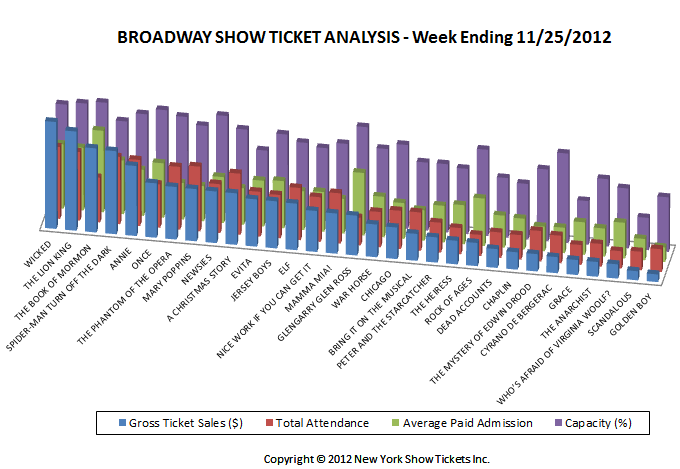 | | | | | |
| --- | --- | --- | --- | --- |
| Show Name | GrossGross | TotalAttn | %Cap | AvgPaidAdm |
| A CHRISTMAS STORY | $1,104,312 | 11,963 | 87.74% | $92.31 |
| ANNIE | $1,499,879 | 12,899 | 94.40% | $116.28 |
| BRING IT ON THE MUSICAL | $577,305 | 7,493 | 70.21% | $77.05 |
| CHAPLIN | $373,040 | 4,791 | 57.31% | $77.86 |
| CHICAGO | $675,747 | 7,472 | 86.48% | $90.44 |
| CYRANO DE BERGERAC | $344,631 | 5,375 | 92.29% | $64.12 |
| DEAD ACCOUNTS | $402,460 | 4,965 | 61.51% | $81.06 |
| ELF | $997,145 | 10,192 | 79.53% | $97.84 |
| EVITA | $1,012,795 | 8,758 | 67.91% | $115.64 |
| GLENGARRY GLEN ROSS | $853,737 | 5,419 | 101.20% | $157.55 |
| GOLDEN BOY | $164,198 | 4,459 | 56.30% | $36.82 |
| GRACE | $320,199 | 3,897 | 45.15% | $82.17 |
| JERSEY BOYS | $1,009,048 | 8,483 | 86.35% | $118.95 |
| MAMMA MIA! | $862,275 | 9,841 | 82.12% | $87.62 |
| MARY POPPINS | $1,118,687 | 12,633 | 87.88% | $88.55 |
| NEWSIES | $1,106,383 | 9,559 | 99.99% | $115.74 |
| NICE WORK IF YOU CAN GET IT | $877,412 | 8,733 | 75.86% | $100.47 |
| ONCE | $1,166,784 | 8,503 | 100.46% | $137.22 |
| PETER AND THE STARCATCHER | $540,463 | 5,841 | 70.34% | $92.53 |
| ROCK OF AGES | $496,583 | 4,144 | 88.85% | $119.83 |
| SCANDALOUS | $194,511 | 3,631 | 33.28% | $53.57 |
| SPIDER-MAN TURN OFF THE DARK | $1,779,777 | 13,152 | 85.18% | $135.32 |
| THE ANARCHIST | $317,201 | 4,462 | 69.54% | $71.09 |
| THE BOOK OF MORMON | $1,801,672 | 8,752 | 102.63% | $205.86 |
| THE HEIRESS | $505,468 | 5,127 | 67.39% | $98.59 |
| THE LION KING | $2,125,661 | 13,417 | 100.01% | $158.43 |
| THE MYSTERY OF EDWIN DROOD | $370,869 | 5,946 | 74.03% | $62.37 |
| THE PHANTOM OF THE OPERA | $1,125,470 | 12,239 | 95.32% | $91.96 |
| WAR HORSE | $701,152 | 6,885 | 80.51% | $101.84 |
| WHO'S AFRAID OF VIRGINIA WOOLF? | $304,196 | 3,382 | 61.78% | $89.95 |
| WICKED | $2,290,819 | 14,051 | 97.09% | $163.04 |
| Total: | $27,019,880 | 246,464 | 79.31% | $102.65 |
Broadway ticket sales raw data are provided courtesy of The Broadway League All other data, text, opinion, charts and commentary are copyright © 2012 nytix.com
Discount Broadway Tickets
---
---