Broadway Show Ticket Sales Analysis w/e 11/18/2012
Broadway Show Ticket Sales Analysis For Week Ending 11/18/2012 Reflects An Upward Trend In Ticket Sales After Hurricane Sandy With The Book Of Mormon On Top
---
Broadway Ticket Sales Beginning To Recover

Broadway appears to be gradually recovering from the blow of Hurricane Sandy, as evidenced by the total Broadway sales revenue numbers this week, which came in at $20,881,272, up from last week's $19,598,827.
However, this week's revenue is still more than one million shy of the numbers we saw in the week preceding Sandy, which is troubling at a time when a burst of new Broadway shows and holiday tourists should be quickly nudging ticket sales higher.
Anarchy On Broadway
The new David Mamet play The Anarchist began previews this week. Though the drama can only dream of doing the numbers that the revival of Mamet's Glengarry Glen Ross starring Al Pacino is currently seeing (Glengarry's theater is filling at 100.92% capacity with average ticket price at $152.96), The Anarchist had a very respectable start, selling at 73.61% capacity with an average paid admission of $80.43.
The play is likely enjoying a boost from Mamet's well-known name, as well as having both a movie star (Debra Winger) and a Broadway icon (Patti Lupone) leading the cast.
Three Shows Struggle In The Box Office

Two of the three bottom earners last week, An Enemy of the People and The Performers, have now closed. An Enemy of the People was a limited run for the non-profit Manhattan Theatre Club and managed to play its entire engagement, but The Performers was a commercial venture that succumbed to poor ticket sales and largely negative reviews.
Cutting their losses, the show's producers decided to close just a few days after the play officially opened. Meanwhile Scandalous, which has the lowest average paid admission at $23.77, plays on, but the bad reviews that the show received upon its opening this past week could mean that it is doomed.
"The Lion King" Slips Again

Not only has The Lion King, once the biggest money-maker on Broadway, lost its spot at the top again this week to The Book of Mormon (Lion King earned $1,402,169, compared to Book of Mormon's $1,620,206), but it was also beat out by Wicked, which brought in $1,598,476.
When this happened a few weeks ago, it appeared that Hurricane Sandy was to blame, but it could be that we're seeing a downward trend for Disney's long-running hit. Then again, it could just be that other family-friendly competition (which is prevalent during the holiday season) such as Elf, A Christmas Story, and Annie are temporarily stealing Lion's thunder. After all, the Tony-winning musical does have a 15-year track record of reigning supreme over other pretenders to the throne.
The following are the Broadway ticket sales numbers from the week ending November 18, 2012: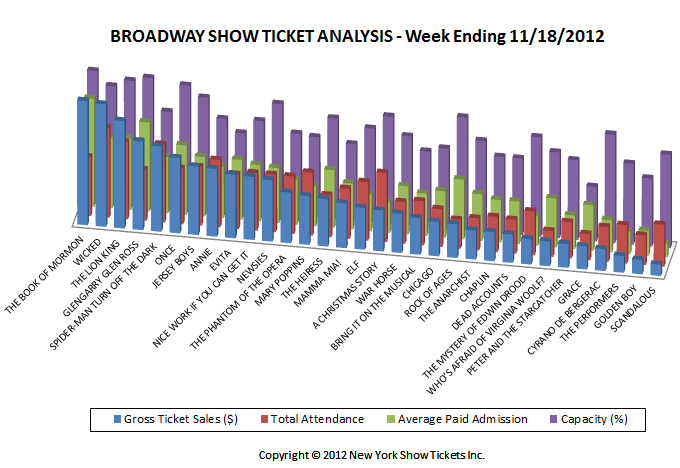 | | | | | |
| --- | --- | --- | --- | --- |
| Show Name | GrossGross | TotalAttn | %Cap | AvgPaidAdm |
| A CHRISTMAS STORY | $533,800 | 10,229 | 86.92% | $52.18 |
| AN ENEMY OF THE PEOPLE | $110,560 | 3,639 | 70.63% | $30.38 |
| ANNIE | $883,946 | 9,960 | 72.89% | $88.75 |
| BRING IT ON THE MUSICAL | $475,838 | 6,524 | 61.13% | $72.94 |
| CHAPLIN | $379,776 | 5,182 | 61.99% | $73.29 |
| CHICAGO | $447,236 | 5,602 | 64.84% | $79.83 |
| CYRANO DE BERGERAC | $284,502 | 5,141 | 88.27% | $55.34 |
| DEAD ACCOUNTS | $367,170 | 5,007 | 62.03% | $73.33 |
| ELF | $545,080 | 8,630 | 75.75% | $63.16 |
| EVITA | $828,669 | 8,072 | 62.59% | $102.66 |
| GLENGARRY GLEN ROSS | $1,157,319 | 7,566 | 100.92% | $152.96 |
| GOLDEN BOY | $186,734 | 4,371 | 55.19% | $42.72 |
| GRACE | $299,850 | 3,835 | 44.43% | $78.19 |
| JERSEY BOYS | $892,074 | 8,725 | 88.81% | $102.24 |
| MAMMA MIA! | $584,024 | 7,387 | 61.64% | $79.06 |
| MARY POPPINS | $635,633 | 9,307 | 64.74% | $68.30 |
| NEWSIES | $801,915 | 8,515 | 89.07% | $94.18 |
| NICE WORK IF YOU CAN GET IT | $821,857 | 8,507 | 73.90% | $96.61 |
| ONCE | $983,986 | 8,243 | 97.39% | $119.37 |
| PETER AND THE STARCATCHER | $310,496 | 5,367 | 64.63% | $57.85 |
| ROCK OF AGES | $437,407 | 4,268 | 91.51% | $102.49 |
| SCANDALOUS | $147,572 | 6,208 | 75.86% | $23.77 |
| SPIDER-MAN TURN OFF THE DARK | $1,112,179 | 11,533 | 74.70% | $96.43 |
| THE ANARCHIST | $379,862 | 4,723 | 73.61% | $80.43 |
| THE BOOK OF MORMON | $1,620,206 | 8,752 | 102.63% | $185.12 |
| THE HEIRESS | $614,916 | 6,185 | 81.30% | $99.42 |
| THE LION KING | $1,402,169 | 11,413 | 97.22% | $122.86 |
| THE MYSTERY OF EDWIN DROOD | $329,322 | 6,480 | 80.68% | $50.82 |
| THE PERFORMERS | $218,095 | 5,674 | 65.85% | $38.44 |
| THE PHANTOM OF THE OPERA | $659,195 | 8,496 | 66.17% | $77.59 |
| WAR HORSE | $509,747 | 6,167 | 72.11% | $82.66 |
| WHO'S AFRAID OF VIRGINIA WOOLF? | $321,666 | 3,820 | 69.78% | $84.21 |
| WICKED | $1,598,476 | 13,243 | 91.51% | $120.70 |
| Total: | $20,881,272 | 236,771 | 75.48% | $83.28 |
Broadway ticket sales raw data are provided courtesy of The Broadway League All other data, text, opinion, charts and commentary are copyright © 2012 nytix.com