Broadway Show Ticket Sales Analysis w/e 10/6/2013
Broadway Show Ticket Sales Analysis For Week Ending 10/06/2013 Reflects A Steep Increase In Ticket Sales As The Busy Fall Season Gets Underway
---
A Sharp Upturn in Broadway Ticket Sales

Broadway ticket revenue is indicating that the new fall season is finally getting into gear. Total Broadway sales shot up from last week's $19,453,418 to $21,422,658, a significant increase of nearly $2 million.

James Bond Comes To Broadway
In his return to Broadway, Daniel Craig (the current 007 in the James Bond movie franchise) is joined by his real-life wife and film actress Rachel Weisz in the Harold Pinter play revival Betrayal, and even in the first week of preview performances the duo are attracting big audiences. Performances were completely sold out, with the average paid admission at a hefty $149.34.
"The Snow Geese" Begins Previews
The new play The Snow Geese, produced by the Manhattan Theatre Club and starring Mary-Louise Parker, saw fairly good attendance in its first week, filling to 81.10% capacity. But the average ticket price was quite low at just $54.20.
The following are the Broadway ticket sales numbers from the week ending October 6, 2013: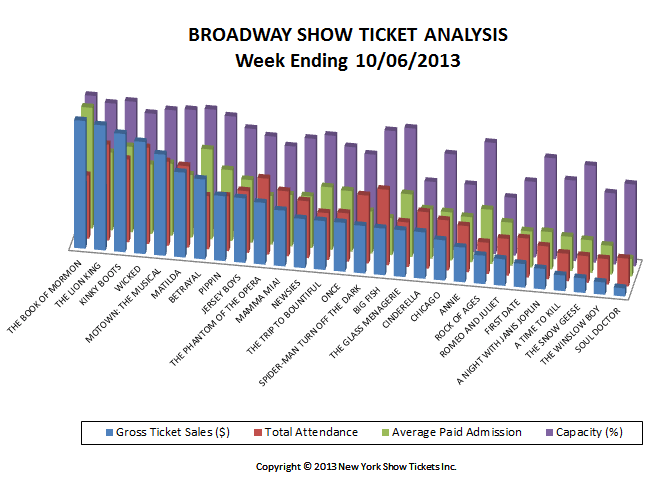 | | | | | |
| --- | --- | --- | --- | --- |
| Show Name | GrossGross | TotalAttn | %Cap | AvgPdAdm |
| A NIGHT WITH JANIS JOPLIN | $281,871 | 4,555 | 84.50% | $61.88 |
| A TIME TO KILL | $215,552 | 3,784 | 67.40% | $56.96 |
| ANNIE | $478,876 | 6,387 | 56.20% | $74.98 |
| BETRAYAL | $1,100,818 | 7,371 | 100.00% | $149.34 |
| BIG FISH | $643,550 | 10,434 | 95.40% | $61.68 |
| CHICAGO | $555,450 | 6,939 | 80.30% | $80.05 |
| CINDERELLA | $639,996 | 7,821 | 55.80% | $81.83 |
| FIRST DATE | $324,767 | 5,410 | 63.30% | $60.03 |
| JERSEY BOYS | $889,467 | 8,527 | 86.80% | $104.31 |
| KINKY BOOTS | $1,629,721 | 11,469 | 100.70% | $142.10 |
| MAMMA MIA! | $768,298 | 8,994 | 75.10% | $85.42 |
| MATILDA | $1,170,047 | 11,250 | 98.20% | $104.00 |
| MOTOWN: THE MUSICAL | $1,394,785 | 11,630 | 96.50% | $119.93 |
| NEWSIES | $676,380 | 7,871 | 83.00% | $85.93 |
| ONCE | $672,833 | 6,683 | 78.90% | $100.68 |
| PIPPIN | $894,252 | 7,582 | 95.70% | $117.94 |
| ROCK OF AGES | $391,241 | 4,331 | 92.90% | $90.33 |
| ROMEO AND JULIET | $366,705 | 5,108 | 48.40% | $71.79 |
| SOUL DOCTOR | $111,912 | 3,849 | 68.50% | $29.08 |
| SPIDER-MAN TURN OFF THE DARK | $654,748 | 9,392 | 74.20% | $69.71 |
| THE BOOK OF MORMON | $1,760,259 | 8,752 | 102.60% | $201.13 |
| THE GLASS MENAGERIE | $641,797 | 6,162 | 99.00% | $104.15 |
| THE LION KING | $1,722,720 | 13,287 | 97.70% | $129.65 |
| THE PHANTOM OF THE OPERA | $850,637 | 10,512 | 81.90% | $80.92 |
| THE SNOW GEESE | $200,041 | 3,691 | 81.10% | $54.20 |
| THE TRIP TO BOUNTIFUL | $673,002 | 6,474 | 87.00% | $103.95 |
| THE WINSLOW BOY | $169,325 | 3,531 | 59.60% | $47.95 |
| WICKED | $1,543,608 | 13,328 | 92.10% | $115.82 |
| Totals: | $21,422,658 | 215,124 | 82.24% | $92.35 |
Broadway ticket sales raw data are provided courtesy of The Broadway League All other data, text, opinion, charts and commentary are copyright © 2013 nytix.com