Broadway Show Ticket Sales Analysis w/e 10/27/2013
Broadway Show Ticket Sales Analysis For Week Ending 10/27/2013 Reflects Another Drop In Sales While A Gentleman's Guide Begins Previews
---
Another Slip In Broadway Sales

New shows may be popping up right and left on Broadway currently, but at the moment the ticket sales numbers aren't rising accordingly. This week saw a drop in overall Broadway revenue as sales dropped from last week's $24,038,295 down to $23,158,295.
Ethan Hawke Stars In "Macbeth"
With one Macbeth (Alan Cumming's recent solo version) barely gone from Broadway, a new Macbeth arrives at Lincoln Center's Vivian Beaumont Theatre this week to begin previews. This latest version of the classic William Shakespeare tragedy, which features Ethan Hawke as the ambitious title character, got off to a good -- if not great -- start, with 86.53% attendance and a $72.18 average paid admission.
So far the production has done limited advertising, though, so once more people discover that Hawke is starring, that could affect sales positively.
"A Gentleman's Guide" Begins Previews

The new Broadway comedy A Gentleman's Guide to Love and Murder starring Jefferson Mays gets off to a decent start as it starts preview performances at the Walter Kerr Theatre. Though it is coming to Broadway with little buzz, the show still managed to fill the theater to 82.33% capacity, but the average paid admission was a modest $63.66 per ticket.
Patrick Stewart And Ian McKellen On Broadway

Two of the stage's most gifted actors, Patrick Stewart (Star Trek) and Ian McKellen (The Lord of the Rings), take on not one but two plays in repertory with the new productions of No Man's Land and Waiting for Godot, which began previews this week.
At 92.54% capacity, they are not having any trouble filling seats, and the average ticket price is a very healthy $102.11.
The following are the Broadway ticket sales numbers from the week ending October 27, 2013: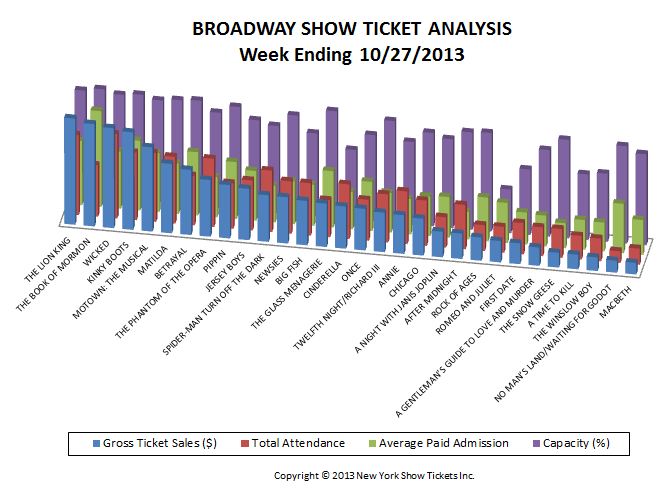 | | | | | |
| --- | --- | --- | --- | --- |
| Show | GrossGross | Total Attn | %Cap | AvgPdAdm |
| A GENTLEMAN'S GUIDE TO LOVE AND MURDER | $311,467 | 4,893 | 82.33% | $63.66 |
| A NIGHT WITH JANIS JOPLIN | $433,141 | 5,143 | 84.48% | $84.22 |
| A TIME TO KILL | $247,168 | 4,010 | 62.50% | $61.64 |
| AFTER MIDNIGHT | $431,132 | 7,519 | 92.69% | $57.34 |
| ANNIE | $654,875 | 8,926 | 78.52% | $73.37 |
| BETRAYAL | $1,103,682 | 8,424 | 100.00% | $131.02 |
| BIG FISH | $751,326 | 8,870 | 78.58% | $84.70 |
| CHICAGO | $625,630 | 7,676 | 88.84% | $81.50 |
| CINDERELLA | $715,196 | 9,261 | 66.11% | $77.23 |
| FIRST DATE | $352,833 | 5,323 | 62.24% | $66.28 |
| JERSEY BOYS | $869,462 | 8,468 | 86.20% | $102.68 |
| KINKY BOOTS | $1,651,626 | 11,469 | 100.68% | $144.01 |
| MACBETH | $196,181 | 2,718 | 86.53% | $72.18 |
| MATILDA | $1,176,019 | 11,317 | 98.79% | $103.92 |
| MOTOWN: THE MUSICAL | $1,425,902 | 11,691 | 96.97% | $121.97 |
| NEWSIES | $784,099 | 8,903 | 93.91% | $88.07 |
| NO MAN'S LAND/WAITING FOR GODOT | $202,787 | 1,986 | 92.54% | $102.11 |
| ONCE | $703,982 | 6,933 | 81.83% | $101.54 |
| PIPPIN | $904,108 | 7,698 | 97.20% | $117.45 |
| ROCK OF AGES | $393,636 | 4,369 | 93.67% | $90.10 |
| ROMEO AND JULIET | $363,076 | 4,382 | 41.53% | $82.86 |
| SPIDER-MAN TURN OFF THE DARK | $789,538 | 10,427 | 82.34% | $75.72 |
| THE BOOK OF MORMON | $1,733,532 | 8,752 | 102.63% | $198.07 |
| THE GLASS MENAGERIE | $734,661 | 6,305 | 101.30% | $116.52 |
| THE LION KING | $1,798,361 | 13,573 | 99.80% | $132.50 |
| THE PHANTOM OF THE OPERA | $960,578 | 11,564 | 90.06% | $83.07 |
| THE SNOW GEESE | $251,343 | 4,872 | 93.69% | $51.59 |
| THE WINSLOW BOY | $230,058 | 3,836 | 64.80% | $59.97 |
| TWELFTH NIGHT/RICHARD III | $669,342 | 8,143 | 96.85% | $82.20 |
| WICKED | $1,693,555 | 14,318 | 98.94% | $118.28 |
| Totals: | $23,158,295 | 231,769 | 86.55% | $94.19 |
Broadway ticket sales raw data are provided courtesy of The Broadway League All other data, text, opinion, charts and commentary are copyright © 2013 nytix.com