Broadway Show Ticket Sales Analysis w/e 10/20/2013
Broadway Show Ticket Sales Analysis For Week Ending 10/20/2013 Reflect A Modest Drop In Sales And Eight Shows Joining The Millionaires Club
---
Modest Drop In Broadway Revenue

Following substantial increases in overall Broadway ticket revenue during the previous two weeks, this week saw a fairly small drop in Broadway sales, falling from $24,614,027 to $24,038,295, a difference of about half a million.
"After Midnight" Has A Strong First Week
The new production After Midnight, a celebration of Harlem's Golden Age of glamorous supper clubs and hot jazz music, began performances at the Brooks Atkinson Theatre this week and has gotten off to a very good start.
Filling the theater to 97.57% capacity, the show came close to selling out, which is impressive given that it has had limited advertising and hasn't had time to build word-of-mouth yet. The cast, which includes Fantasia Barrino (American Idol, Broadway's The Color Purple) and Dule Hill (TV's Psych), has likely proven a big draw for many audience members, as well as the promise of great music by Duke Ellington and other jazz legends.
Two Shakespeare Plays Start Performances
It's a big season for William Shakespeare on Broadway, with Romeo and Juliet already playing and a new Macbeth starring Ethan Hawke yet to come. This week saw the beginning of productions of Richard III and Twelfth Night, which are playing in repertory at the Belasco Theatre.
Featuring all-male casts (both star Mark Rylance, who has impressed Broadway in plays such as Boeing Boeing and Jerusalem), live music on period instruments, and stage lighting primarily by candles, these productions aim to bring the authentic ambiance of Shakespeare's stage to the modern era. They had extremely good attendance in their first week of previews (97.10% capacity), with a decent average paid admission of $76.43.
Eight Broadway Shows In Millionaires Club
A total of eight Broadway shows made over one million dollars this week. The top three -- The Lion King, The Book of Mormon, and Wicked, respectively -- are the usual front-runners. The three behind them are all hits from last season, Kinky Boots, Motown, and Matilda.
After that is Betrayal, the only production from this season that earned over a million this week. In eighth place, just barely making it into the "club" at $1,044,707, is Broadway's longest-running musical, The Phantom of the Opera.
The following are the Broadway ticket sales numbers from the week ending October 20, 2013: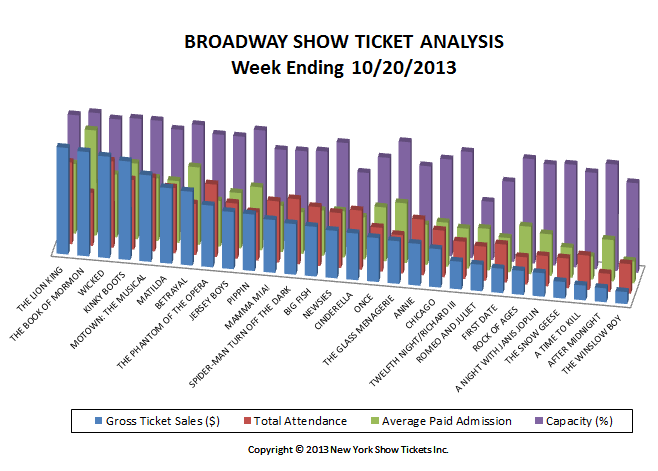 | | | | | |
| --- | --- | --- | --- | --- |
| Show | GrossGross | Total Attn | %Cap | AvgPdAdm |
| A NIGHT WITH JANIS JOPLIN | $397,767 | 4,980 | 92.36% | $79.87 |
| A TIME TO KILL | $250,779 | 5,659 | 88.20% | $44.32 |
| AFTER MIDNIGHT | $235,823 | 2,968 | 97.57% | $79.46 |
| ANNIE | $708,039 | 9,177 | 80.73% | $77.15 |
| BETRAYAL | $1,250,565 | 8,424 | 100.00% | $148.45 |
| BIG FISH | $841,498 | 9,700 | 85.93% | $86.75 |
| CHICAGO | $648,594 | 7,661 | 88.67% | $84.66 |
| CINDERELLA | $789,856 | 9,758 | 69.66% | $80.94 |
| FIRST DATE | $411,385 | 6,264 | 73.25% | $65.67 |
| JERSEY BOYS | $967,800 | 9,111 | 92.74% | $106.22 |
| KINKY BOOTS | $1,669,794 | 11,482 | 100.79% | $145.43 |
| MAMMA MIA! | $894,941 | 10,063 | 83.97% | $88.93 |
| MATILDA | $1,278,480 | 10,773 | 94.04% | $118.67 |
| MOTOWN: THE MUSICAL | $1,464,583 | 12,133 | 100.64% | $120.71 |
| NEWSIES | $803,577 | 9,042 | 95.38% | $88.87 |
| ONCE | $745,326 | 7,216 | 85.17% | $103.29 |
| PIPPIN | $957,303 | 7,930 | 100.13% | $120.72 |
| ROCK OF AGES | $406,072 | 4,464 | 95.71% | $90.97 |
| ROMEO AND JULIET | $447,953 | 5,619 | 53.25% | $79.72 |
| SPIDER-MAN TURN OFF THE DARK | $856,976 | 10,701 | 84.50% | $80.08 |
| THE BOOK OF MORMON | $1,767,297 | 8,752 | 102.63% | $201.93 |
| THE GLASS MENAGERIE | $722,255 | 6,299 | 101.21% | $114.66 |
| THE LION KING | $1,804,890 | 13,458 | 98.96% | $134.11 |
| THE PHANTOM OF THE OPERA | $1,044,707 | 11,915 | 92.80% | $87.68 |
| THE SNOW GEESE | $280,700 | 4,886 | 93.96% | $57.45 |
| THE WINSLOW BOY | $203,093 | 4,862 | 82.13% | $41.77 |
| TWELFTH NIGHT/RICHARD III | $468,429 | 6,129 | 97.19% | $76.43 |
| WICKED | $1,719,816 | 14,256 | 98.51% | $120.64 |
| Totals: | $24,038,295 | 233,682 | 90.36% | $97.34 |
Broadway ticket sales raw data are provided courtesy of The Broadway League All other data, text, opinion, charts and commentary are copyright © 2013 nytix.com